Krabi attractions are must-see and worthwhile
November 10, 2020
Krabi attractions are must-see and worthwhile. Krabi is one of another popular tourist destinations which most areas consists of more than 130 large and small mountains, plains, and islands rich in mangrove forests. There are many attractions that are mesmerizing their beauty, including white sandy beaches, clear turquoise waters and gorgeous coral reefs. Not only is a marine attraction but also still many Unseen natural attractions on the mainland that make many tourists want to come and admire these charming places. We choose the beautiful attractions that are the most popular for you so that you can plan your trip to the fullest.
Krabi attractions are must-see and worthwhile
1.Thale Waek (Separated Sea)
Thale Waek (Separated Sea) is another Unseen Thailand attraction where we can walk on the white sand from island to island when it's low tide. Thale Waek (Separated Sea) caused by sandbank connecting from the three islands are Chicken Island, Mor Island and  Tub Island, these three islands are prominent islands in the Poda archipelago which are located nearby. There are adjacent bases, when the waves move sand to this point, resulting in a sandbar line connecting these three islands to each other. This sandbank will disappear when it's high tide. As the water receded, sandbank would gradually appear as if the sea was divided into three parts. Sandbank will appear at the lowest sea level. But even though the sandbank will not appear, we can take a walk. The sandy beach of this place is white and clean that's good for swimming. Trip to Thale Waek is very popular for tourists , there are all 4 islands, namely Chicken Island, Tub Island, Mor Island and Poda Island which can be traveled in 1 day.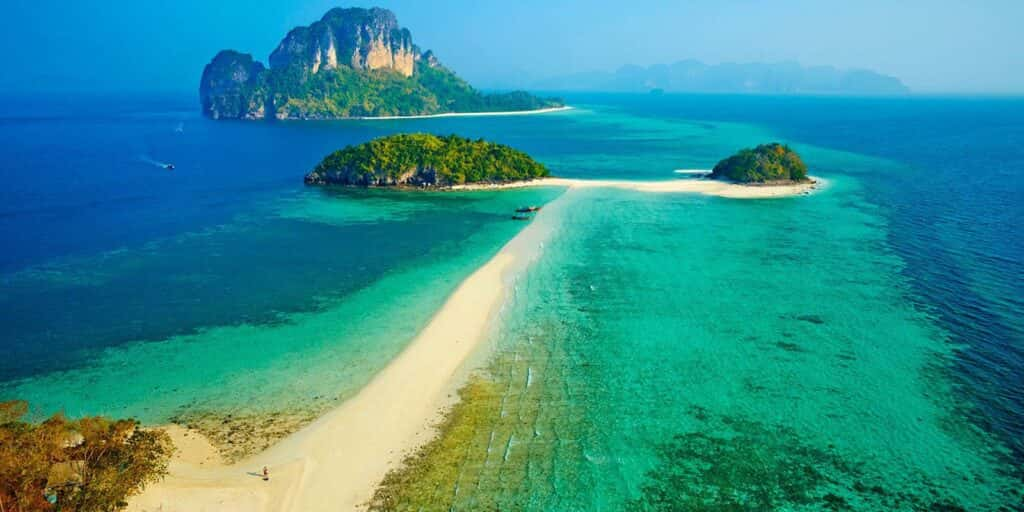 Popular tour to visit Thale Waek (Separated Sea)
2.Koh Poda (Poda Island)
Poda Island, the beautiful island of Krabi sea which is a private island that is still beautiful. It is one of the highlights of a trip to Krabi sea.  Koh Poda has the beaches which surrounded on three sides, except  to the west, which is the confronting side of the waves. This side is the steep rocky cliff.   The island front beach is white sandy beach and the water is crystal clear although it is not far from the shore.  It's popular for tourists visiting the island to relax , take a walk on the beaches and swimming, which are the 4 islands as the highlight of Krabi sea.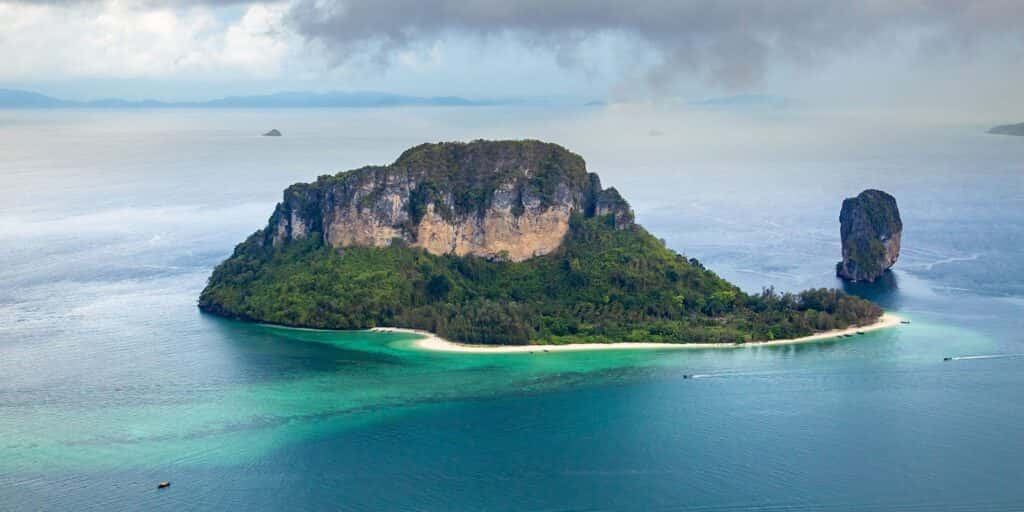 Popular tour to visit Koh Poda
3.Phi Phi Island
Phi Phi Islands are administratively part of Noppharat Thara Beach – Phi Phi Islands National Park that consist of two big islands, Phi Phi Don, Phi Phi Leh, and the small neighboring islands such as  Mosquito Island, Bamboo Island, and Phi Phi Leh.  They are the best of the main tourist attractions and large coves or bays that inside have beautiful white sandy beaches  and nice places for swimming as well.    Phi Phi Don Island is the center of the Phi Phi Islands with accommodation, restaurants , complete facilities and also has a beautiful view.  Phi Phi Islands consist of two bays that form a twin bay such as Ton Sai Bay and Loh Dalum Bay which are separated by small plains and shaded by coconut trees.
Popular tour to visit Phi Phi Island
4.Phra Nang Cave Beach
Phra Nang Cave Beach is in Ao Nang Sub-District, Krabi Province  which is a tourist destination in the tour program of 4 Islands Tour : Poda Island, Tub Island (Thale Waek), Chicken Island and Phra Nang Cave Beach.  Here is Krabi marine attraction that is one of the highlights of tourist attraction in ​​Krabi.  This amazing corner of Phra Nang Cave Beach must be walked deep into the end of the beach which is the location of the Phra Nang cave.  Inside the cave is the Shrine of the holy Princess which is the place that the local people and the sailors here respect and worship.  This view is unique when entering the cave and looking outside you will see beautiful chandelier of stalactites descending at the mouth of its cavern.  There are large sea and small to big islands line up in the sunset that is one of the most breathtaking beautiful views.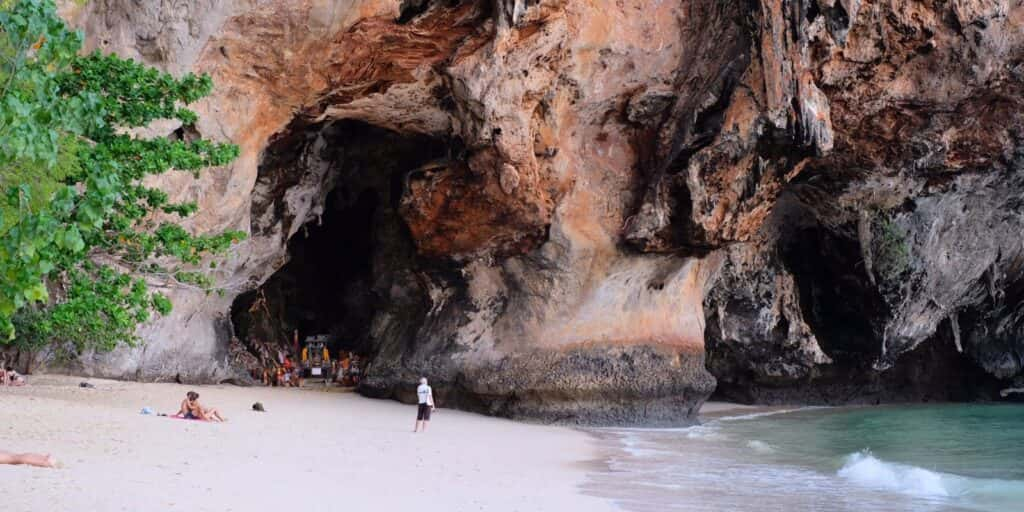 Popular tour to visit Phra Nang Cave Beach
5.Railay Bay
Railay Beach located in Ao Nang Sub-district, Muang District, Krabi Province. It is a fine white sandy beach on the edge of the cliff, which Railay Beach is well known for the tourists ,especially for those who like rock climbing activities.  Railay Beach is divided into East Railay Beach (Nam Mao Beach) and West Railay Beach, which are popular beaches due to the clear waters, beautiful beaches and a beautiful sunset viewpoint as well. At Railay East and Railay West, there are rocks between the two beaches. The most popular rock climbing area is at Railay East, Ton Sai Bay and the cliffs nearby Tham Phra Nang Nai Cave(Diamond Cave).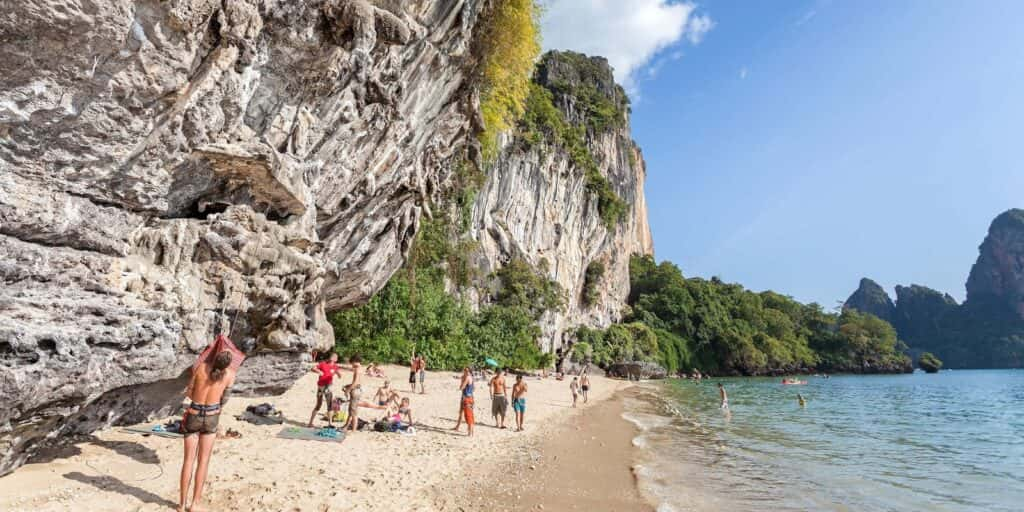 Popular tour to visit Railay Bay
6.Koh Phai(Bamboo Island)
Koh Phai or Bamboo Island is a small island in the middle of the sea. Located in the north of Phi Phi Don Island and not far from Mosquito Island.  Bamboo Island is administratively part of Noppharat Thara Beach-Phi Phi Islands National Park but the atmosphere of Bamboo Island is completely different from Phi Phi Island because it is a quiet island with very clear waters and beautiful beaches. It is an island with beautiful coral reefs that is ideal for diving to see the beauty of the underwater world. A good time for travelling is no monsoon around November to April each year.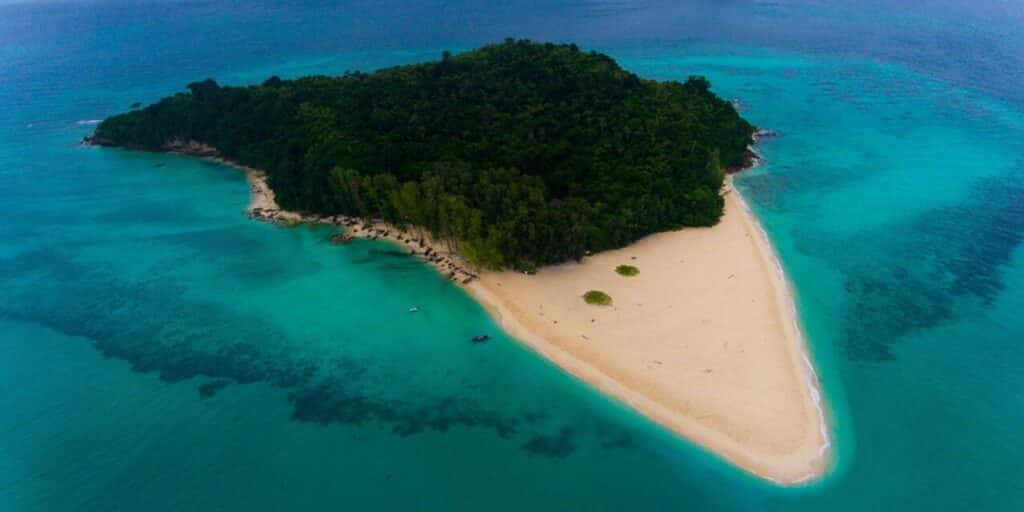 Popular tour to visit Bamboo Island
7.Ao Nang
Ao Nang is the center of Krabi sea tourism and administratively part of Noppharat Thara Beach – Phi Phi Islands National Park.  It is the location of resorts, restaurants and  travel agencies that offer the famous islands tours of Krabi such as Thale Waek, Poda Island, Phi Phi Island and Hong Islands. It is a boat rental point to visit various places.  Ao Nang area is located along the road near coastline for a distance of 6 kilometers.  There is a long sandy beach and a beach road.  There are mountains between the beach. The surrounding scenery is unusual beautiful.  Ao Nang is also considered to be another beautiful sunset spot.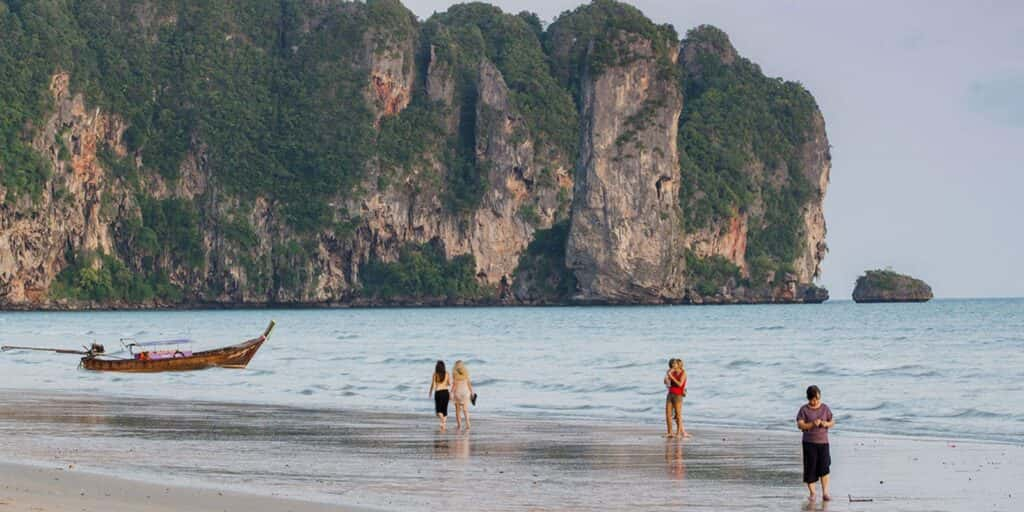 8.Nopparat Thara Beach
Nopparat Thara Beach is located in Nopparat Thara – Phi Phi Islands  National Park. It is the central pier to travel to various islands of Krabi. Originally villagers called  "Khlong Haeng Beach" because at low tide the water that flowing from the north mountains to the canal becomed dry and lining of white sandy beach streched into the sea then converging with Khao Pak Klong Island. At the beach is a fine sand mixed with small shells and decorated with pine trees lined along the beach. Looking out into the water views there are beautiful scenery of the islets. During low tide, you can walk to a small island in front of the beach that is suitable for rest and relaxation as well.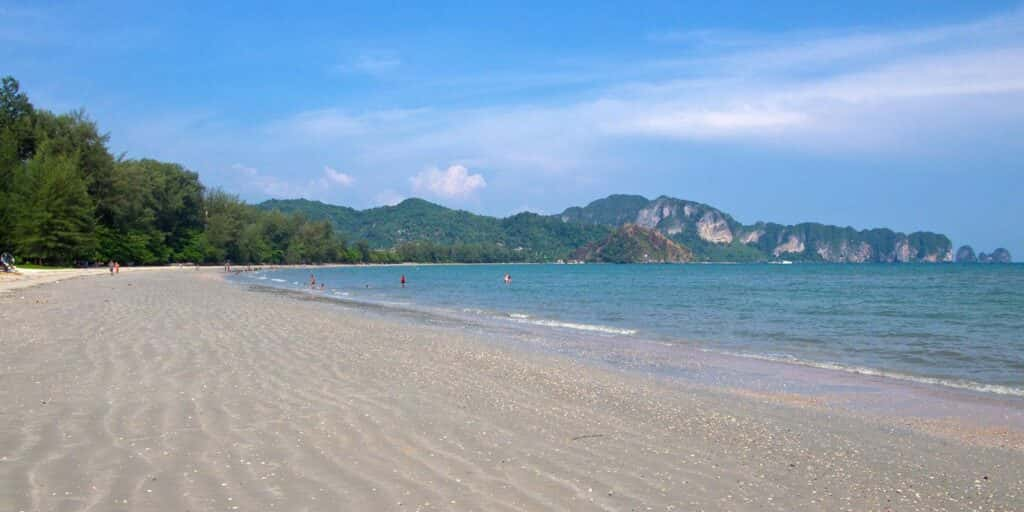 9.Koh Klang
If you think of Krabi, you will only think of the sea tourism which has many beautiful islands to visit among the bustle of tourists.  But who knows what a peaceful and beautiful Krabi town is hidden. Just a 10 minute boat ride from the city center, you will find a charming community with a simple and is still uniquely local lifestyle at Ban Koh Klang community.  It's a small island that located in the middle of the Krabi River, surrounded by fertile mangrove forests and estuaries of thousands of acres like a having fallen into another world that is full of warmth and friendly villagers.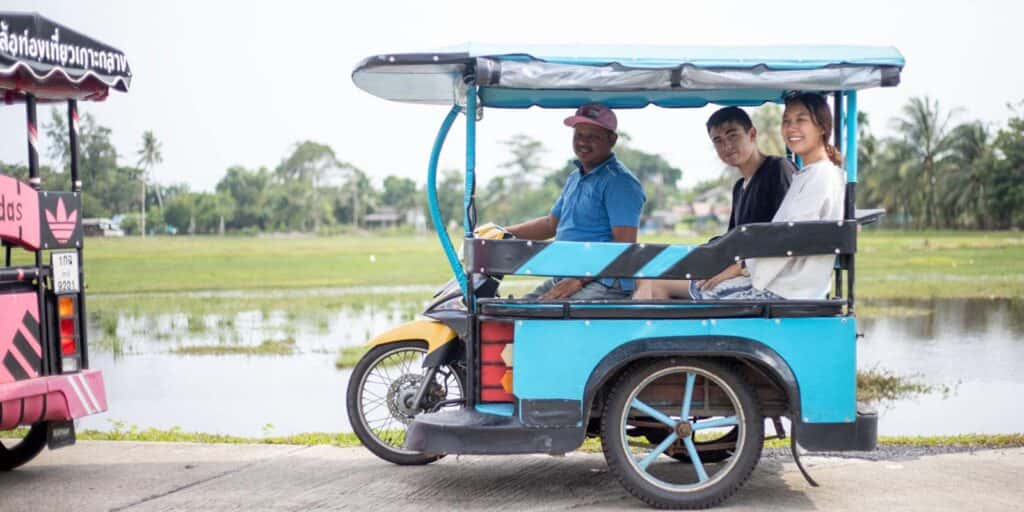 10.Koh Rok
Koh Rok is in the Krabi Sea waters that connect the Trang Sea. There are two small islands that located together. It is small island with long sandy beaches, fine sand and soft for feet when you step on the beach.   The tourism atmosphere of Koh Rok is ideal for the lovers who searching for a beautiful, peaceful and romantic view from nature.  The beautiful beaches and waters are shallow and very clear, including coral reefs rich in anemones which is habitat for abundant of bright orange and yellow clown fish that everyone likes.  At the scenic viewpoint of Koh Rok Nok, you will see horseshoe-shaped arches feature.    On both sides of the bay are steep rocky cliffs offering views of  Koh Rok Nok and Koh Rok Nai. It is also another very beautiful sunset viewpoint.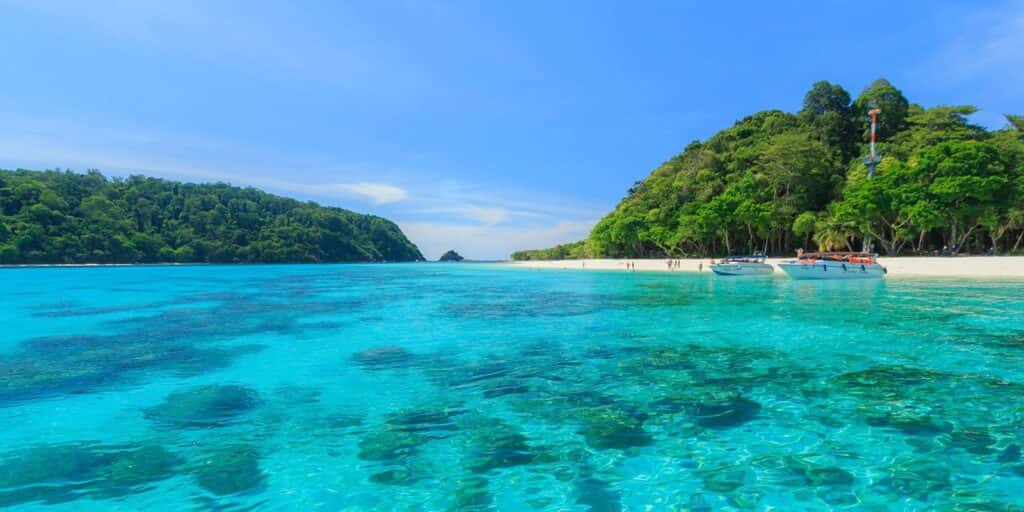 Popular tour to visit Koh Rok
11.Koh Jum
Koh Jum is located in the Sub-District of Koh Sriboya , Nuea Khlong District , Krabi Province. It's far from the coast 22 kilometers only.  It is an island that has been inhabited by local communities for a long time. The island consists of 3 villages, Koh Pu village. Koh Jum village and Ting Rai village.  It is a small peaceful community with friendly and warm people.   In addition, the scenery on the island is still beautiful. There are many long beaches and crystal clear waters.  Although they are not beautiful clear waters, or white sandy beaches like Phi Phi Island or Hong Island but the highlight of Koh Jum is its tranquility and the nature has not changed much.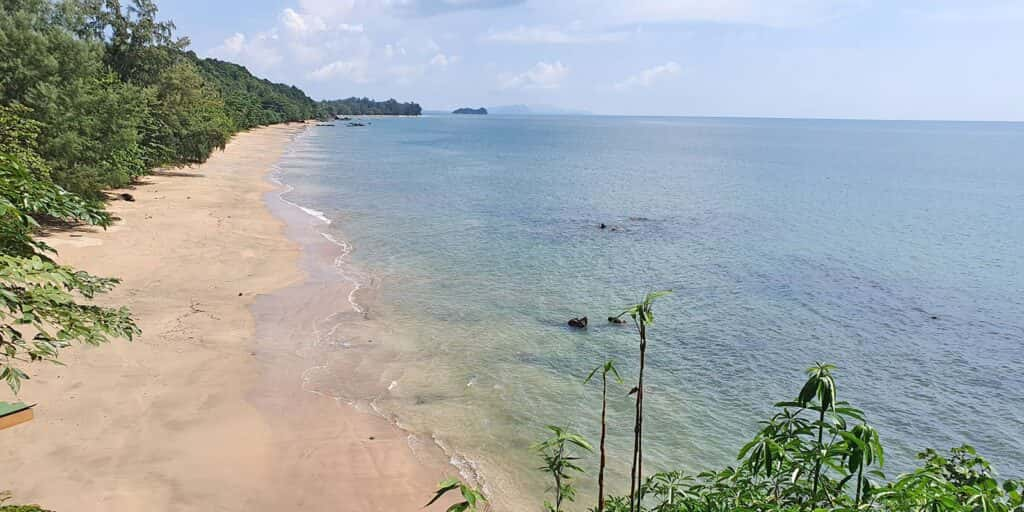 12.Koh Lanta(Lanta Island)
Koh Lanta is another important tourist destination of Krabi that foreign tourists know well and pay much attention to go there.  Many businesses on the island were established by many foreigners such as Diving and Tour companies.   From a quiet island becomes a major tourist destination as a result of the popularity of Phi Phi Island. Which has foreign tourists travelling together so much and make the accommodations not enough during the tourist season.  Some tourists have been a spillover into Koh Lanta. With its beauty and tranquility of Koh Lanta has attracted tourists, thus making Koh Lanta's reputation quickly becoming well-known island among foreign tourists.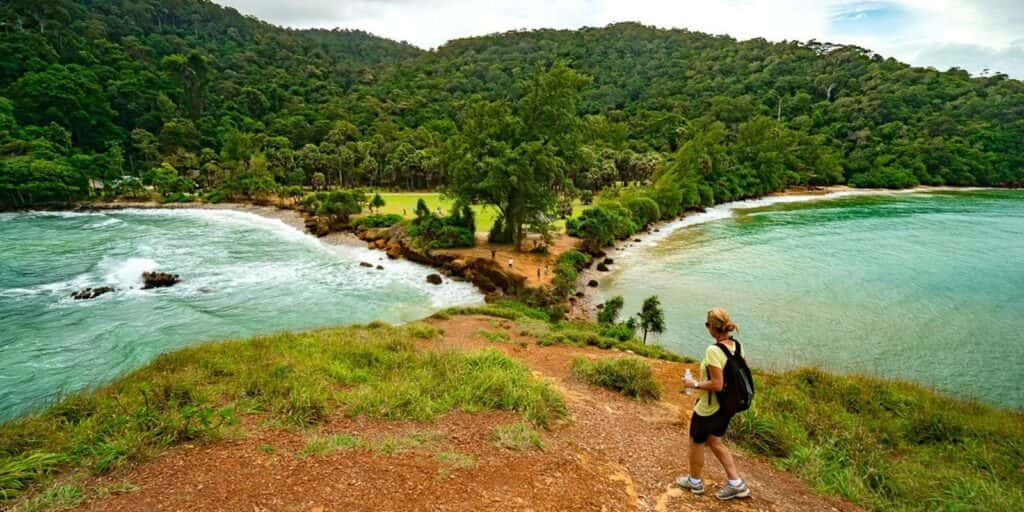 Popular tour of Koh Lanta
13.Koh Hong (Hong Island)
Hong  Island is located in the district of Than Bok Khorani National Park, another name is called " Koh Lao Bi Le ".  It is an island with a very beautiful scenery surrounded by blue sea. There are coralline and corals around the island. With an interesting point as "Ao Bi Le", is a bay with curved sandy beach in the shape of flying birds. It's fine white sand, clear emerald green water with small fish swimming around. Far away from the beach into the sea there are coralline and coral reefs with a variety of corals.  Near the beach is suitable for swimming and is considered to be a place for kayaking and beautiful shallow water snorkeling.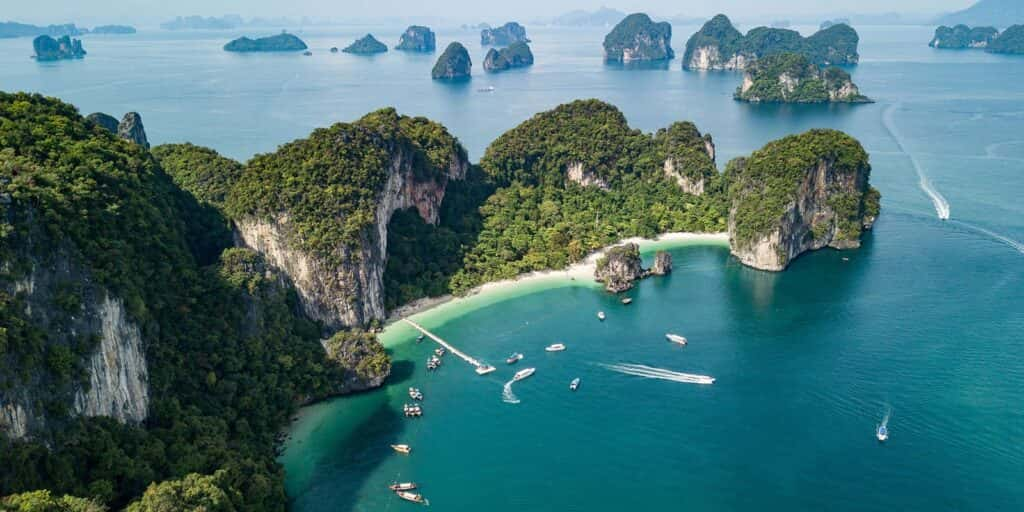 Popular tour to visit Hong Island
14.Koh Phak Bia( Phak Bia Island)
Koh Phak Bia is a small island on the back side of Hong Island. The sea here is clear and clean that nice for swimming. The atmosphere is peaceful with small trees and big trees near the beach. There are white sandy beaches, not less than other beaches. When it's low tide, the sandbar at Koh Phak Bia will appear a long line to until the other island, which is also called Koh Phak Bia as well and can be reached each other when it is lowermost tide because when it's the time of rising tide the water will separate into two Phak Bia islands.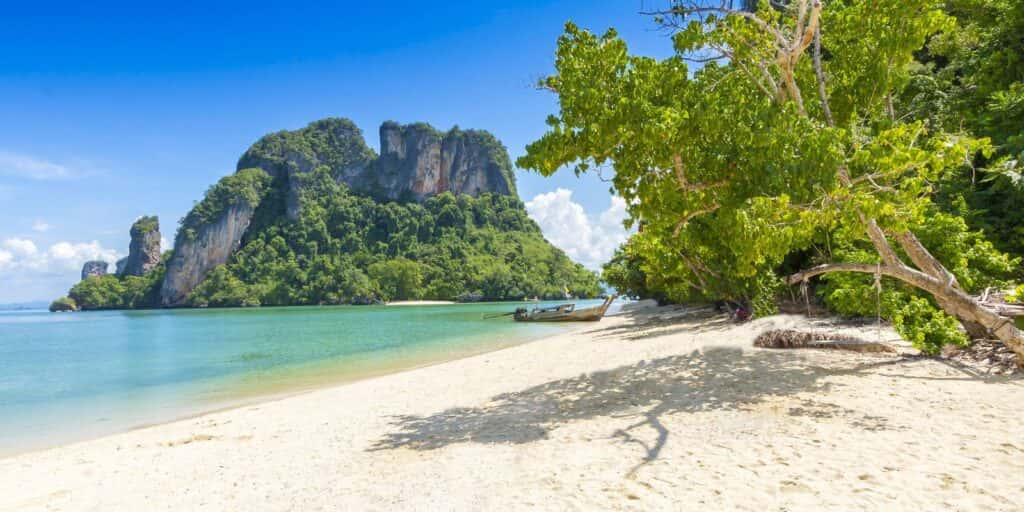 Popular tour to visit Koh Phak Bia
15.Koh Lading (Lading Island)
Koh Lading or Koh Lao La Ding (Paradise Island) is an island that was hidden by the nature but is still covert the beauty of the beach and private tranquility life.   It is an island that is a residence of bird's nest collectors by concession. But the island is still opened for tourists sightseeing and resting.   Inside the island has fine sandy beaches, many kinds of fish , coral reefs to enjoy swimming such as Koh Lao La Ding, a small island where is an ideal for visiting when the tourists visit Hong Island.  Its feature is a limestone mountain ,a beautiful island with plenty of trees and a small stretch of beach on the island including clean waters that is suitable for swimming.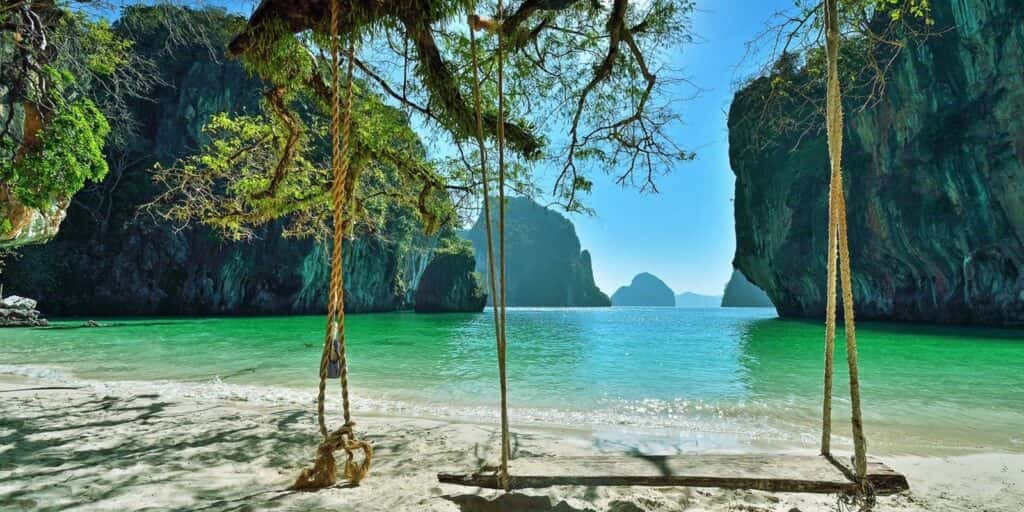 Popular tour to visit Lading Island
16.Tha Pom Khlong Song Nam
Tha Pom Khlong Song Nam is located at Khao Kram Sub-District, Muang District, Krabi Province is under the jurisdiction of Subdistrict Administrative Organizations (SAO).  Here is the place for an ecological study to learn the health of nature both in terms of underground waterways and vegetation that can grow both in water and on the soil.  Another charm of Tha Pom is being able to see the root structures of huge trees, bushes, and plants along the riverbank or both of canal bank submerged into the water would adapted itself by poking out to breathe.  For anyone who wants to experience amazing nature of Tha Pom forest in the different feeling from walking on the bridge, you can paddle a canoe to see the beauty of Khlong Song Nam and Tha Pom forest.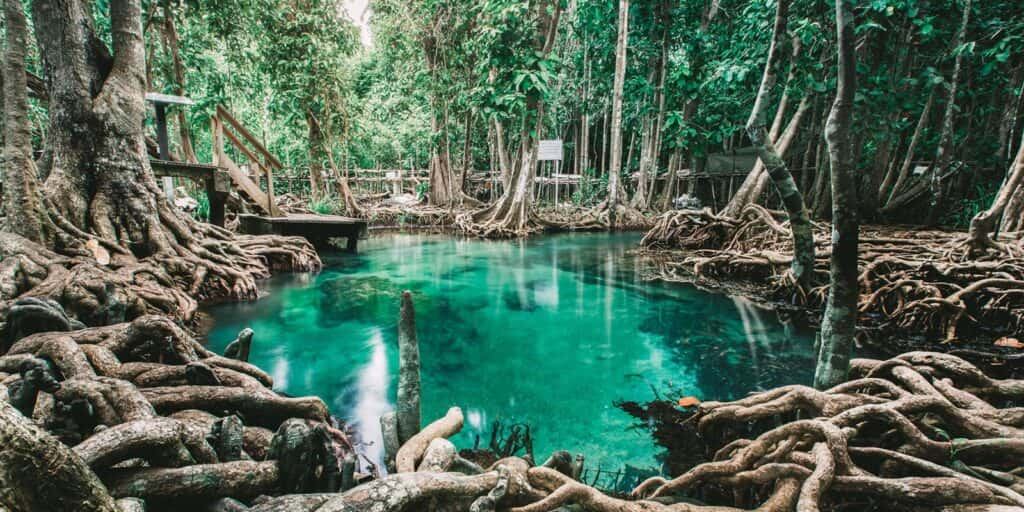 17.Hot spring waterfall
It is one of the unseen Thailand attractions of Krabi Province. Located in Klong Thom District, Krabi Province which is close to the Emerald Pool, looks like a natural bathtub in the middle of the forest to support the hot waterfall which flows cascading down the hill.  The water temperature is 30-50 degrees Celsius.  For those who came to experience, it's said that is an extraordinary waterfall. Of course,who will believe that it is a hot waterfall brimming with natural mineral flowing together, especially for health. It looks like a hot stream springs up naturally from underground that contains dilute sulfur as a component and the temperature is right. The hot springs flow cascading down into the basin and able to bathe in the small hot waterfall stream which flows naturally cascading together. The hot spring waterfall contains with various kinds of minerals that helps relax , it's believed that it can treat rheumatism, back pain and related to the skin.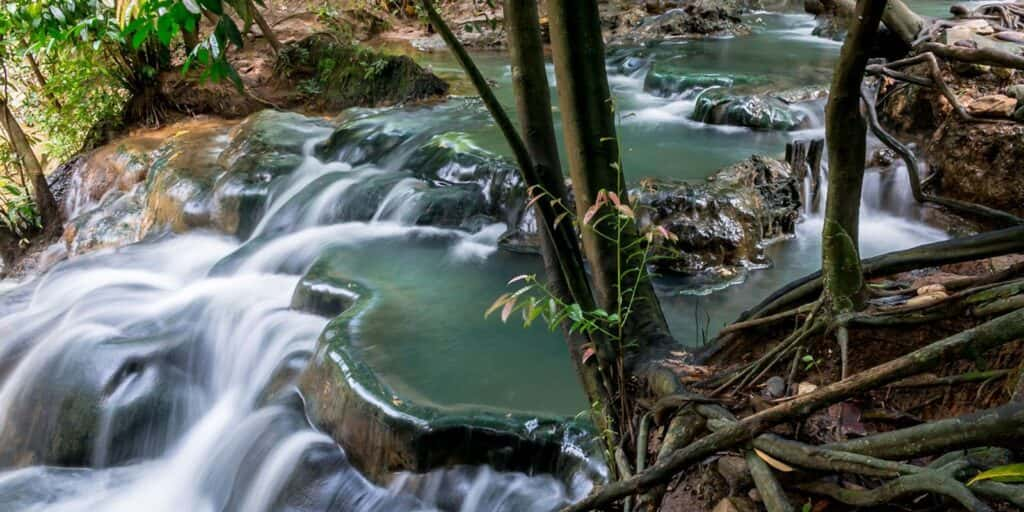 Popular tour to visit Hot spring waterfall
18.Emerald Pool
Emerald Pool is the beautiful natural pool with clear emerald green water and able to swim. The color of water is emerald green color, consequently, its name is Emerald Pool. Some people also call the Crystal Pool.  It's situated amidst the forest-atmosphere in Khao Pra-Bang Khram Wildlife Sanctuary.  The water in Emerald pool can change its color according to the time of the day and lighting conditions which originates from a warm stream in the lowland forests of southern Thailand which are 3 hot pools such as Sra Kaew (Glass Pool), Emerald pool and  Blue Pool.  The water in Emerald pool is usually cool during and just after rainy season.  Around the area is shady, green and interesting plants. You can go for a nature trek here and enjoy the lush jungle that surrounds the area.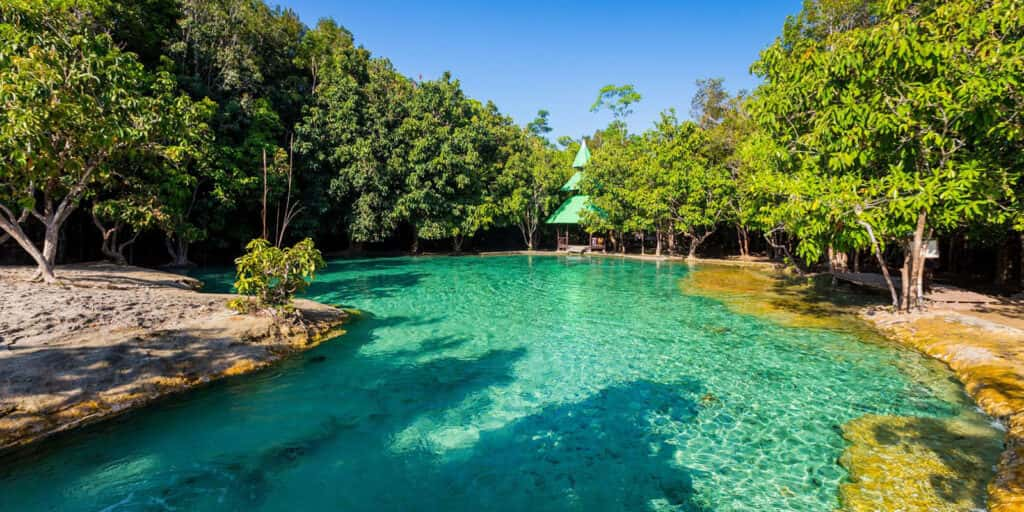 Popular tour to visit Emerald Pool
19.Tiger Cave Temple
Tiger Cave Temple or Wat Tham Sua is about 9 kilometers far from Krabi town, located in Ban Tham Sua area, Krabi Noi Sub-district, Muang District, Krabi Province. There is a legend of the temple that a tiger once made the main cave his home so that this temple was called Wat (temple) Tham (cave) Sua (tiger).   The area of temple is about 200 acre consists with valley plain and peak. The prominent point is "Phra That Chedi Yod Khao Kaew", Big Buddha image that located on the top of Khao Kaew peak. It is approximately 600 meters above sea level. You can climb up to worship by going up 1,237 steps leading to the peak then you will see the beautiful scenery of Krabi town all directions. Tiger Cave Temple is a Thai Buddhist meditation center and also enshrining Buddha's footprint model as well.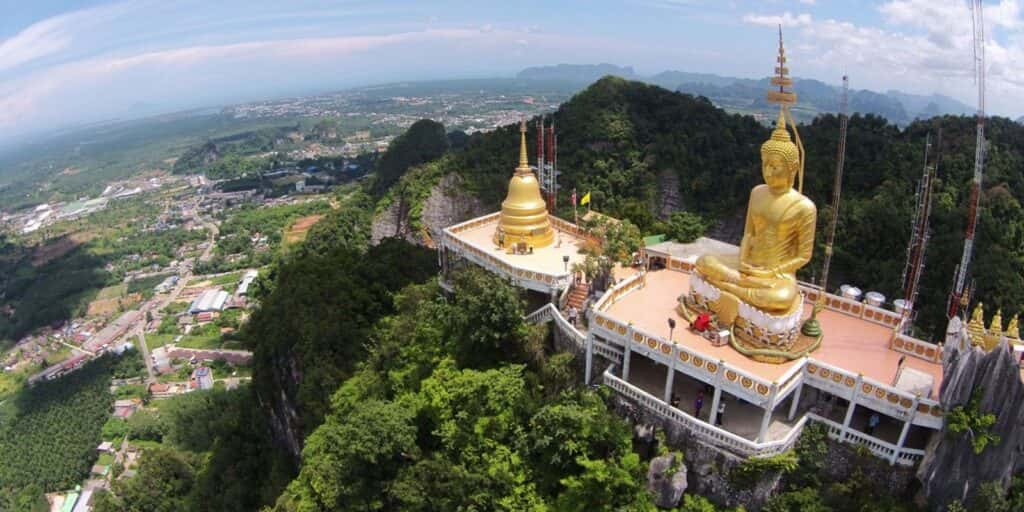 Popular tour to visit Tiger Cave Temple
20.Khao Khanab Nam
Khao Kanab Nam is located in Pak Nam Sub-district, Muang District, Krabi Province.  Khao Khanab Nam consists of two limestone mountains that rise up around 100 meters by the Krabi River. Khao Kanab Nam is the symbol of Krabi Province because when travelling to the province, its impressive image is an adjacently image of  Khao Kanab Nam and facing each other by the Krabi River.  In that area has a cave with stalactites and also ancient human skeletons.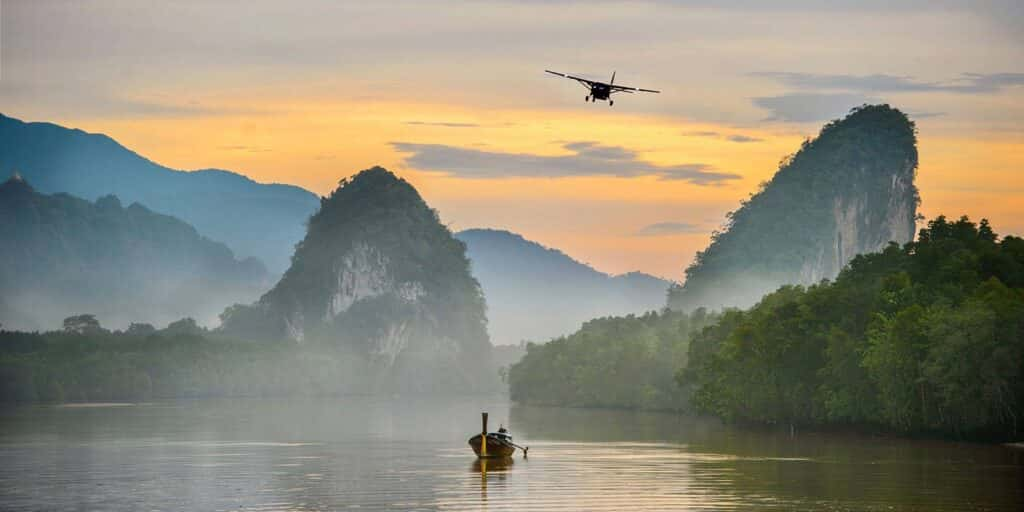 Popular tour to visit Khao Khanab Nam
Articles related to Krabi attractions are must-see and worthwhile.
Articles of other places you might be interested in: Phuket  Krabi  Koh Samui  Koh Phi Phi  Khao Lak  Koh Lanta  Bangkok