Many best places in Krabi are not only the sea
November 19, 2020
Many best places in Krabi are not only the sea. Krabi is the perfect recreational place for those who are looking for relaxing places in Southern Thailand. It's the province located between Phang Nga and Trang province, there are spectacular views both at the sea and on the mainland with more than 150 islands off the coastline 150 km long (many of them have white sandy beaches and turquoise waters). In addition, there are also other natural attractions for tourists to search for, add an impressive experience, admire the abundance of tropical rainforest, mountains, towering limestone cliffs, caves, waterfalls, and rare wildlife.  We offer you natural attractions that are not just the sea. Please try to follow us.
Many best places in Krabi are not only the sea
Emerald Pool
Emerald Pool is the beautiful natural pool looks like a limestone pond with clear emerald green water and able to swim. The color of water is emerald green color, consequently, its name is Emerald Pool. Some people also call the Crystal Pool.  It's situated amidst the forest-atmosphere in Khao Pra-Bang Khram Wildlife Sanctuary.  The water in Emerald pool can change its color according to the time of the day and lighting conditions which originates from a warm stream in the lowland forests of  southern Thailand which are 3 hot pools such as Sra Kaew (Glass Pool) , Emerald pool and  Blue Pool.  In addition to the Emerald Pool and the surrounding area there is a nature trail that's full of various kinds of shady trees which this nature study path is called "The Tina Nature Trail Joliff (Thung Teao), which is named after the British who founded this nature trail with a distance of about 2.7 kilometers for the travelers to study by themselves.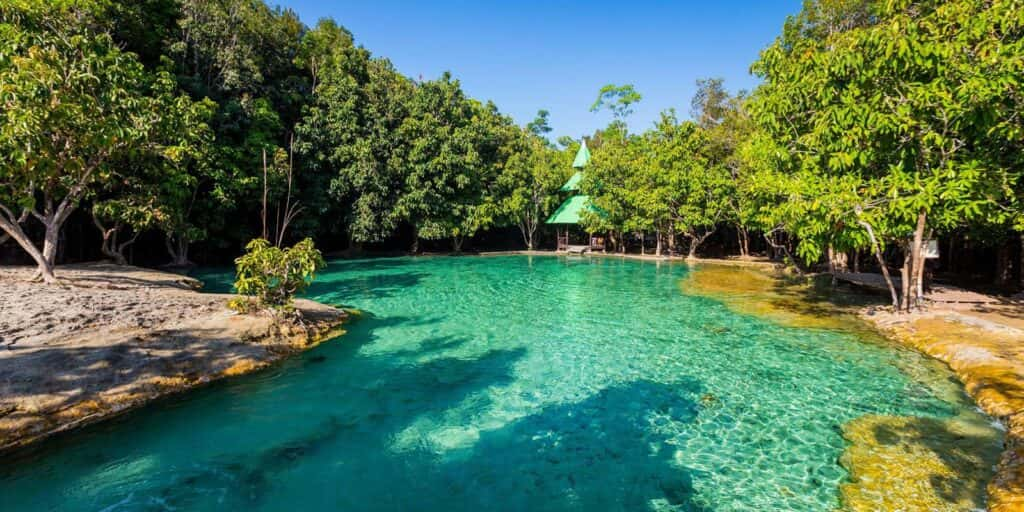 Popular tour to visit Emerald Pool
Hot spring waterfall
It is one of the unseen Thailand attractions of Krabi Province. Located in Klong Thom District, Krabi Province which is close to the Emerald Pool, looks like a natural bathtub in the middle of the forest to support the hot waterfall which flows cascading down the hill.  The water temperature is 30-50 degrees Celsius.  For those who came to experience, it's said that is an extraordinary waterfall.  Of course, who will believe that this is a hot waterfall brimming with natural mineral flowing together, especially for health. It looks like a hot stream springs up naturally from underground that contains dilute sulfur as a component and the temperature is right. The hot springs flow cascading down into the basin and able to bathe in the small hot waterfall stream which flows naturally cascading together. The hot spring waterfall contains with various kinds of minerals that helps relax , it's believed that it can treat rheumatism, back pain and related to the skin.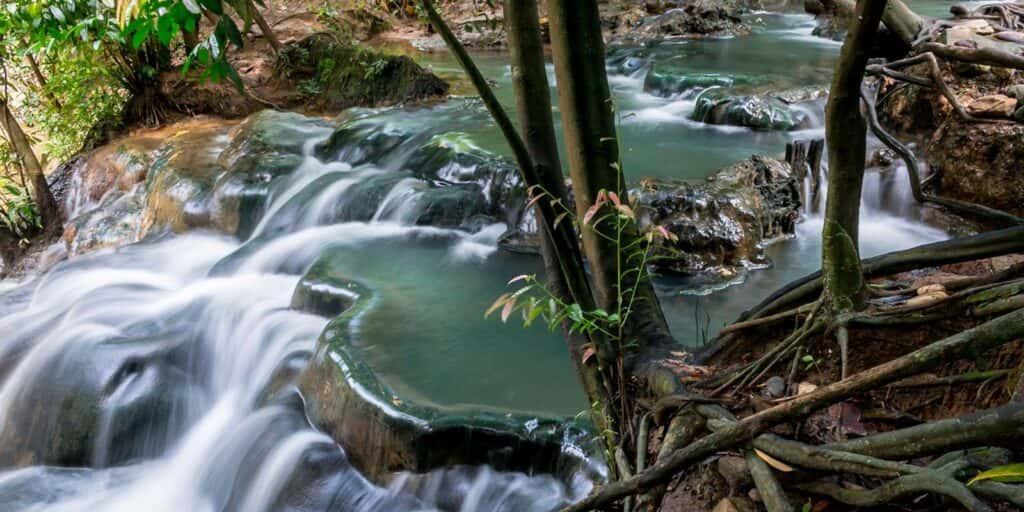 Popular tour to visit Hot spring waterfall
Tha Pom Khlong Song Nam
Tha Pom Canal is a short stream, approximately 5 kilometers long, originating from a pool of pop-up water on Khao Chong Phra Kaew that flows through a pond in the middle of the forest before flowing into the Andaman Sea. Tha Pom Canal is at the junction of freshwater and saltwater. When the sea is high the completely freshwater in the canal becomes brackish.  When it's low tide, the freshwater from the upstream forest will push all the saltwater out, making the area of ​​Tha Pom streams into a swamp with the special characteristics where the saltwater and freshwater actually meet and covering an area of ​​about 300 acres.  Becoming a small ecological wonder, in addition to being a joint of two waters, it also creates a confluence of three forests that have never been seen before. There are mangrove forests, abundant mangrove plants and banyan trees coexist harmoniously with swamp forest plants in the tropical rain forest with lush tree growths. The water at Tha Pom canal or Khlong Song Nam is clear as a mirror. It looks like emerald green because there is a large amount of limestone solution or calcium carbonate and sulfur. It is an area with high biodiversity including freshwater swamp ecosystems, wetlands, evergreen forests, and mangrove forest types so that is a habitat for both freshwater and brackish water fish.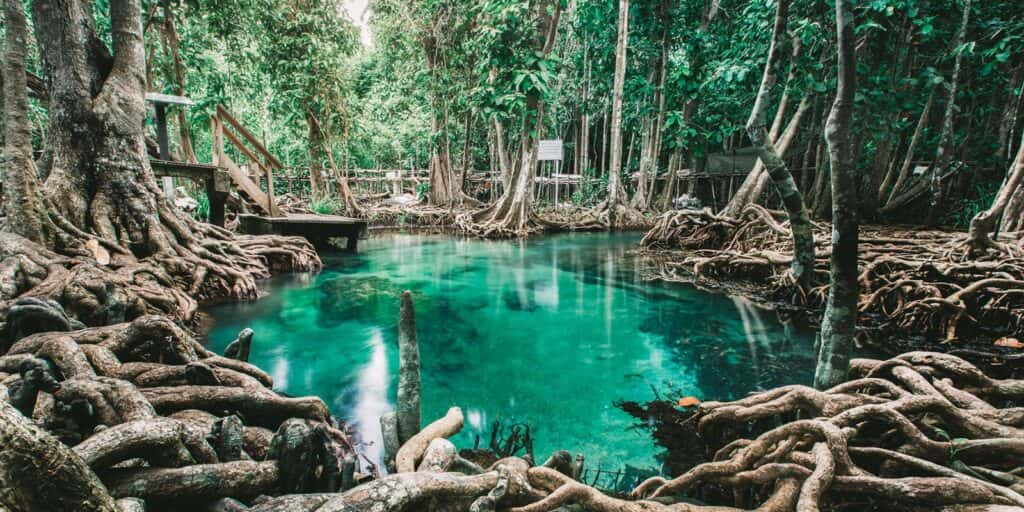 Din Daeng Doi Viewpoint
Din Daeng Doi, a new tourist attraction of Nong Thale Sub-district, Muang District, Krabi Province, is gaining popularity from tourists in the area and other provinces. Especially, photographers group and tourists who like hiking and nature. It is only 20 kilometers from Krabi town. Din Daeng Doi is located in Village No.6, Baan Din Daeng Noi, Nong Thale Sub-district, Muang District, Krabi Province. For the atmosphere of Din Daeng Doi that the villagers call until it is known, it looks like a low hill about 45 degrees high, walking up about 300 meters to a 360-degree viewpoint, overlooking the surrounding valley including the sea in Nong Thale sub-district. The highlight of this attraction is the tourists can view the sea of ​​mist surrounding the mountain and the sunrise in the morning in the middle of the Nong Thale valley very closely.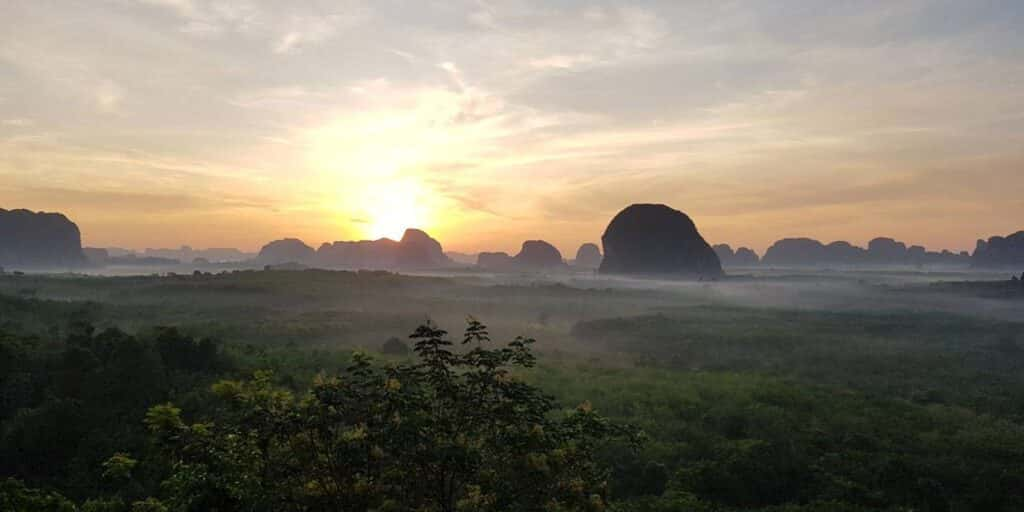 Dragon Crest Mountain (Khao Ngon Nak)
Dragon Crest Mountain or Khao Ngon Nak is a nature study and adventure path, which is in abundant forest and biodiversity.  Along the way that we walk up to the viewpoint of the mountain peak with a distance of approximately 3.7 kilometers, there will be a total of 13 bases to provide knowledge about the nature in the forest, such as the base of tropical pitcher plants or monkey cups, this is an area with a large number of tropical pitcher plants or a base with green moss covering the stone floor, looking like a green carpet. In addition, there is a waterfall along the way, which is strange water falls down and disappears into the soil but there is no stream at all. The villagers sprinkled rice bran onto the waterfall. It was found that the rice bran floated on the bottom of the hill where the water popped out, that villagers call it "Dragon Navel". There was also water popped out from the soil on the top of the mountain that never dry out.  Therefore, the villagers called it a holy spring and believed that when the water was given to those who were sick to drink, they could get well or using it to make holy water.   And when walking to the summit which is 565 meters tall from the sea level, you will see the beautiful scenery around Krabi and nearby provinces.  But the journey is difficult because you have to walk up the mountain, so the tourists must be prepared both mentally and physically, and do not walk off the route as they may get lost.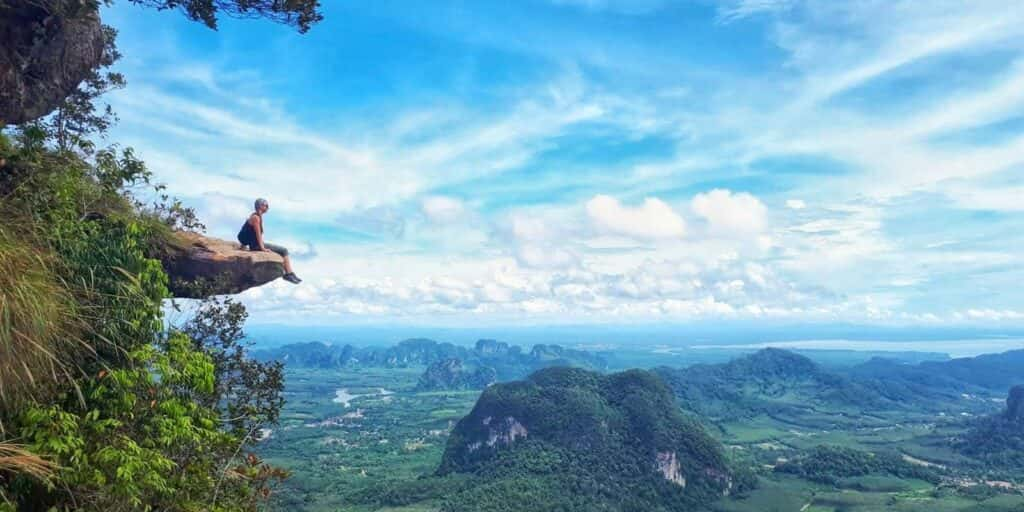 Than Bok Khorani Waterfall
Than Bok Khorani Waterfall is a beautiful waterfall in Than Bok Khorani National Park that is a clear stream of emerald green color, a good atmosphere is shady with various trees that provide coolness. It is also a headwater forest of several streams including Ao Luek canal.  Tourists who come here can find a comfortable sitting area under the shade of trees for sitting, relaxing, or waiting for people swimming comfortably. And can also sit and eat in the midst of nature with beautiful scenery of the lush forest.   Around this waterfall, in addition to coming to swim at the waterfall, sit and relax on a leisurely holiday, you can also see a variety of wildflowers that grow naturally and especially beautiful.  The water of the waterfall flows out of the cave, a clear stream of water coming out of the cave cascading down a rocky cliff into the basin below with emerald green clear water, it is a fairly large area because this waterfall is in the area of ​​Than Bok Khorani National Park.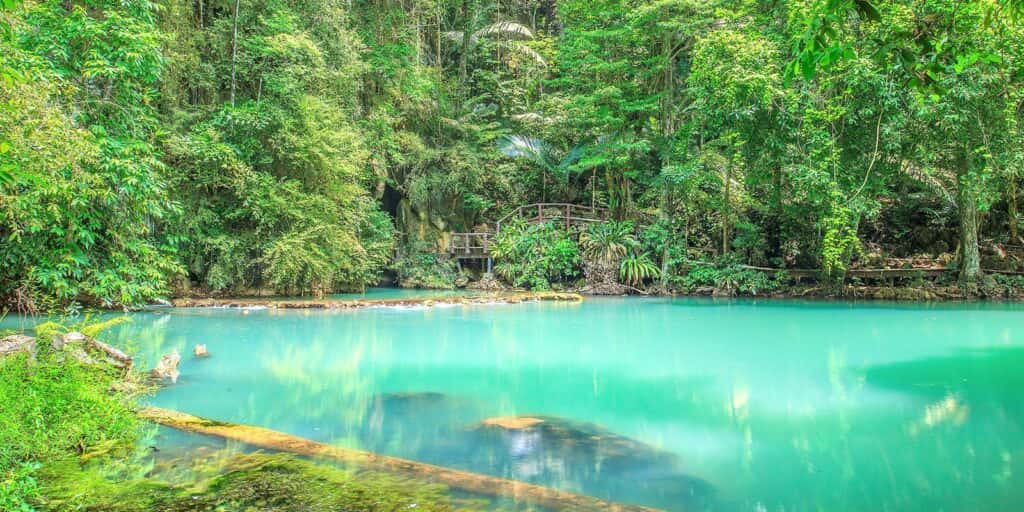 Nong Thale
Nong Thale is a large swamp and not too far from Ao Nang which is a new place for local and nearby photographers.  It's a semi-natural swamp surrounded by limestone mountains.  The sun rises from behind the mountain range, when the sunlight passed the mountain landscape line, hit the mist and calm water surface in the morning that causing a very beautiful dimension. There are also big and small mountains as a stunning background, which is a beautiful and romantic sunset viewpoint and is a beautiful corner for nature photography lovers.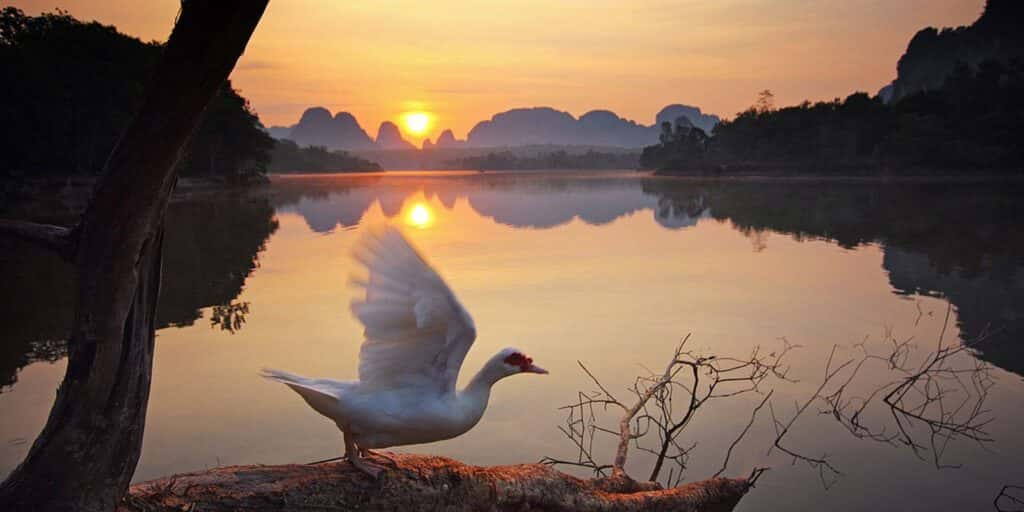 Khao Phanom Bencha National Park
Khao Phanom Bencha National Park, the park is named for Khao Phanom Bencha mountain and protects an area of virgin rainforest and rare wildlife.  It is a lush and complex mountain range with steep cliffs consisting of Khao Phanom and Khao Phanom Bencha which has the highest peak at  1,397 meters above sea level, these mountains are in a long line from north to south. The park has numerous large waterfalls, including Huai To Waterfall, a waterfall of five cascades, and a height of 80 meters. It is an origin of important water sources used for the consumption of people in Krabi town such as Klong Krabi Yai which flows into the Andaman Sea at Pak Nam Sub-district, Muang District, Krabi Province. Khao Phanom Bencha is also home to over 200 bird species and is a significant bird-spotting area.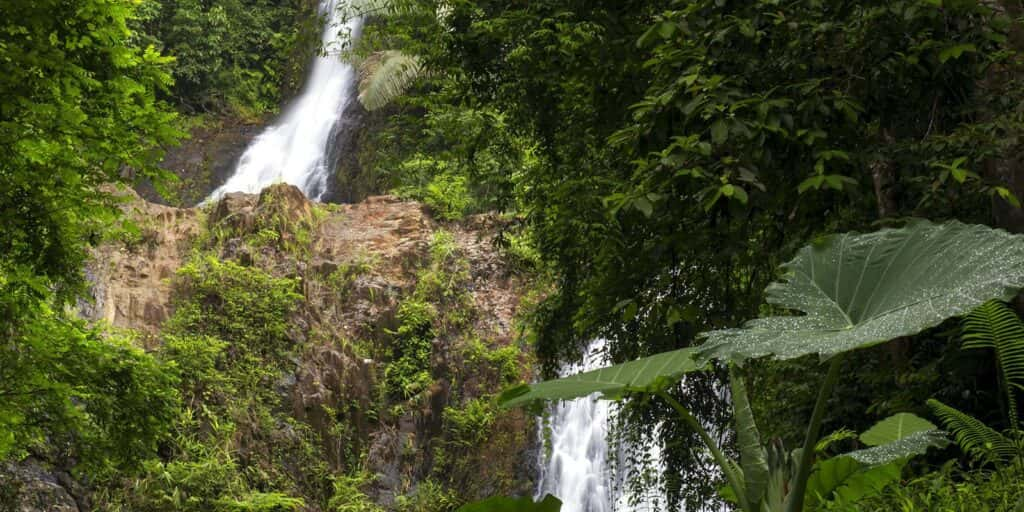 Krabi Walking Street
Krabi Walking Street is located in the center of Krabi town.  The place is not so wide, but come once and can walk around every corner.  Krabi Walking Street is open every Friday, Saturday, and Sunday evening. Anyone who comes to visit here needs to take a walk around for shopping, buying souvenirs, eating seafood, sitting in front of the stage, listening to international or local music.  After eating, you can try to walk along the dam to feel sea breeze dam and touch the atmosphere of Krabi night, then you will definitely fall in love with Krabi until definitely not wanting to go back home.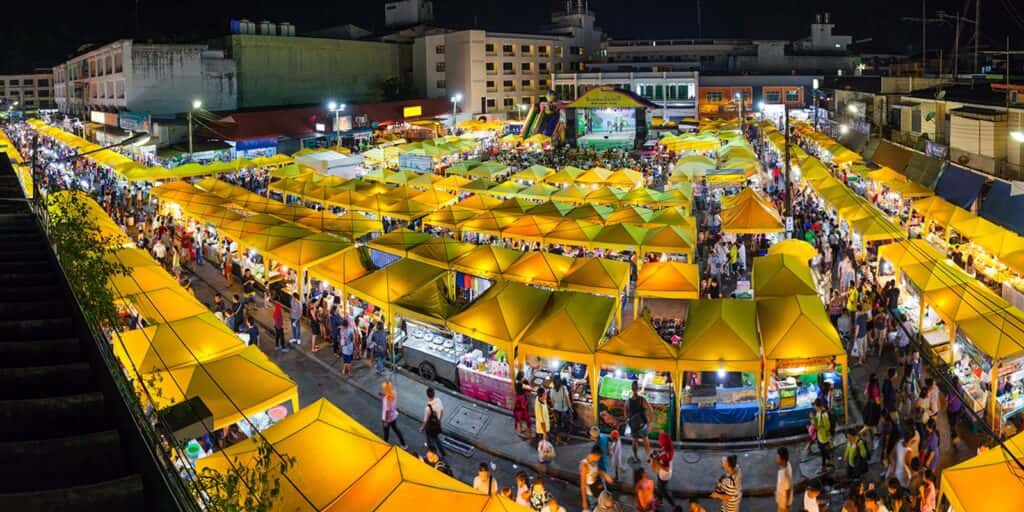 Tiger Cave Temple(Wat Tham Suea)
The Tiger Cave Temple or Wat Tham Suea is well known in Krabi and nearby provinces as well as foreigners for both the outstanding beauty of the temple and the famous virtue of a Vipassana monk named Jumnean Seelasettho "Luang Pho Jamnien",  the abbot who has shown faith by people for a long time.   In general of Wat Tham Suea is characterized by a forest garden, a cave with cliff sheds, and the source of natural caves such as Gandharvas Cave, Tham Lod, Tham Chang Kaew,  Arrow Cave, Snake Cave,  Turtle Cave, Tiger Hands cave. The most outstanding unique is a respected, popular, and favorite temple by both Thai people and foreigners.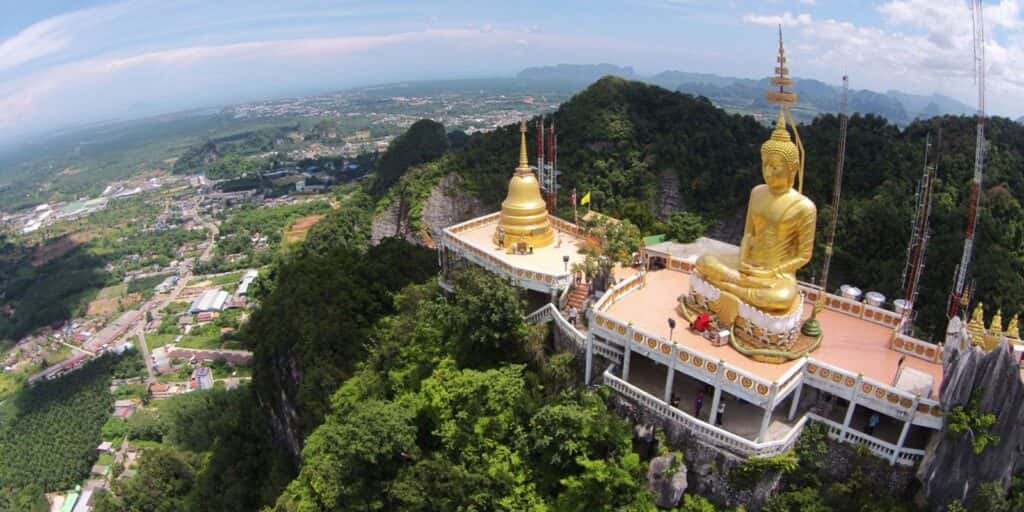 Popular tour to visit Tiger Cave Temple(Wat Tham Suea)
Bang Thong Temple( Wat Mahathat Wachiramongkol)
Bang Thong Temple, also known as Wat Mahathat Wachiramongkol, located in Na Nuea Sub-district, Ao Luek District, Krabi Province. It is another temple that is very beautiful due to the atmosphere around the temple to the architecture with the golden-colored pagoda outstandingly visible from afar. The pagoda was built in honor of the 50th anniversary of King Rama 10.  It is a place to relax the mind of  Buddhists, and is also a center for a place to study Dharma as well.   The highlight of Phra Mahathat Pagoda is about 95 meters high, it is considered the highest Phra Mahathat Pagoda in the south. The Phra Mahathat Pagoda is decorated to resemble the Maha Chedi Bodh Gaya Pagoda, the place where Buddha enlightened in Gaya District,India. Within the hall of Phra  Mahathat Pagoda is also decorated with beautiful historical Buddhist paintings as well. There are many other beautiful parts inside Bang Thong Temple,including the Buddha images, the orientation  of the sermon, a portrait likes Luang Pu Thuat, etc. The atmosphere of Bang Thong Temple is very shady because it is full of various trees and there was a stone courtyard under the shade of trees,a place for tourists to relax as well.  In addition to paying homage to various Buddha images in Bang Thong Temple, then you will be guaranteed beautiful images because there are so many beautiful photography angles that countless more importantly, feel as in a foreign country as well. Anyone who visits Krabi and wants to find a place to travel to the beautiful temple and love to take pictures, you must come here.  And if there is mention of the Buddha place and Phra Mahathat Pagoda, the great part of the South at this time, I can immediately be sure that Wat Mahathat Wachiramongkol is a place where both locals and tourists, both Thai and foreigners also know.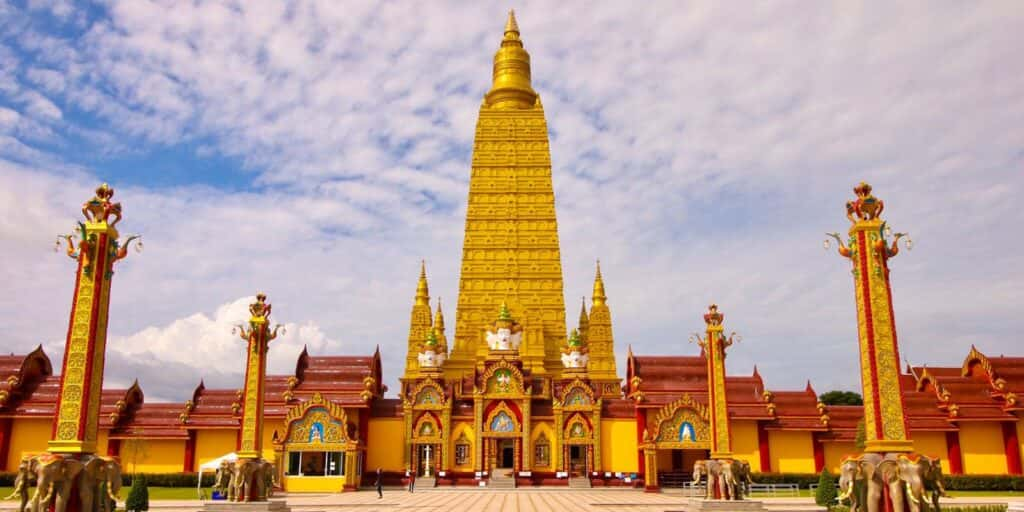 Kaew Korawaram Temple
Kaew Korawaram Temple is located on a hill above the city's downtown in the center of Krabi town.  It is the third level royal monastery and a provincial temple which is the importance of being the center of Buddhism Dharma Study Center,  Dharma-Pali  Section, and a center for religious studies of the monks of Krabi Province. It is also a place to learn and organize the Buddhist activities of Krabi.  In the temple, there are many important holy objects such as gold and bronze castings Buddha images, etc.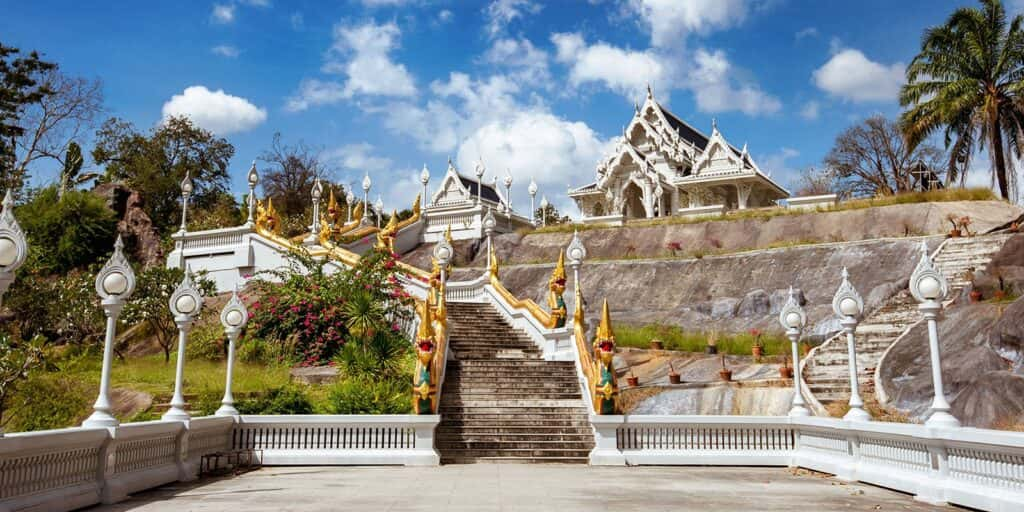 Phi Hua To Cave (Tham Phi Hua To)
Phi Hua To Cave means a big-headed ghost cave and looks like a skull, which is located in Than Bok Khorani National Park. It is an interesting tourist attraction. Tham Phi Hua To is about 10 meters above sea level, surrounded by marshes and mangroves forests.  There are also stalactites and stalagmites inside the cave. Inside the cave is divided into 2 large booths with ancient prehistoric colored paintings. It is assumed that the age is about 2,000-3,000 years, written in red, black, yellow, brown, yellow, brown, red, or dark brown. Divided by 23 groups of 238 images found, the most popular and everyone must visit is a portrait wearing a top hat or a portrait with a horned animal head written with red likes aliens and buried in the rock.  There are also other images, as follows: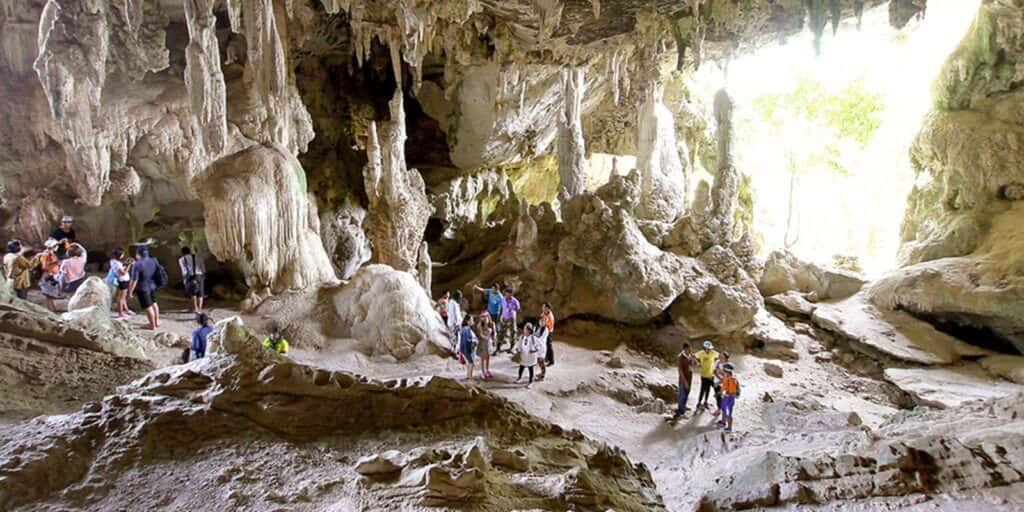 – Animal groups such as phoenixes, chickens, fish, squid, alligators, hedgehogs, and shrimps
– A group of gadgets such as fishing nets and boats
– A group of images of human hands pasted on the ceiling of the cave which one hand having 6 fingers and the other normally having 5 fingers, etc.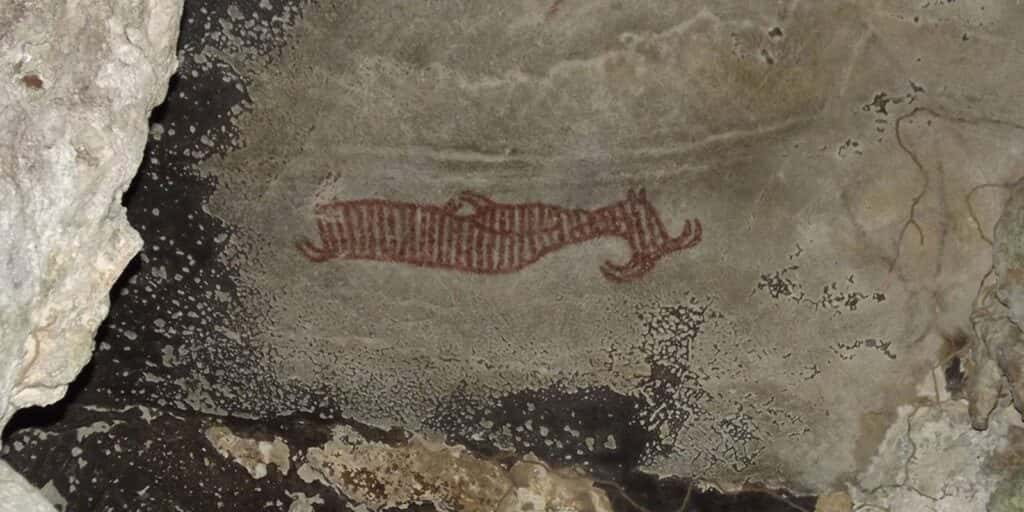 Popular tour to visit Phi Hua To Cave (Tham Phi Hua To)
Tham Prasat Nalakhiring Temple
Tham Prasat Nalakhiring Temple located in Plai Phraya District, Krabi Province, is a distinctive temple and the only one in Thailand with an elephant structure is "Elephant Chapel".   It is the "Nalakhiring Elephant Chapel" that is built in the shape of crouching elephant uplifts the proboscis and tusks. It looks strange but has a beautiful proportion.
At the backside of the temple, there is a towering mountain with "Prasat Nalakhiring Cave" inside. The reason why is named this cave "Tham Prasat Nalakhiring"  because this cave contains rocks, stalactites, and stalagmites.   The name "Nalakhiring" came from the name of "Nalakhiri" which was one of the important elephants in the Buddha era.  This temple is about 70 kilometers from Krabi town.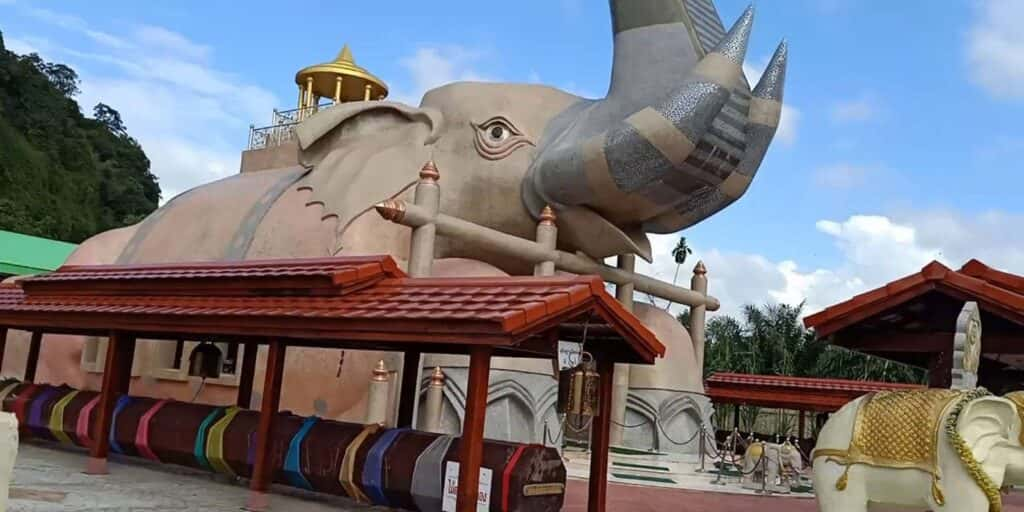 Khao Karos
The name of Karos Island derived from the Yawi  language, meaning not beautiful, ugly, ghost, or devil so it is the origin of the island's nickname "Valley of two emotional devils", where the nickname is a large natural sculpture standing on a rocky cliff of Khao Karos.  Caused by the erosion of the wind, rain, and water for a long time until it became a strange devil-shaped cliff.  At the different times of the day, the devil's face changes as if it were alive. In the morning, the devil's face had a sorrowful expression but the smile will appear when the afternoon sunlight hits.  Apart from the devil's face in the area that is not far, if you observe carefully, you will see a picture of a Takhon phantom and a black witch on a large white rock staring at the visitors. In addition to the images that nature created to imagine a strange image to the viewer, Khao Karos also has ancient prehistoric paintings approximately 3,000 – 5,000 years old, located in the southeast of the island or the Rhino End Cape(Laem Taai Raet), the paintings are not very high. It's all painted in red and the appearance is a solid-colored outline.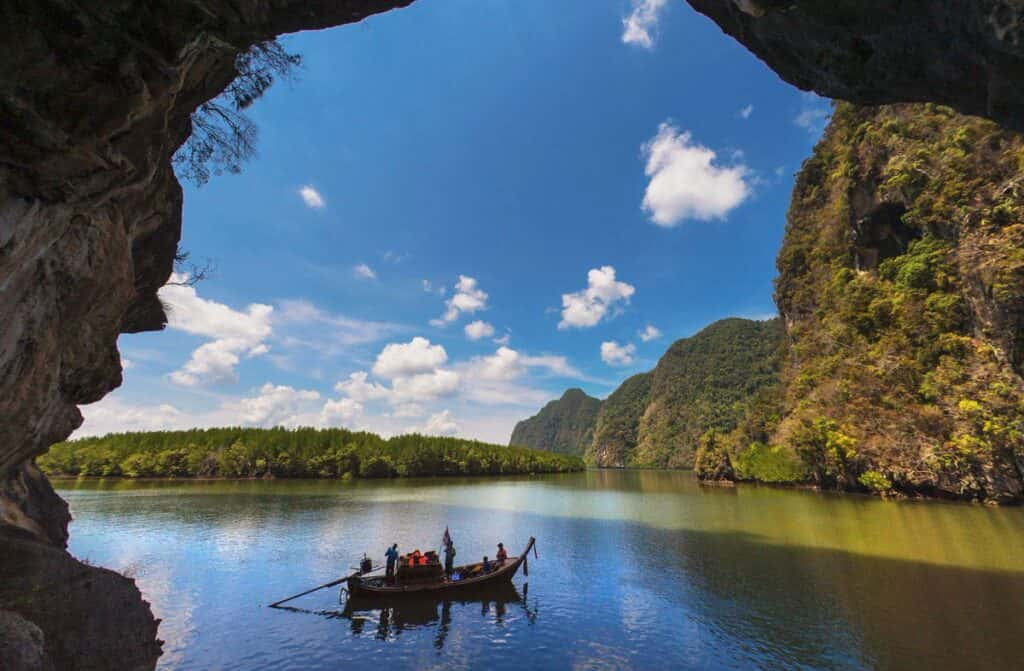 Popular tour to visit Khao Karos
Klong Srakaew
Klong Srakaew(Srakaew Canal) is located at Baan Nai Sra Village, Khao Thong Sub-district, Muang District, Krabi Province.  Klong Srakaew, the Blue Lagoon of Krabi, there are 7 ponds surrounding it, quite deep and very beautiful. Especially, the watershed pool of Klong Srakaew is crystal clear and has a bluish blue color that looks like a Blue Lagoon at Vang Vieng the best. It's among the natural forests of rainforest and fertile swamp until receiving the nickname "The Amazon of Krabi".  The tourists popularly come to swim and paddle a kayak along Klong Srakaew because it is a very shady nature within the Klong Srakaew area.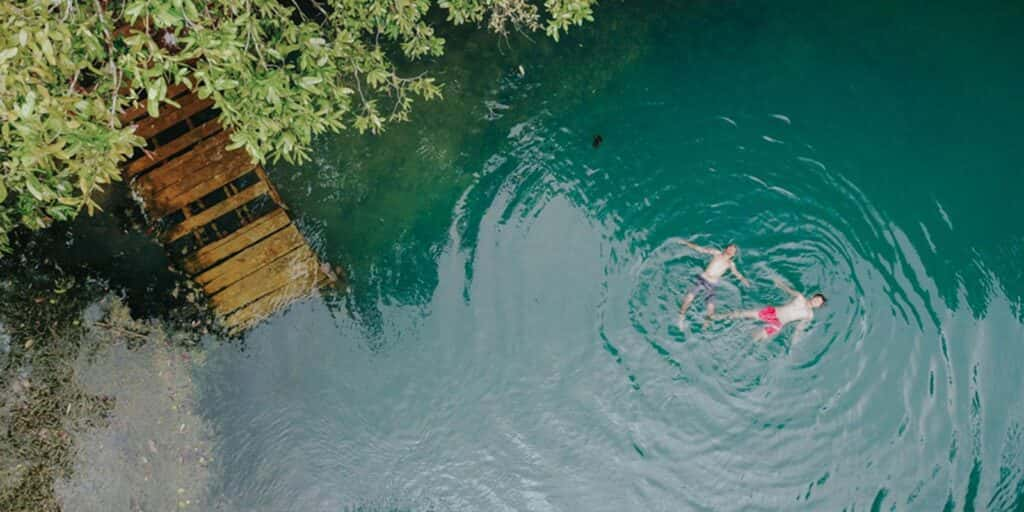 Klong Rood
Klong Rood was formerly known as Klong Nong Thale, is located at Nong Thale Sub-district, Mueang District, Krabi Province. As for the origin of the name "Khlong Rood" comes from the word "Rood", which is a local dialect of the South meaning from slipping or slipping down a slope.   When the weir was blocked to hold the water, the canal above the weir became a large swamp. In the weir area, the moss is clinging to the rocks then becoming a popular place for people to have fun by playing sliders into the water.  And there is another name called Klong Nam Sai which means clear water canal because the water here is very clear, extremely clear, especially at the beginning of the waters until some villagers call it "Klong Nam Sai"(the clear water canal).  Krabi has many called Klong Nam Sai. So as not to be confused,  TAT calls this place Klong Rood (Khlong Nam Sai) so we can understand this it is here.  Nowadays, Klong Nong Thale" or "Klong Rood" has become a new eco-tourism destination for Krabi Province by developing and decorating the route to accommodate tourists who like ecological tourism, by kayaking or canoeing along the canal to admire the beauty of nature.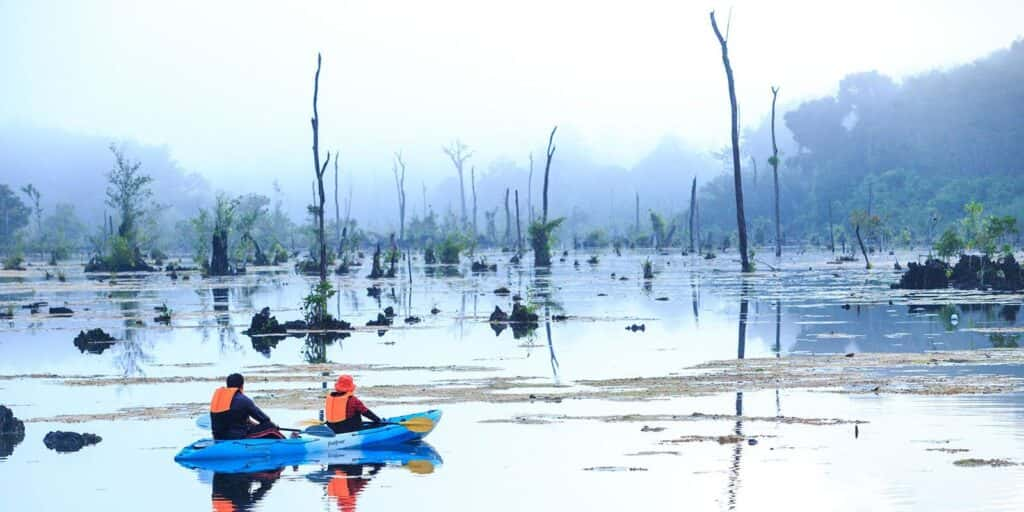 Popular tour to visit Klong Rood
Andaman Museum
Krabi Municipality receives budget support from five provinces in the south of the Andaman coast. They consist of Krabi, Phang Nga, Phuket, Ranong, and Trang, for the construction of the Andaman Cultural Learning Center which is considered a learning center of art, culture, history of Krabi Province and the southern Andaman coast groups. That focuses on presenting the stories of ancient beads which are linked from the past as a port for more than two thousand years, transmitted through time to the present-day as well as being a place to create and present valuable artistic and cultural works of Krabi Province and the southern Andaman coast.  Andaman Cultural Learning Center is under the supervision of the Krabi Municipality led by Mr. Kiratisak Phukaoluan, the Mayor of Krabi Province.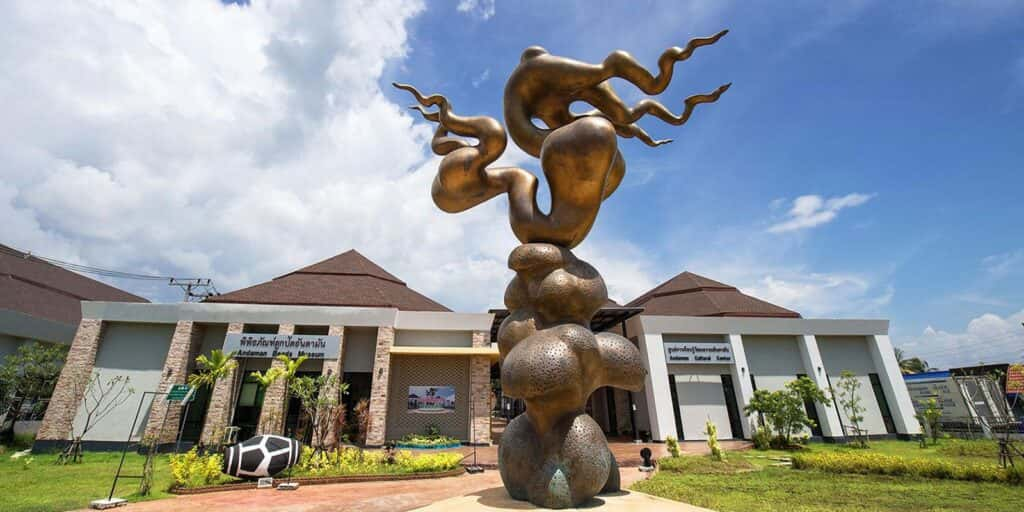 Articles related to the Many best places in Krabi are not only the sea.
Articles of other places you might be interested in: Phuket  Krabi  Koh Samui  Koh Phi Phi  Khao Lak  Koh Lanta  Bangkok