The famous places in Phuket must visit and should come to travel once
December 08, 2020
The famous places in Phuket must visit and should come to travel once. Visit Phuket, the southern pearl is an island full of every taste attraction, from beautiful beaches, clear seawater to a European-style old town, the museum, and sacred temples. On OH-HOO website has information of Phuket tourism, along with the highlights of each place. Whether you want to see the arts and culture of the South, pay respect to the holy objects of the city, or go into the sea, swimming, snorkeling, sightseeing coral, and etc.
The famous places in Phuket must visit and should come to travel once

Khai Islands
Khai Islands are small islands located between Koh Siray, Phuket Province, and Koh Yao Yai, Phang Nga Province, consisting of Koh Khai Nok, Koh Khai Nai, and Koh Khai Nui.
Koh Khai Nai and Koh Khai Nok are private islands with clear water that you can see the coral reefs as well as masses of colorful fish, suitable for snorkeling. Khai Nui Island is not allowed to go to the island and around the island are rocks and corals.
---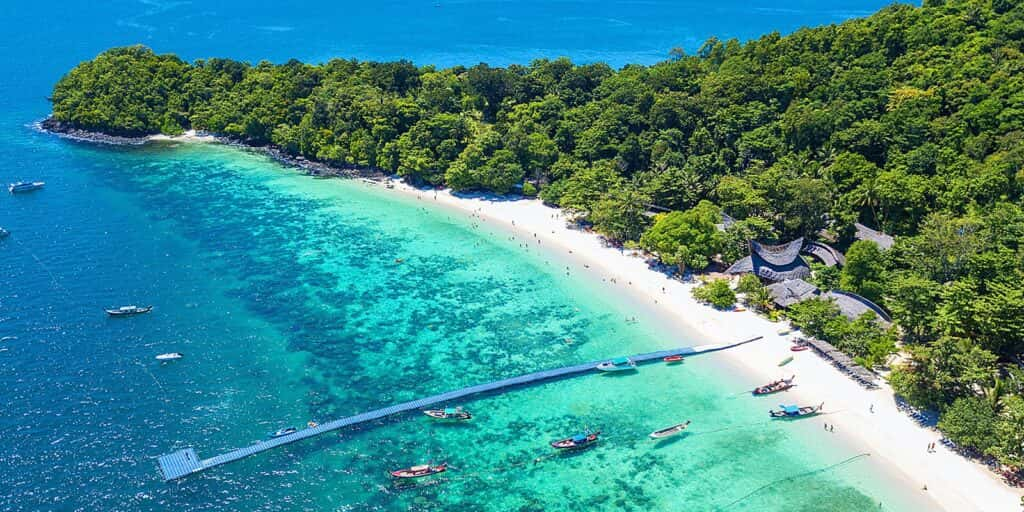 Hey Island (Corals Island)
The island is known for its coral reef and fine sandy beach, there are also accommodations and facilities. Hey Island is not far from Phuket, the island with crystal clear water suitable for snorkeling and swimming. The accommodation price is cheaper than at the famous beaches on Phuket Island.
---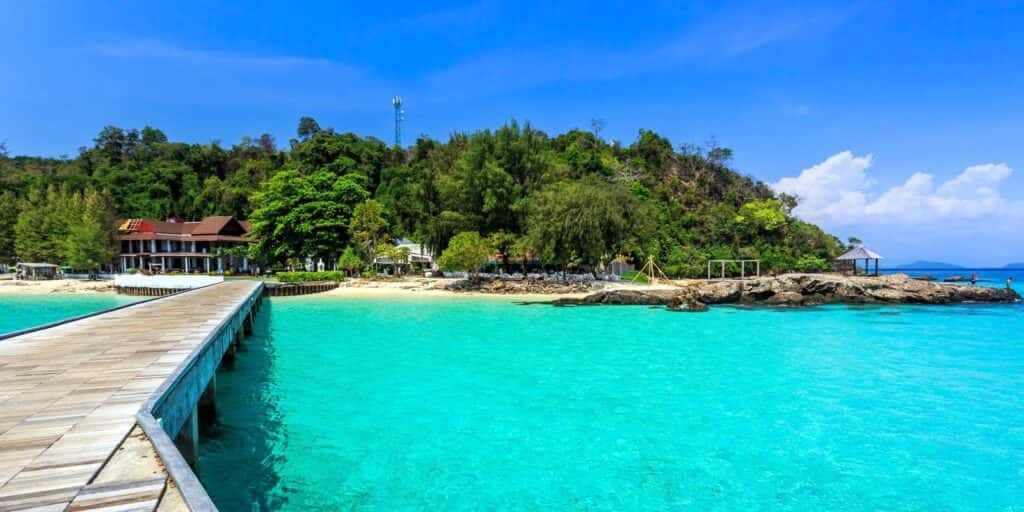 Maiton Island (Koh Mai Thon)
Maiton Island is a private island with small hotels and just a few bungalows. It is a quiet island with high natural integrity, plenty of abundant corals, turquoise blue waters, crystal clear water, and nicknamed "Maldives of Thailand ".
---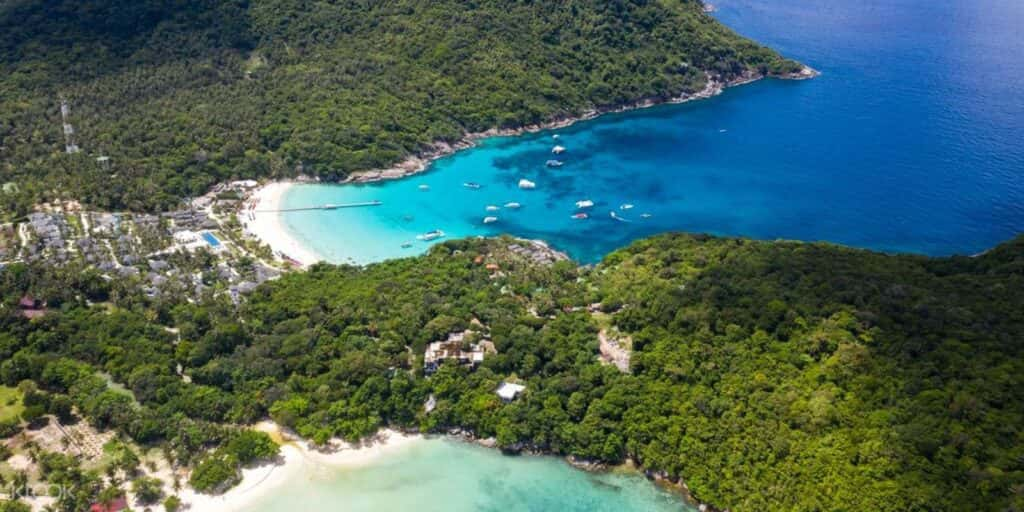 Racha Yai Island
There is a white sandy beach, the beach between the valleys "Haad Nam Tok – Haad Bungalow" There are staghorn corals and soft corals as a nice diving spot.
---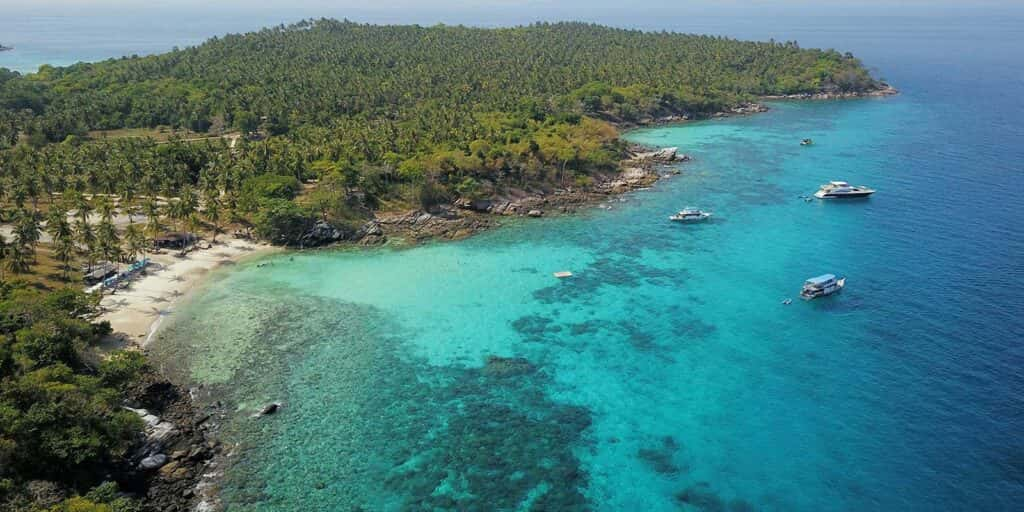 Racha Noi Island
It is an island with many rocks because of the deposition of corals. It is not suitable for swimming but a popular fishing spot.
---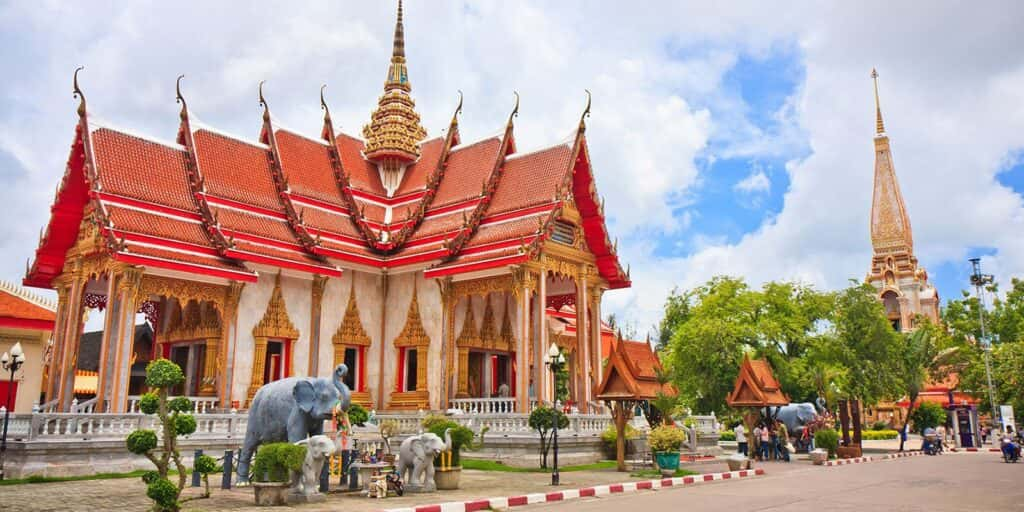 Chalong Temple or Chaiyatharam Temple
It is a famous priceless temple in Phuket and the location of Phra Mahathat Chedi Phra Chom Thai Baramee, the place to enshrine the Buddha's relics brought from Sri Lanka. In addition, townspeople and tourists also favor coming to worship and gild a statue of Luang Pho Chaem, a helper of Phuket people from the "Chinese secret society Rebellion " during the reign of King Rama V, Luang Pho Chuen, and Luang Pho Kleum which Phuket people and devotees believe that they are sacred that are able to help eliminate and ward off diseases.
---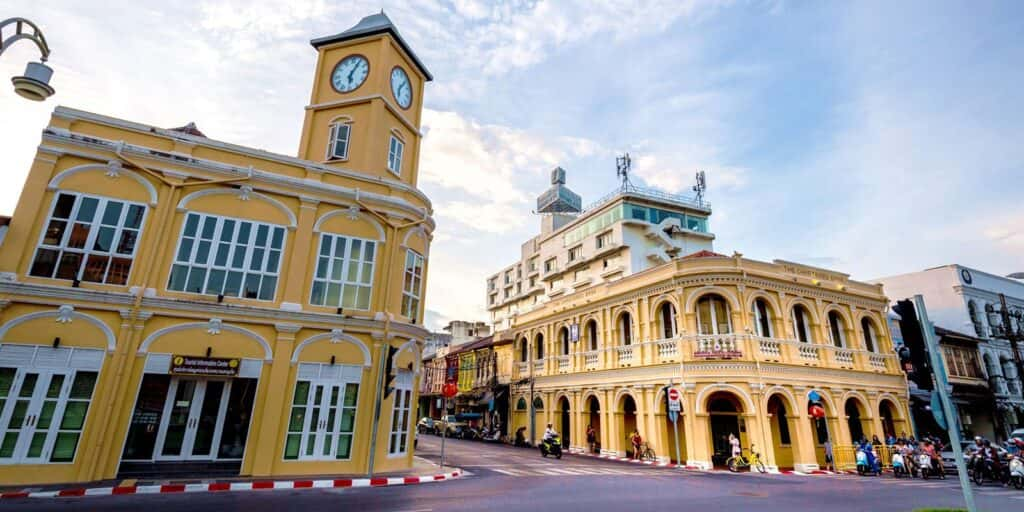 Phuket Old Town, Sino-Portuguese (Sino-Portuguese)
Phuket Old Town, Sino-Portuguese (Sino-Portuguese) is a group of ancient buildings scattered in various points in the Phuket Municipality, Phang Nga Road, Thalang Road, Yaowarat Road, Dibuk Road, and Krabi Road that are symbols of Phuket Town. These buildings are ancient colonial buildings with a mixture of western and eastern art, they are over a hundred years old. They were built in 1903, it is considered the city's oldest commercial district. It is also a popular restaurant district, there are many of the town famous restaurants in this district.
---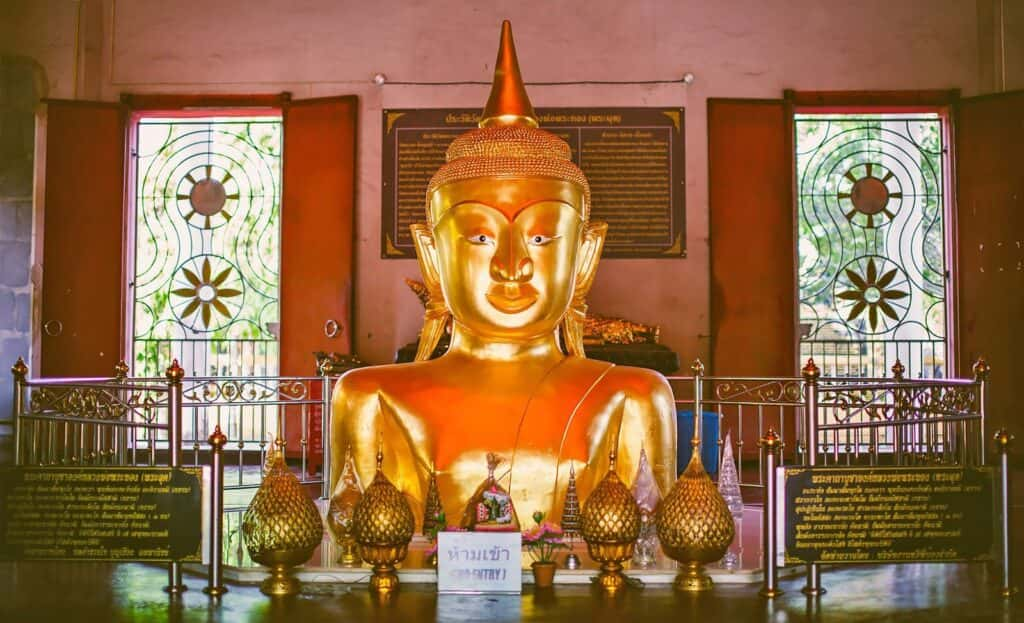 Phra Thong Temple (Wat Phra Phut)
It's the priceless temple of Thalang district for a long time. There is only half of the Buddha image rose from the ground, it is said that about this Buddha image in ancient times the Burmese soldiers tried to dig and took it when they attacked Thalang town but they could not do it, then the villagers took the gold to gild the Buddha image with reverence until it looked like the golden Buddha image and is the source of both temple names. In addition, inside the temple there is a local museum "Wat Phra Thong Museum" exhibits objects and appliances of Thalang villagers in the past and Chinese people who have immigrated in ancient time as well.
---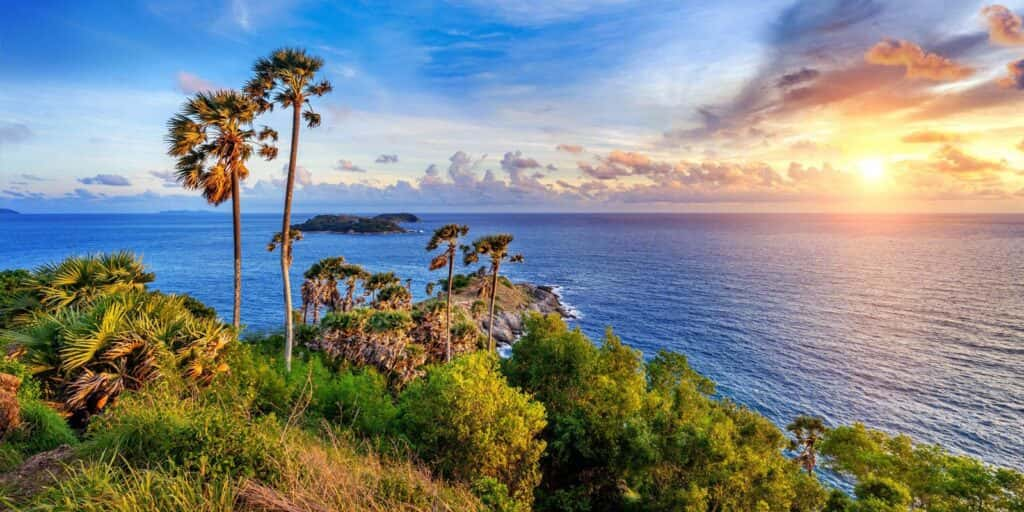 Promthep Cape
It is the most beautiful viewpoint of the province and not far from Rawai beach. It is one of the most beautiful sunset viewing spots in Thailand and an important tourist destination for both Thai and foreign tourists, including Phuket residents who favor visiting here. Promthep Cape is the southernmost cape of Phuket, its shape is curved that descends into the seafloor, the villagers called Laem Chao. In addition, there is also the Kanchanaphisek Lighthouse in the same area that built on the occasion of the 50th anniversary of His Majesty the King's succession. Inside the lighthouse, there is an exhibition about the construction of the lighthouse, maintaining standard time, calculating and displaying sunrise and sunset times, and on the top of the lighthouse is also another viewpoint.
---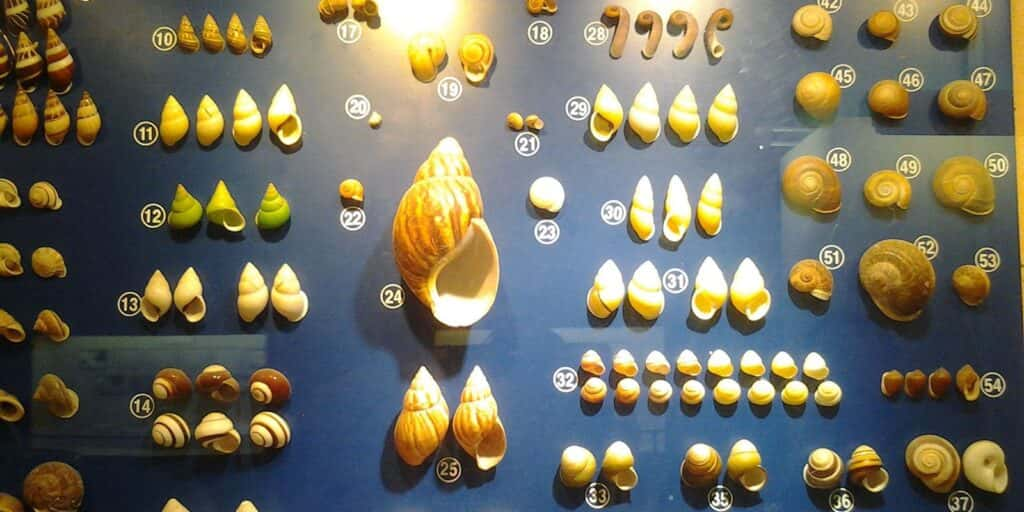 Phuket Seashell Museum
It is located near Rawai beach, a collection of many colorful shells from all over the world with more than 2000 species of ammonite fossils (Ammonite Fossil), or ancient octopus over 350 million years old, hundreds of millions of years old shells, a giant shell weighing more than 250 kilograms and the world's largest golden pearl weighing 140 carats. This museum was built by learning and intended to spread the knowledge of Somnuk Pattamakanthin, the museum owner who has learned and collected shells for over 40 years. This museum is provided with thorough and interesting information to describe the different kinds of shellfish.
---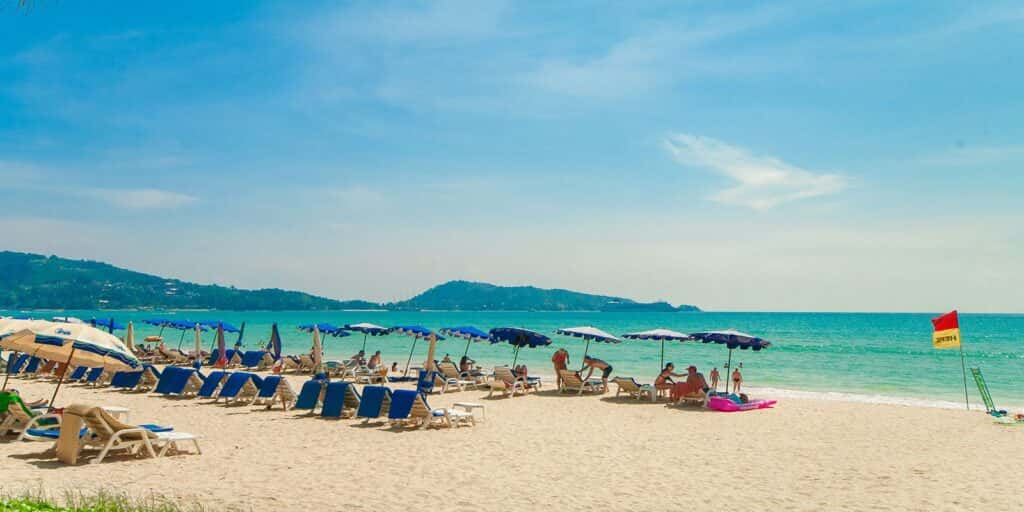 Patong Beach
Patong is a beach resort town on the west coast of Phuket Island. Its sandy, crescent beach is lined with cafes, restaurants, bars, and is also the center of Phuket's nightlife and shopping. Nightlife is centered in two main areas, Bangla Road and the "Paradise Complex". Patong beach is a white sandy beach more than 9 km long, is considered to be the busiest tourist area of Phuket. There are hotels, accommodations, restaurants, many shops, and the night market.
---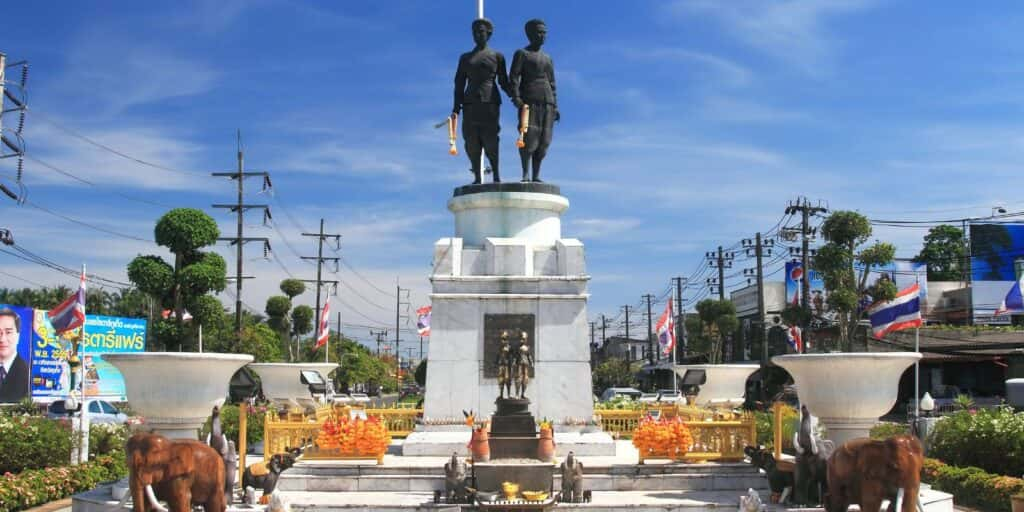 Thao Thep Kasattri – ThaoSri Sunthon Monument of Thalang
It is situated at the entrance to Thalang District on the main highway between the Phuket International Airport and Phuket town , created in honor of a former Thai heroine who defended the Phuket island from the enemies in the Burmese–Siamese War.
---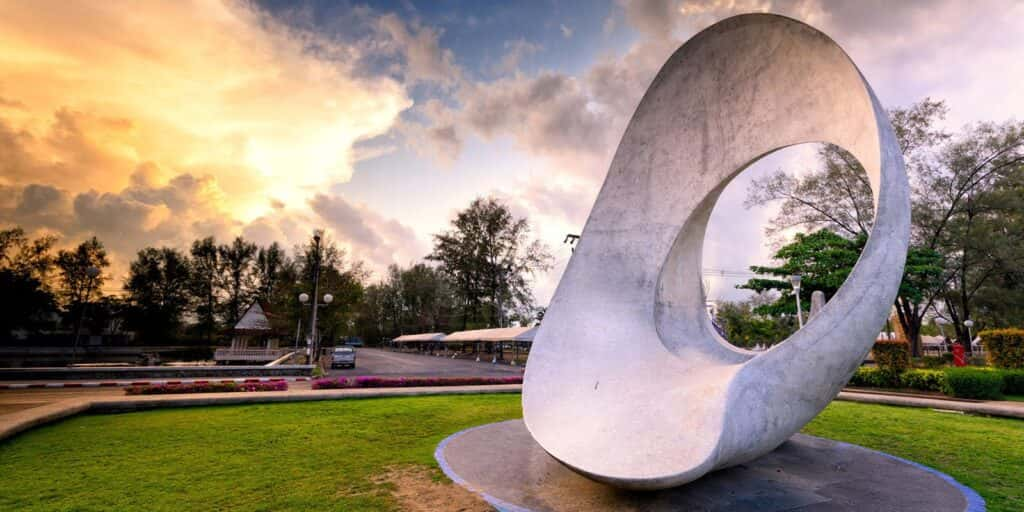 Phuket Stone Bridge
It is a public park near the sea, one of the top spots where the locals love to relax with their friends and family, not only for the beautiful and relaxing scenery but for the food as well. It is at the end of the road and extending into the sea a little. It is also a popular recreational place in Phuket city and the sunset view is amazing.
---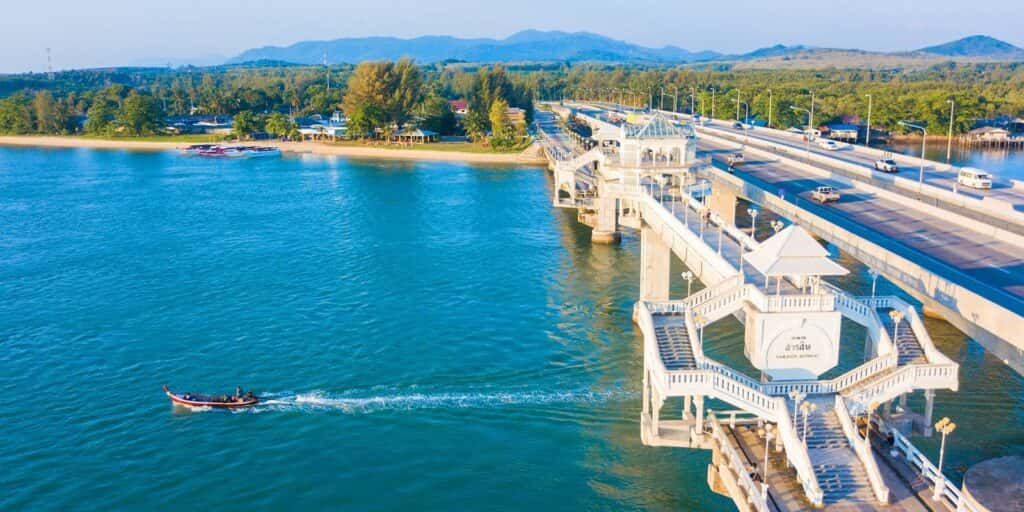 Sarasin Bridge
Sarasin Bridge is a long concrete bridge connecting the mainland of Phuket and Phang Nga Province, and known as one of the most beautiful bridges and has an unforgettable history of Thailand. The story of the two lovers is forever imprinted in memory. In the year 1987 has also been made into a Thai film titled "Saphan Rak Sarasin", The Sarasin Bridge of Love. The origin of the movie was made from the tragedy of two young lovers who jumped from the bridge for suicide together. Sarasin Bridge has since become a tourist attraction and well-known in Phuket.
---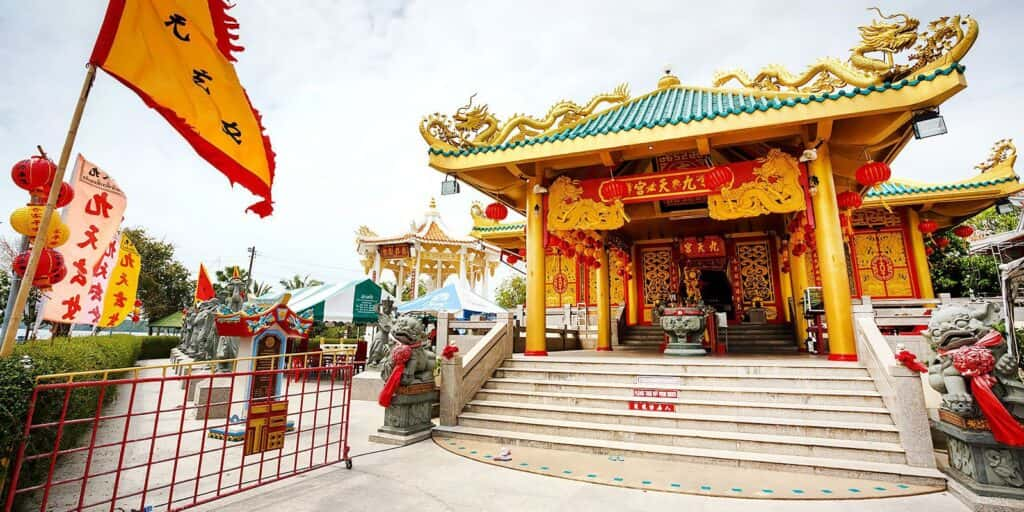 Kathu Shrine
A Chinese shrine giving the blessing of the Guan Yin Goddess on a base of a dragon, revered by Phuket people. And it is now considered one of the holiest shrines in Phuket and a wonderful example of traditional Chinese architecture. The origin of Phuket's famous vegetarian tradition took place at this old shrine and it is long-time situated in Phuket.
---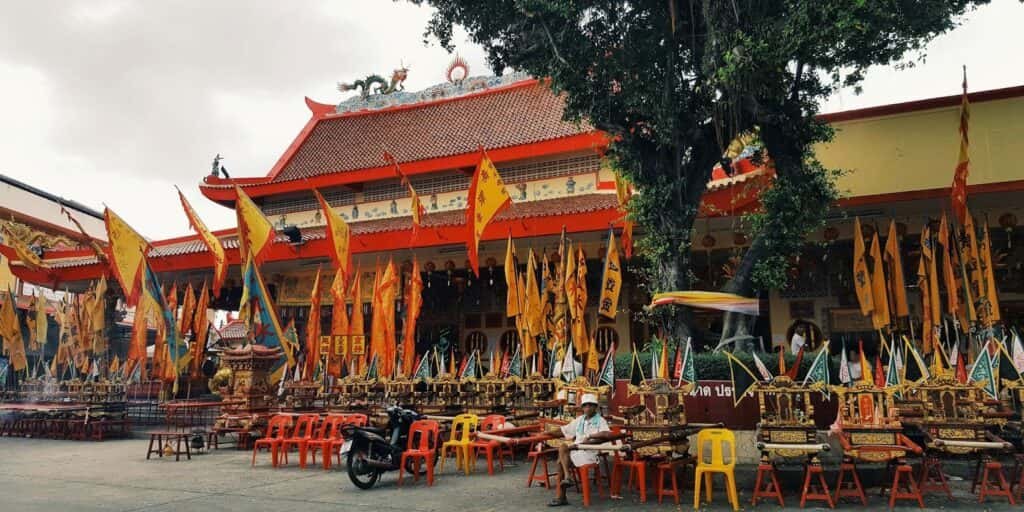 Bang Neow Shrine
It is also known by different names such as Bang Liao Shrine as well as Tao Boe Keng or Chai Tueng and the Thep Rasi Foundation Shrine. It is a beautiful old and attractive shrine which is very important during the Vegetarian Festival in October every year.
---

Put Cho Shrine
An old shrine in Phuket city that enshrines Bodhisattva Guan Yin or Guan Yin Put Cho which is a Bodhisattva in the Mahayana sect. The Put Cho Shrine is one of the more important shrines in Phuket.
---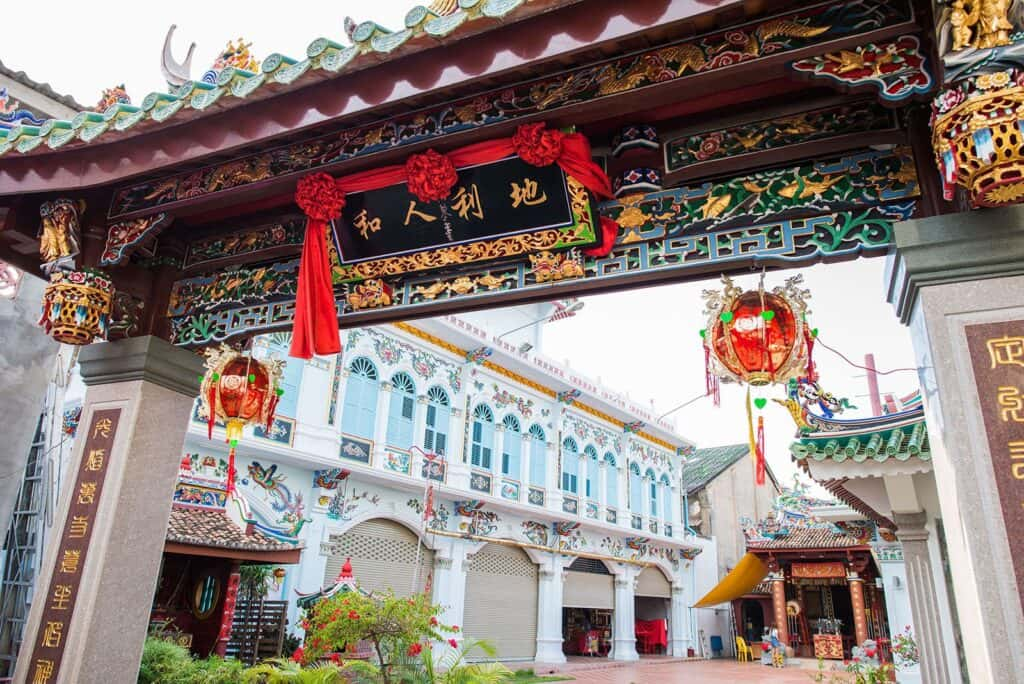 Sang Tham Shrine
A hundred years old Chinese shrine which established in Phuket over a hundred years ago. This shrine is used not only for worshipping all the holiness but also for joining the family. Sang Tham Shrine is very prominent that many tourists are attracted to visit because the location is very tranquil and peaceful.
---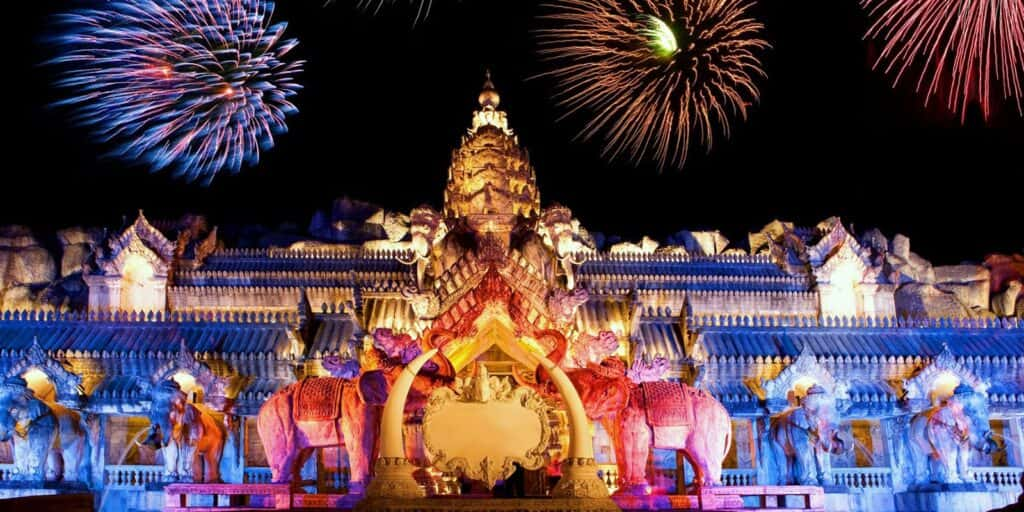 Phuket Fantasea
Phuket Fantasea is a Thai nighttime cultural theme park located at Kamala Beach. It's a cultural theme park offering elaborate shows with elephants, a buffet, an animal exhibit, and shopping. There is a performance of Thai art and culture with technology, souvenir shops, and various Thai handicrafts. It is famous for a Thai cultural show infused with illusion techniques and special effects in the Aiyara Palace.
---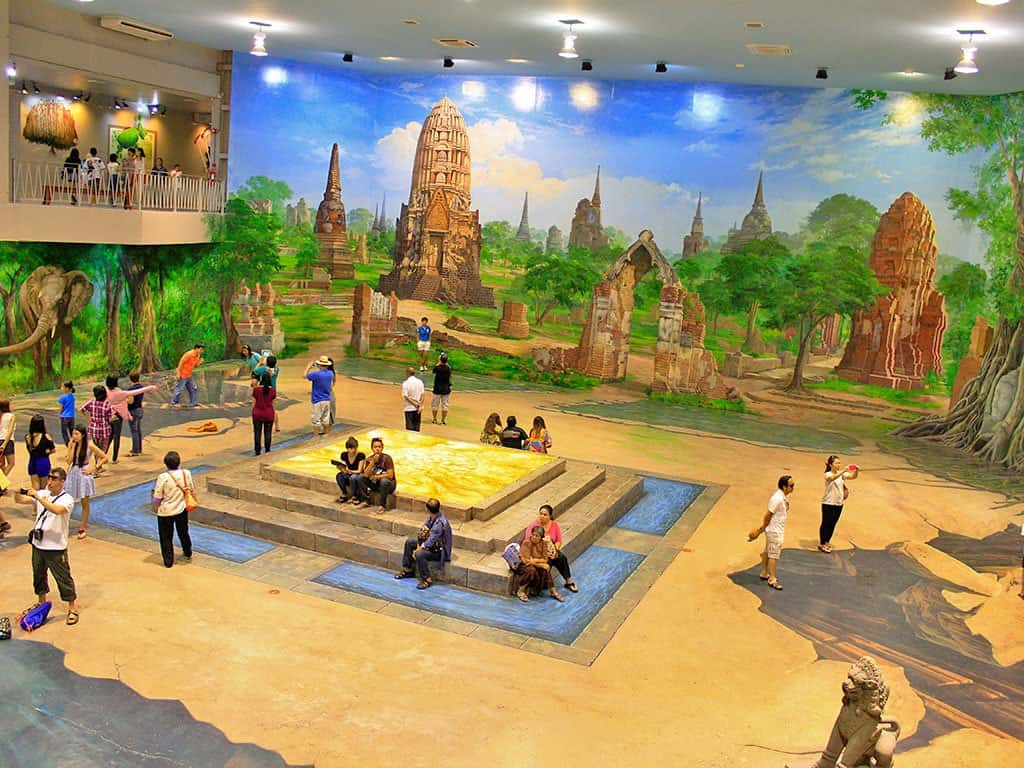 Phuket Art Gallery
It is a place to exhibit art, photography, and painting works in an old building, the Sino-Portuguese building. Must visit at Phuket Art Gallery, and one part of the area inside the building was modified to be an art exhibition. There are various types of arts including painting, sculpture, performing arts, multimedia art, etc., which provide a platform to exchange ideas and attitudes between people who love and are interested in art with both Thai and foreign artists rotating to show their works that reflect their individual ideas.
---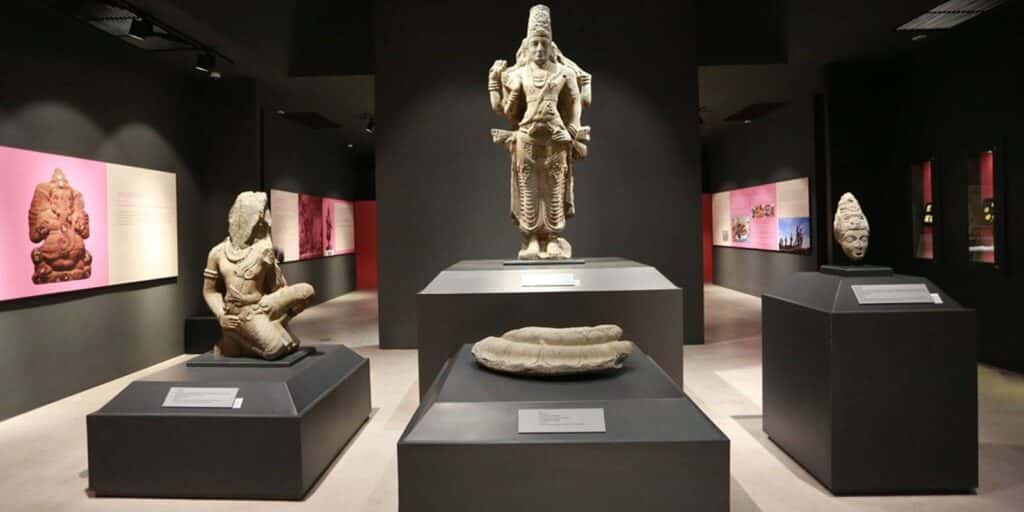 The Thalang National Museum
Located at the intersection of Thao Thep Kasattri and Thao Sri Sunthon Monument. It is the National Museum of Phuket, built as a memorial to honor the two heroines and to be a collection of management to demonstrate knowledge in the history, archeology, arts, and culture of Phuket and the nearby areas of the Andaman coast as well as being a place to preserve cultural heritage and to support Phuket tourism activities. The Thalang National Museum building is a valuable building in terms of preserving the local architectural art pattern.
---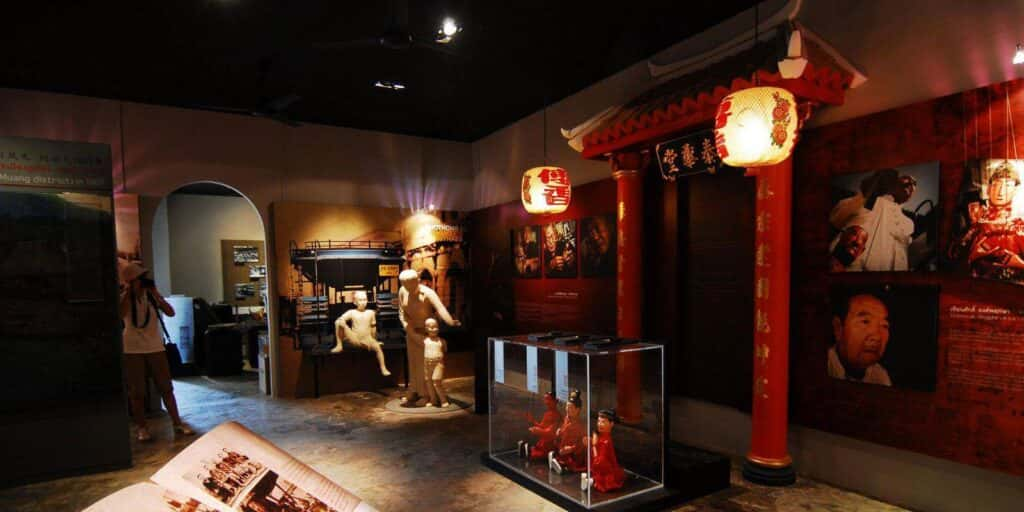 Phuket Thai Hua Museum
Located in Phuket Old Town on the Sino-Portuguese building. It was originally the first Chinese language school in the province. Phuket Thai Hua Museum has a Sino-Portuguese style, which was built in 1977 and was renovated to be perfect as a learning community. Currently, the above is only used as a classroom for language teaching, the ground floor is an exhibition room. The exhibition is about the relationship between the Chinese and Phuket people as well as the history of the Chinese. It is an interesting exhibition because of the use of multimedia which is modern, fun, easy to understand, appropriate for everyone. In addition, it is also a place for cultural activities.
---
The other interesting attractions in Phuket
Phuket Cultural Center
It is located in Phuket Rajabhat University, a place to exhibit the history and culture of Phuket about folkways, local lifestyle, ancient types of equipment of Thalang City. There is also a library which is a collection of books on history and culture as well.
Kathu Local Heritage Conservation Center
It is located in Ban Kathu school from city 7 km., a learning center of worth preserving local heritage. It is filled with many interesting stories of Phuket's past where is a collection of Phuket history and the history of the Kathu community which was rich in tin ore in the past.
Phuket Aquarium
Phuket Aquarium is located on Sakdidej Road, Phuket Province. This place is considered a learning center of marine life and an exhibition center for many kinds of aquatic animals, either in freshwater or saltwater with more than 130 species and there are many rare fish species to see. It is a kid-friendly aquarium with fish, coral reef displays, plus an underwater fish tunnel and a touch pool. This is the first aquarium in Phuket and also of Thailand.
Phuket Zoo
Phuket Zoo is a small zoo, opened in 1997 which located in Tambon Chalong, Phuket Province. There are many animals such as tigers, camels, rattlesnakes, leopards, deer, zebras, many kinds of birds, and giant crocodile statues which exhibit a wide variety of aquatic life too. There are various shows such as the elephant show, monkey show, and crocodile show. There is also a butterfly garden, flower garden, a shady orchid garden suitable for relaxation during holidays.
Phuket Abalone Farm
Phuket Abalone Farm is the first and only commercial Abalone cultivation Farm in Thailand and South East Asia which got the National Innovation Award From the Minister of Science and Technology of Thailand.
Khao Khad View Tower
Khao Khad Viewpoint is an octagonal tower for 360-degree views and also another popular viewpoint. It is located on Makham Bay at Cape Panwa. When going up to Khao Khad View Tower, you can see islands, mountains, sea, villages including Chalong Bay, Panwa Cape, Siray Island, and Phuket Town.
Rang Hill Viewpoint (Khao Rung)
If you want to see the view of Phuket town especially at night you have to come up to see the view from the viewpoint on Khao Rang which although it is a low hill in the center of the city, on the top of Khao Rang is full of happiness that you have to experience when visiting Phuket. It is another popular viewpoint with health gardens, a public park to relax or exercise for health. There are restaurants that welcome tourists to enjoy delicious dishes and admire the view of Phuket at the same time. And in addition, on Khao Rang is the location of the golden statue of Phraya Ratsadanupradit, the Governor of Phuket during the reign of King Rama V.
Ton Sai Waterfall
Ton Sai Waterfall is located in Thalang District, is the largest natural reservoir on Phuket Island. In the area of Ton Sai Waterfall, there is a park to relax, picnic, and a natural walkway. The park has been decorated as a recreation area with large trees to shade these trees are not less than 100 years old, there are also lots of White Elephant Palm (White Backed Palm Tree). The White Backed Palm Tree is a new genus only found in Phuket which is the only place in the world. In the Ton Sai Waterfall area, there are still a variety of birds with hundreds of species and many wild animals.
Bangpae Waterfall
It is a small waterfall where there is an arboretum and a nature study path connected to Ton Sai Waterfall. There are quite a lot of rocks, especially in the stream but there is a natural basin that is able to swim and the water flows strongly all year round. It is shady with large trees which is a resting point for trekking where you can pitch a tent overnight.
Chalong Bay (Ao Chalong)
Chalong Bay is located in Muang district. There is a pier that stops the boats for passengers and tourists who want to cross to the islands in the surrounding area, it is also a yachts mooring point and charter boats for tourists to rent to go fishing. At Chalong Bay, there is a wooden bridge stretching into the sea. The beach is a long curve, overlooking the coconut trees along the beach leaning out to the sea. It is not suitable for swimming in this area because the beach is muddy. Chalong Bay has facilities that are quite complete either accommodations, hotels, famous restaurants, convenience stores or shuttle buses, and various types of vehicles with the frequent coming and leaving.
Sirinat National Park (Nai Yang Beach)
The park was originally known as Nai Yang National Park. Sirinat National Park is best known for its well-preserved white sandy beaches and peaceful beach suitable for swimming. It is the spawning point for sea turtles, between November and February sea turtles come to lay eggs on these beaches. There are also large coral reefs underwater and a diving spot to see coral reefs.
Naiton Beach
Naiton Beach is a small 1-kilometer long beach, located in the northern part of Phuket. It is a shady beach with pine trees and pandanus, most tourists are foreigners. The beach is fine sand, clear water, and a clean beach suitable for swimming. There are luxury villas on the hillside. This beach does not offer longtail boats or jet skis. Naithon Beach is considered a quiet beach, non-crowded people, it consists of shops, restaurants, canvas beds, but not as many as other beaches.
Mai Khao Beach
Mai Khao Beach is the longest beach in Phuket. It's a popular point to see the planes landing in close-up. Most tourists only favor taking pictures and relax at the beach, they don't like to swim around Mai Khao beach due to this area, the water is deep, the beach is narrow and shallow. Besides Mai Khao Beach is fine white sand, there are also very fertile sea cicadas that have shells and legs similar to shrimps, and there are various types of sea turtles that lay eggs every year.
Sai Kaew Beach
Sai Kaew Beach, next to Mai Khao Beach to Sarasin Bridge, is the northernmost beach on Phuket Island. It is a long white sandy beach parallel to the pine trees approximately 3 kilometers long. It features a beautiful white sandy beach and quiet but deep not suitable for swimming. But it is suitable for stopping, relaxing, enjoying the views, and eating because there are local seafood restaurants along the beach.
Rawai Beach
Rawai Beach is a large beach after Patong Beach, one of the most beautiful and famous beaches in the south of Phuket island which is known for its beach and beautiful viewpoint that is ranked in the world. It is a beach with souvenir shops, many delicious restaurants popular for dining by the sea and a market with fresh seafood that is not expensive price as well. Rawai Beach is counted as is another point for taking boats to the islands more than swimming.
Kata Beach – Karon Beach
Kata Beach is a small beach in the south of Phuket, one of the beaches known for its crystal clear water and suitable for swimming. It is the second busiest after Patong Beach. The beach is surrounded by restaurants and accommodations.
Karon Beach is the longest beach of Phuket with fine white sandy and close to Kata Beach. It is the bustling beach next to Patong Beach with many accommodations, shops, and restaurants. It is a more popular sunbathing place for foreigners than swimming.
Bang Tao Beach
Bang Tao Beach is the second longest beach in Phuket after Karon Beach that used to be a source of the tin mining industry. Nowadays, there is plenty of beachside accommodations, leading hotels, shops, and a spot for snorkeling. The seawater here is clear and perfect for all kinds of beach activities too.
Kamala Beach
Kamala Beach is a beach located in the north of Patong Beach, another beautiful beach with a sandy beach that is not very fine. There is a Tsunami Memorial Park and also the home of a Muslim fishing village. Many shops, spas, and minibars, and also have light and sound shows nearby. It is an ideal place for a long-term vacation for foreigners and family travelers.
Nai Harn Beach
Nai Harn Beach is next to Promthep Cape, a large swamp with a dull sandy beach. It is another popular sunbathing spot for foreigners. It is not suitable for swimming or going into the water, especially during the monsoon season from May to October because of strong waves.
Surin Beach
Surin Beach is another beautiful beach, a famous tourist destination from the past to the present. Located between Kamala Beach and Bang Tao Beach, it is a beach with very fine white sand. It's a golf course area, located at the foot of the mountain, slope and not suitable for swimming but the beach has strong waves, making it popular for surfing. There are also a number of famous hotels nearby as well. In addition, Surin Beach has seafood restaurants on the beach with a good atmosphere suitable for relaxation and the atmosphere is quite romantic.
Koh Kaew Phitsadan (Weird Koh Kaew)
A small island is not far from Promthep Cape. There is a Buddha footprint on the rocks by the sea and has a high abundance of nature.
Koh Lone
Koh Lone is a large island accessible from Chalong Bay. It has a long beach, idyllic, and a quiet island, located in the Rawai sub-district.
Koh Ta Phao Yai
This island is home of hornbills. There are abundant forests and a calm atmosphere.
Rang Yai Island
The small island has a pearl farm, mini-golf course, and seafood restaurants. It is a place for kayaking and canoeing.
Siray Island
It is a small island, there is a Tha Chin canal is intermediate between Koh Siray and Phuket Island. There are bridges that connect to both sides and there is a Koh Siray temple that enshrines the reclining Buddha.
Naka Noi Island
The small island is quite calm and suitable for swimming and is also famous for pearl farms.
Articles related to The famous places in Phuket must visit and should come to travel once
Articles of other places you might be interested in: Phuket  Krabi  Koh Samui  Koh Phi Phi  Khao Lak  Koh Lanta  Bangkok