The most beautiful islands in Thailand and worthwhile to visit
December 29, 2020
The most beautiful islands in Thailand and worthwhile to visit. Our country is known as a country with the most beautiful tourist destinations in the world, especially the beautiful marine attractions with images of the blue sea, white sandy beaches, the lined coconut trees may probably familiar to many people. So today we would like to present the most beautiful islands in Thailand and they are also popular for Thai and foreign tourists that we should tell you as follows ;
The most beautiful islands in Thailand and worthwhile to visit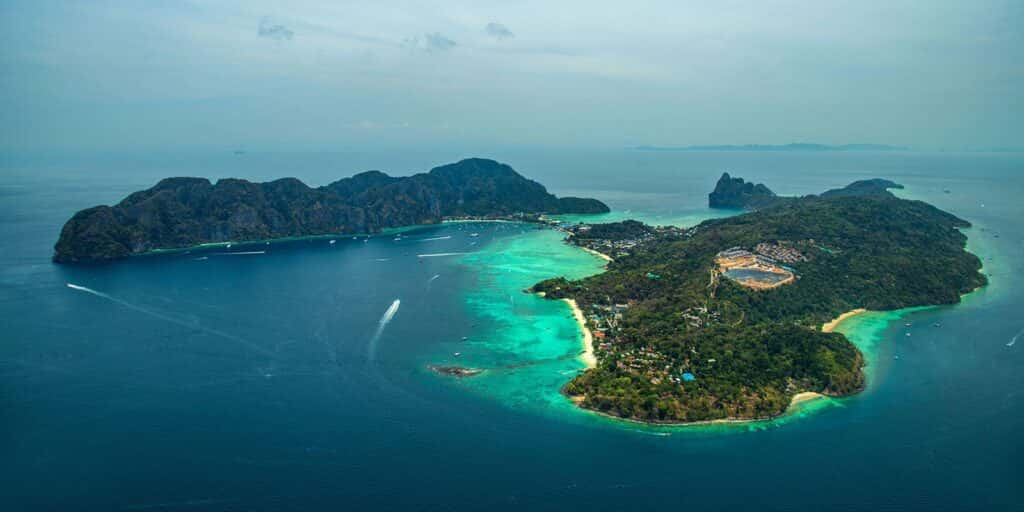 Phi Phi Islands
Phi Phi islands are the islands in the middle of the sea which are 42 kilometers from Muang Krabi District and located in Noppharat Thara Beach – Phi Phi Islands National Park.  They consist of 6 islands such as  Phi Phi Leh Island, Phi Phi Don Island, Mosquito Island, Bamboo Island, Bida Nok, and Bida Nai Island. They are considered precious gems of the Andaman Sea and popularly ranked among the world's most popular tourist destinations with the beauty of the twin coves of Ton Sai Bay and  Loh Da Lum Bay.  They are unique plus the sea with beautiful emerald green clear waters surrounded with the powdery white sandy beaches of Maya Bay with coral reefs and various species of colorful marine life underwater world.  These are magnets that attract millions of travelers from all over the world and a massive influx of tourists to this small archipelago to come to visit and feel it with their own eyes. They have been regarded as one of the top 10 beautiful islands in the world and were nicknamed Emerald of Andaman, Phi Phi Paradise Islands.
Popular tour to visit Phi Phi Islands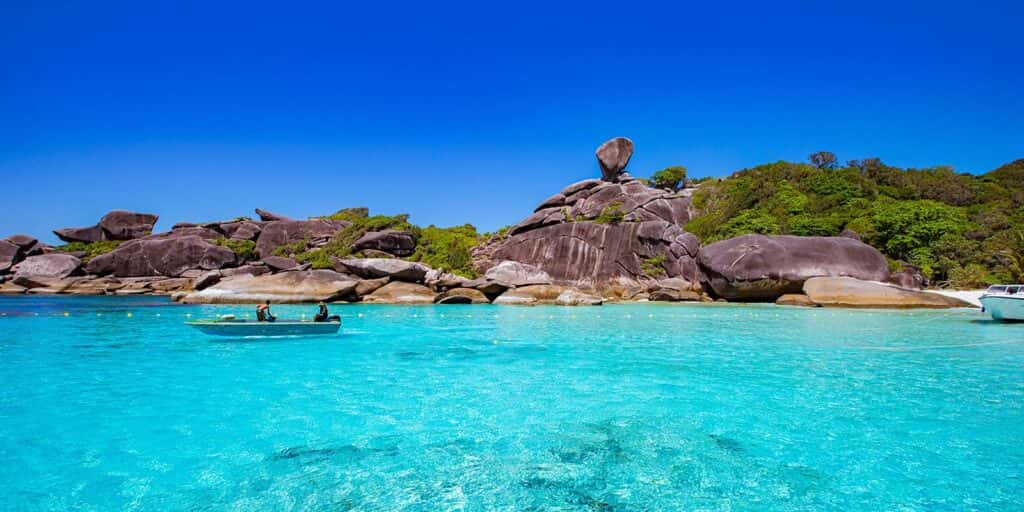 Similan Islands
Similan Islands are small islands in the Andaman Sea, there are 9 islands in total, sort of the north to the south: Hu Yong Island, Payang Island, Payan Island, Miang Island(There are 2 contiguous islands), Payu Island, Skull Island. (Koh Bon), Similan Island and Ba Ngu Island. These islands are regarded as beautiful islands both on the mainland and underwater which are still the integrity of the sea that can dive in both shallow and deep water.  There are many kinds of colorful corals, colorful fish, and rare fish.
Similan Island or Koh Paed(8th Island) is the largest in the Similan Islands.  The bay is curved like a horseshoe with fine white sandy beaches, soft and clear water to swim in. Under the sea, there are many beautiful corals and many different types of colorful fish.  It is an island that can dive in both deep and shallow water. At the north of the island, there are large rocks in strange shapes, such as a boot-shaped rock or Donald Duck's head image. The upper part that meets the beach line has a sailboat-shaped rock which is a beautiful viewpoint to see the beauty of the sea far and wide.
From November to April, it is the most interesting time to travel but from May to November, it is the southwest monsoon season. There are strong winds and waves that are dangerous for navigation and the National Park will announce the closure of the islands in May for natural revival every year.
Popular tour to visit Similan Islands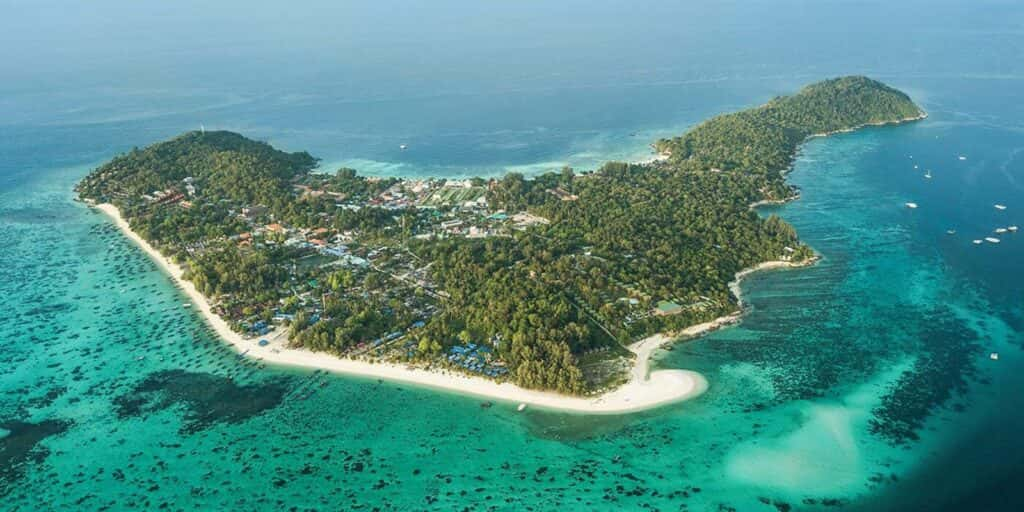 Koh Lipe
Koh Sipe or Koh Lipe in Satun Province, the highlight of Koh Lipe is the nature of the coral around the island, beautiful coves with a soft and fine sand like powder. There are beautiful bays called Pattaya Bay and Chao Lay Beach with concave curves, fine white sandy beaches that both of these beaches can be reached on foot in about 15 minutes and there are also private lodges to serve the tourists as well. The visitors or the tourists can rent boats to the islands.
In addition, there are many Chao Lay(fishermen) communities living on the island, most of them are fishery career.   On 2 nights before the full moon and on the full moon of the 6th month and the 12th month for 3 days and 3 nights, the villagers of Chao Lay lineage will join together to organize a carnival, and most importantly villagers will help each other build boats with Salacca wood and perform floating boat ceremony is believed to be a fortune in the fishery career and to predict destiny.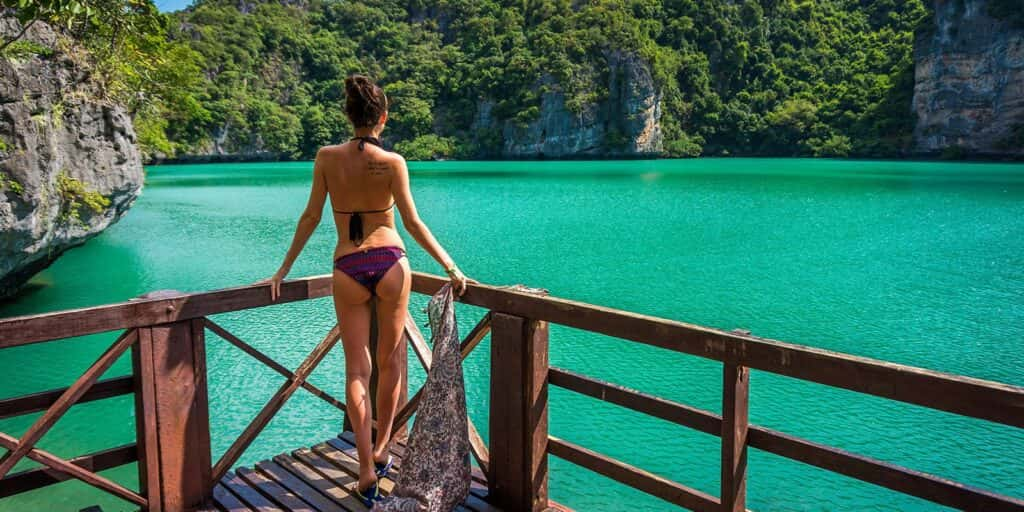 Koh Samui
Koh Samui, Surat Thani Province which is the third-largest island in the country and one of the country's top tourist destinations. It is famous all over the world because it has beautiful nature and pure white sandy beaches.  There are also all kinds of fully facilities, including many types of accommodations, convenient transportations, and has its own airport.  Nowadays, Koh Samui is a tourist hub of the southern Gulf of Thailand which has both Thai and foreign tourists flock to visit millions of people each year.
Koh Samui has many famous natural sandy beaches such as Chaweng Beach, Lamai Beach, Taling Ngam Beach, and Natien Beach and has abundant natural resources, including forests and water sources. In addition, there are also full of stories and local arts and culture that create a lot of charm for this island.
Popular tour on Koh Samui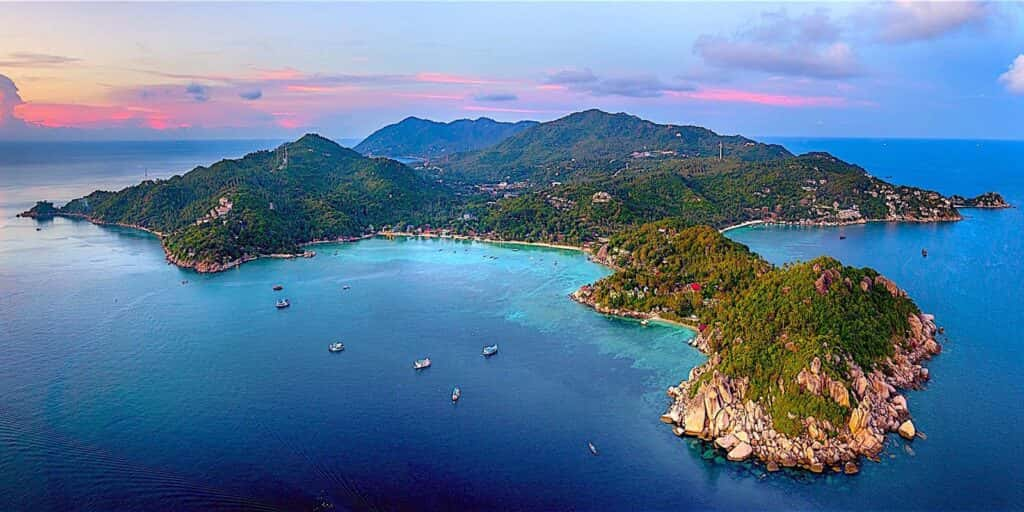 Koh Tao
Koh Tao is a small island located in the middle of the Gulf of Thailand. It is approximately 74 kilometers from the coast of Chumphon Province, 110 kilometers from the coast of Surat Thani Province, 64 kilometers from Koh Samui, and about 45 kilometers from Koh Phangan. It is an island known as a paradise island in the Gulf of Thailand because it is an island with beautiful and rich nature. There are large and beautiful coral reefs in both shallow and deep water which are habitats for many different types of fish until becoming another world-famous diving point that the divers around the world have been rotated to visit and experience the underwater world of this paradise island.
Koh Tao also has many fine, pristine, beautiful, and quiet white sandy beaches around the island that complement the island is a perfect tourist destination that suitable for the name of Paradise Island. In addition, in the past of the beaches around Koh Tao were full of turtles that sought places to lay eggs which was the origin of the name Koh Tao.
Popular tour to visit Koh Tao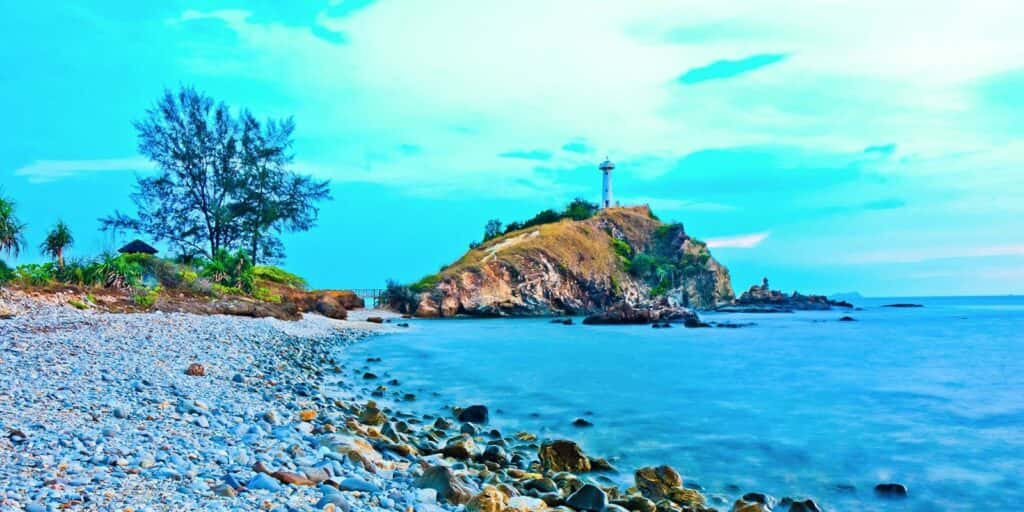 Koh Lanta (Lanta Islands)
Koh Lanta, Krabi Province is a large island that has been inhabited continuously for more than a hundred years, consisting of Koh Lanta Yai and Koh Lanta Noi.  Most of the tourist attractions are on Koh Lanta Yai , there is a highlight in Lanta Islands National Park which is located on the Tanod Cape at the end of the island is an area complete with rainforest.  There are nature trails and most notably the white lighthouse which is like a symbol of Koh Lanta while Koh Lanta Noi is the location of the Koh Lanta District Office.
Because of far from the mainland, Koh Lanta is still keeping the beauty of sandy beaches and clean seawater. It also has traditional island lifestyles that are  Thai-Buddhists, Thai-Chinese, Thai-Muslims, and New Thai(Chao Lay) living together in peace, in combination with the prosperity of the island head, the pier area, and the western beach is bustling with tourists.  So visiting Koh Lanta, we have traveled many atmospheres at the same time.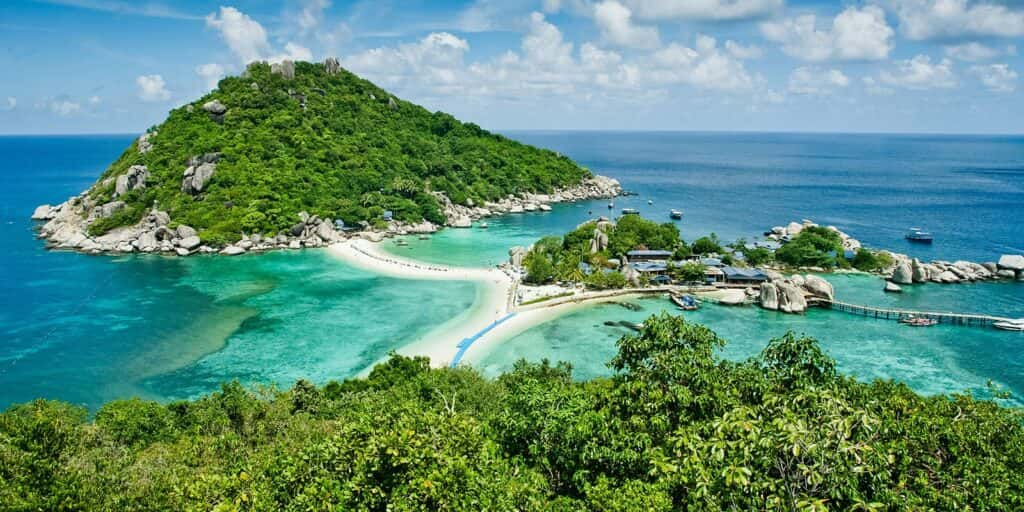 Nang Yuan Island
Nang Yuan Island, Surat Thani Province consists of 3 small islands that are connected by sandbanks that look like the separated sea. The charm of Koh Nang Yuan coming from the crystal clear emerald waters, the small fish, shells, and corals that are clearly visible under the water. The most popular activities here are snorkeling to see corals and beautiful fish including swimming near the beach.  In other words, most tourists choose to travel and relax here because of its private atmosphere, fresh air, and also its greenery of small 3 mountains surround and the beauty of the sea meets.
Therefore, if you are the one who has a passion for nature, fall in love with the sea, like the privacy, and truly need rest, don't forget to come to relax at Nang Yuan Island.
Popular tour to visit Nang Yuan Island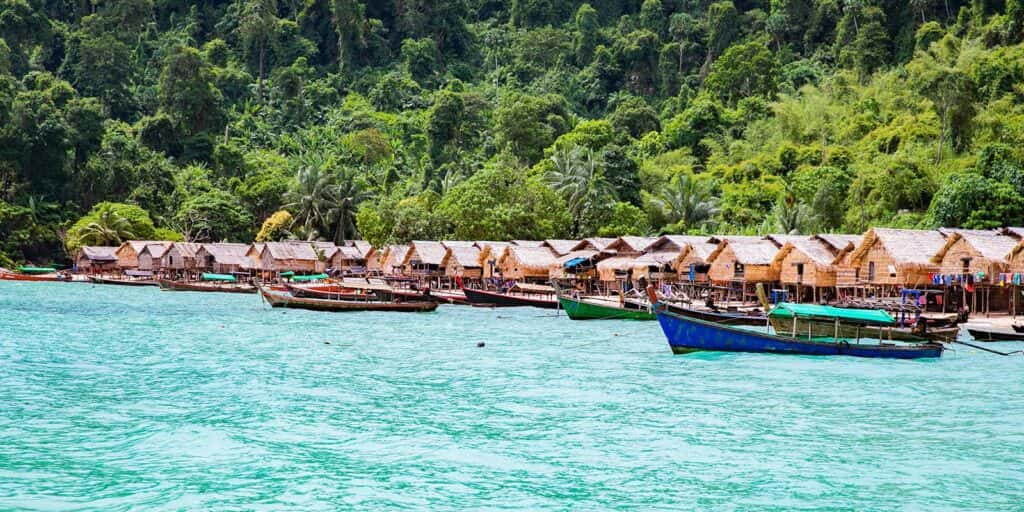 Surin Islands (Mu Koh Surin)
Surin Islands or Surin Islands National Park named after Phraya Surintharacha (Nokyoong  Wisetkul) the lieutenant governor(Thesapiban)of Phuket who discovered the islands. They are a national park located in Phang Nga Province. The islands feature an archipelago in the Andaman Sea, is adjacent to the Thai-Myanmar border,  consist of  5 islands such as Koh Surin Nua(North Surin Island), Koh Surin Tai (South Surin Island), Khai Island (Torinla Island), Klang Island (Pajumba Island), Koh Ri (Stock Island) and one stone pile of submerged rocks is Richelieu Rock.
Count as having abundant nature both on the mainland and in the sea, there are rain forests, beach forests, mangrove forests that converge with the coral reefs. The coral reefs are still intact suitable for snorkeling to see shallow corals.  Richelieu Rock is a place suitable for scuba diving, a rich source of nature under the sea, there are many kinds of fish and is the point where whale sharks are found most frequently in the Thai sea.  The ideal time for traveling is from November to April.
In addition, there are also villages of the last Chao Lay people who still maintain the most traditional culture, which is "Morgan" or "Gypsy of the Sea " about 200 people. In the present time, they build sea gypsy villages on Koh Surin Tai selling souvenirs to tourists, and some people work as employees of the park.
Popular tour to visit Surin Islands (Mu Koh Surin)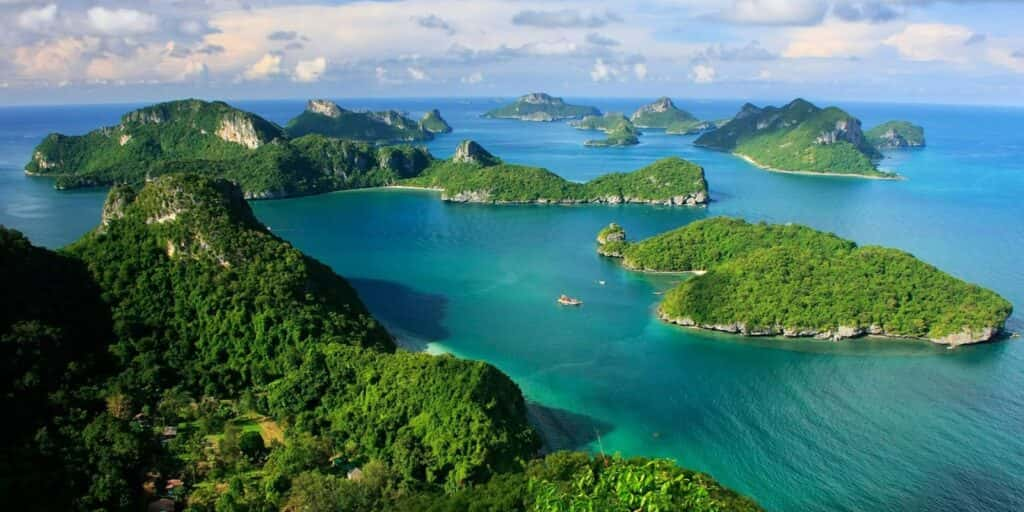 Ang Thong Islands (Mu Koh Ang Thong)
Ang Thong Islands located in the area of Ang Thong National Marine Park, Surat Thani Province.  They consist of 42 islands, including Koh Pha Luai, Koh Wua Ta Lap, Koh Mae Koh, Koh Sam Sao, Koh Hin Dab, Koh Nai Phut, and Koh Phai Luak, etc. Each island has a beach on almost every island, some islands have pure white sandy beaches, some islands have many types of coral along the seashore with beautiful colors in the midst of tranquility.
Attractions in Ang Thong Islands are Koh Tai Plao and Koh Wua Kan Tang, there are spots of coral reefs and white sandy beaches.  Koh Wua Ta Lap in Ao Kha area, is a clean white sandy beach suitable for swimming, relaxing on the beach.  When going up to the viewpoint on the top of the mountain, you will see all Ang Thong Islands spanning a long line of strange shapes.   Koh Hin Dub is an island with a beautiful sandy beach and the longest beach in the national park. The terrain and scenery around the island are beautiful to see.
Popular tour to visit Ang Thong Islands (Mu Koh Ang Thong)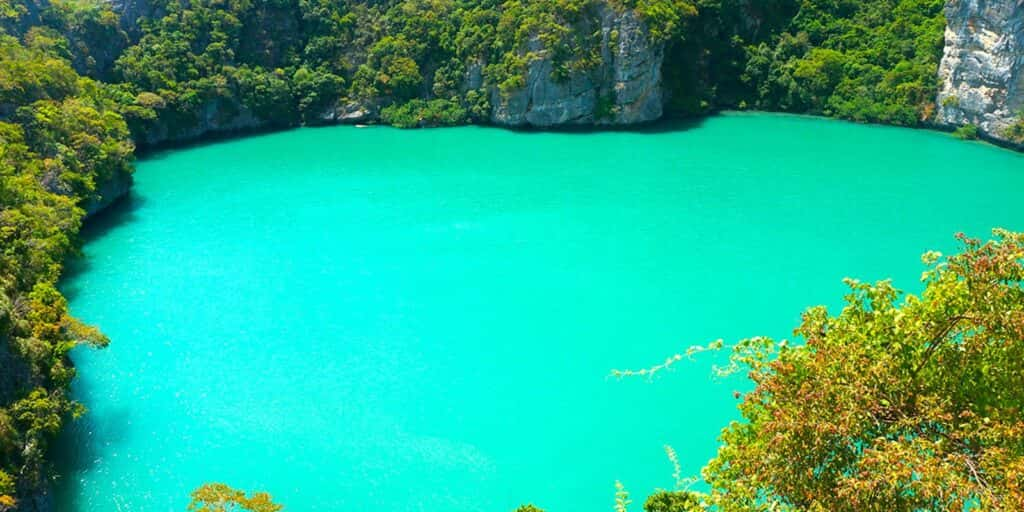 Thalay Nai
Thalay Nai or the lake in the middle of the mountain is on Koh Mae Koh, a large natural lake surrounded by high limestone mountains and complex, but there is an underwater tunnel connecting the sea. The origin of this salt lake has been assumed that caused by the collapse of the lower strata of rock causing a collapsed pond. They occur simultaneously with the islands or maybe due to chemical changes in the same process as a cave formation.
However, between November – December every year is the monsoon season, in the sea will have strong waves,  it is not safe for tourists to travel to Ang Thong Islands.  The national park is scheduled to close the annual tourism, so tourist season will be closed from 1 November to 23 December each year and tourist season will be opened again from 24 December – 31 October each year.
Popular tour to visit Thalay Nai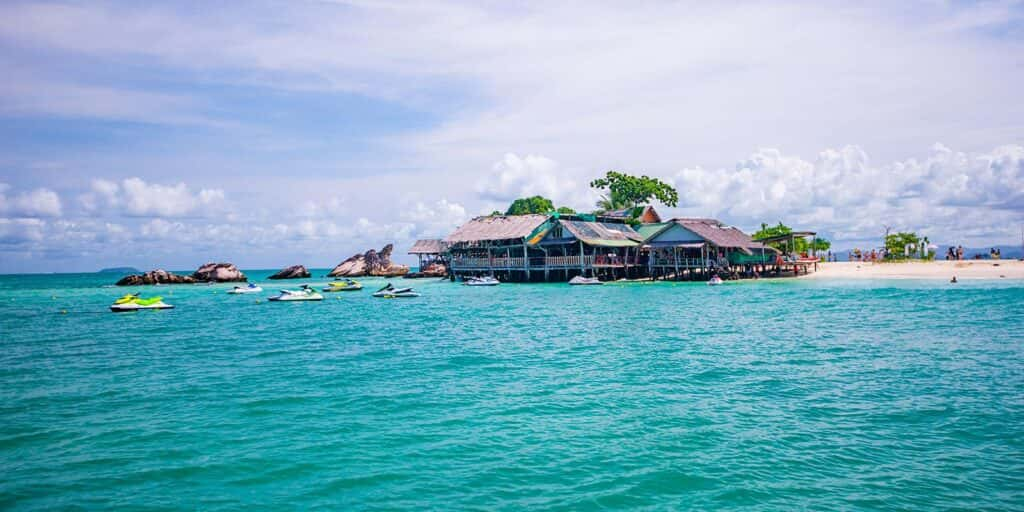 Khai Island
Khai Island or Torinla Island are two small islands called Khai Nok Island and  Khai Nai Island, both islands have white sandy beaches and clear water with many kinds of colorful fish swimming close to the beach with beautiful coral reefs. Traveling to Khai Island, the tour can be purchased from travel agencies or rent a boat from Koh Siray pier,  Laem Hin Pier, or Chalong Bay in Phuket.
Popular tour to visit Khai Island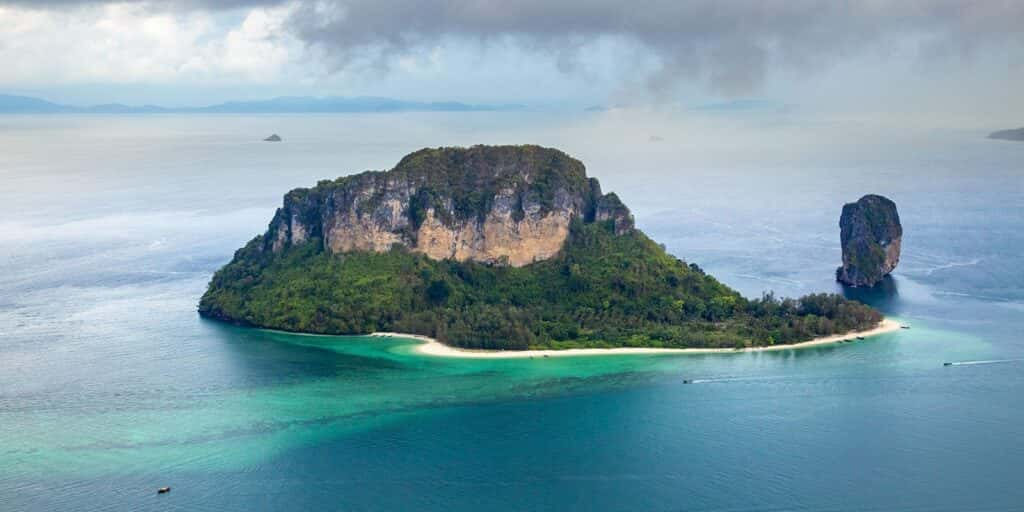 Poda Islands
Located in the south of Ao Nang, Krabi Province, about 8 kilometers from the shore, are the islands with white sandy beaches, clear water, and at the coast of the island you will see a variety of coral reefs that are intact, so they are the attractions for tourists to visit almost all year round.  There is also a good fishing spot because it is not affected by monsoons.  You can rent a boat from the Ao Nang area, it takes about 25 minutes to reach the island or you can buy the trip from travel agencies to the 4 Islands Tour that is also including Poda Island as well.
Popular tour to visit Poda Islands
Articles related to The most beautiful islands in Thailand and worthwhile to visit.
Articles of other places you might be interested in: Phuket  Krabi  Koh Samui  Koh Phi Phi  Khao Lak  Koh Lanta  Bangkok