Tiger Cave Temple, Krabi Province
January 10, 2021
We have already seen it then we must tell you about Tiger Cave Temple (Wat Tham Sua), Krabi Province, it is a gorgeous, wonderful temple and interesting Vipassana meditation practice place.  Let's see how beautiful is Wat Tham Sua, Krabi Province.
Tiger Cave Temple, Krabi Province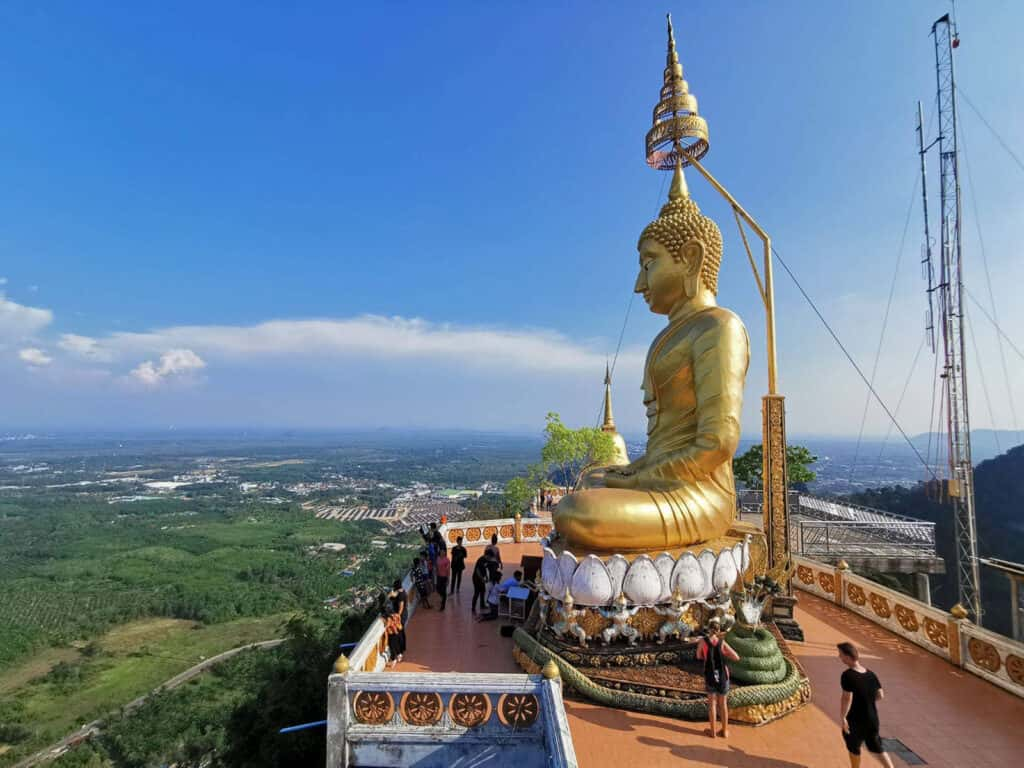 In 1975, Luang Por Jamnian wished to find a new Dhamma practice place. In his vision, it was a place surrounded by mountains and a cave called Tham Sua,(Tiger Cave) as well as several caves and in Krabi province as well. As soon as the vision happened, a feeling of love for that mesmeric place came suddenly, he felt like he was familiar with this place before.  Luang Por let Phra Ajarn Heed sought a place to establish a monastery.  Finally, Phra Ajarn Heed found several places, including the Tiger Cave too.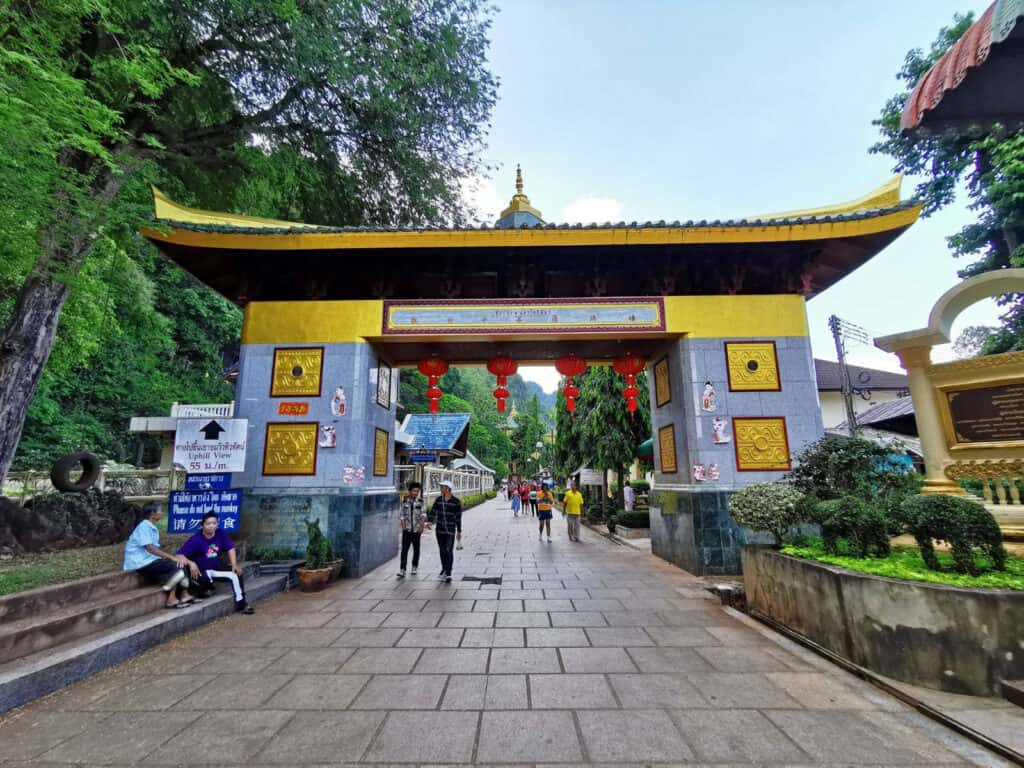 Luang Por had the opportunity to go to the cave, according to Phra Ajarn Heed told.  It was exactly the same vision that Luang Pho actually saw.   Luang Por Jamnian brought a group of 53 monks and novices, including 56 nuns from Wat Sukhonthawat to live in this place, known as the Tiger Cave. Or in the past, the temple was called the Na Ching Monastery according to the name of the village on March 25, 1975, and changed to Wat Tham Sua(Tiger Cave Temple) on August 2, 1990, to pioneer and open a place to practice Vipassana meditation until now.  From asking the villagers which were named Tiger Cave Temple because in the past there were many tigers living in the cave in front of Khao Kaew. Inside the cave, there are also natural stones that form a tiger's paws as well.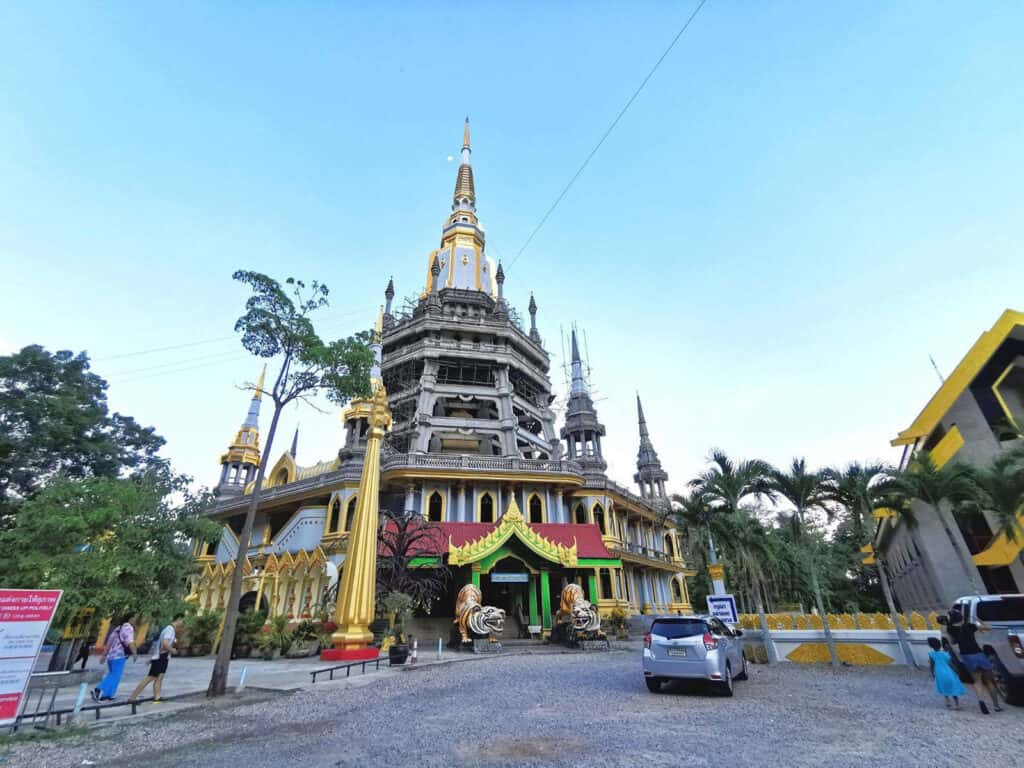 The beautiful pagoda is called Phra That Chedi Rakang Yai(a large bell pagoda)with a height of 90 meters is under construction but not finished yet.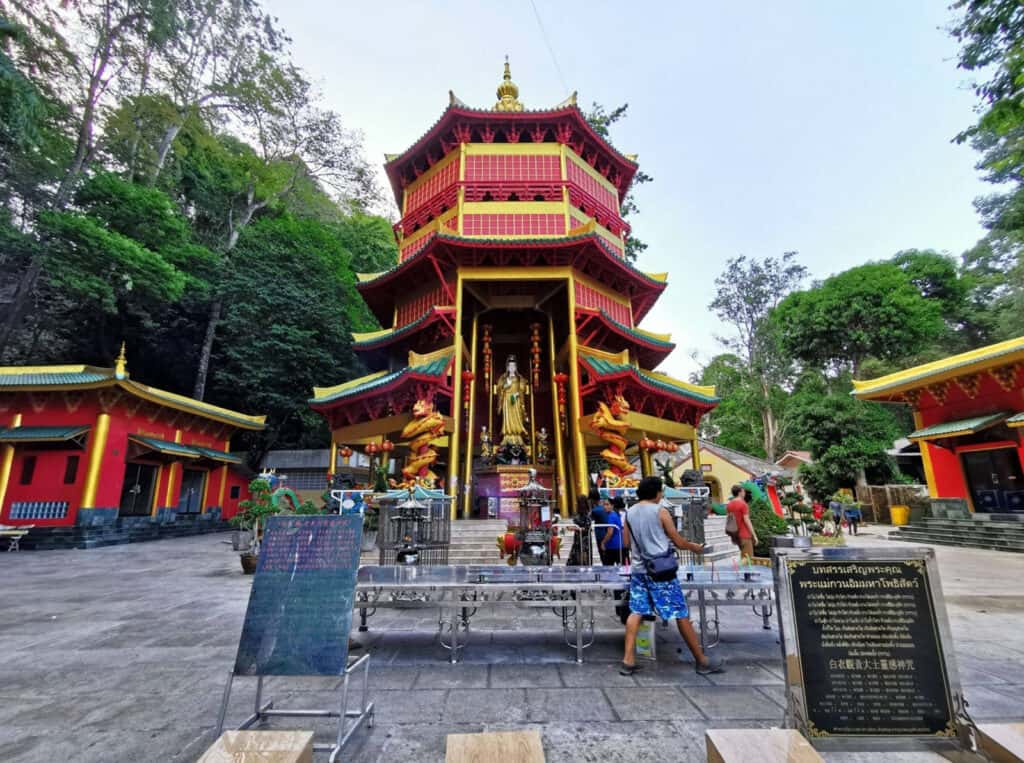 The most important thing in "Wat Tham Sua" that seems to be the most unique and popular among tourists both Thai and foreigners is to pay homage to "Guanyin Goddess" which has a height larger than 5 meters.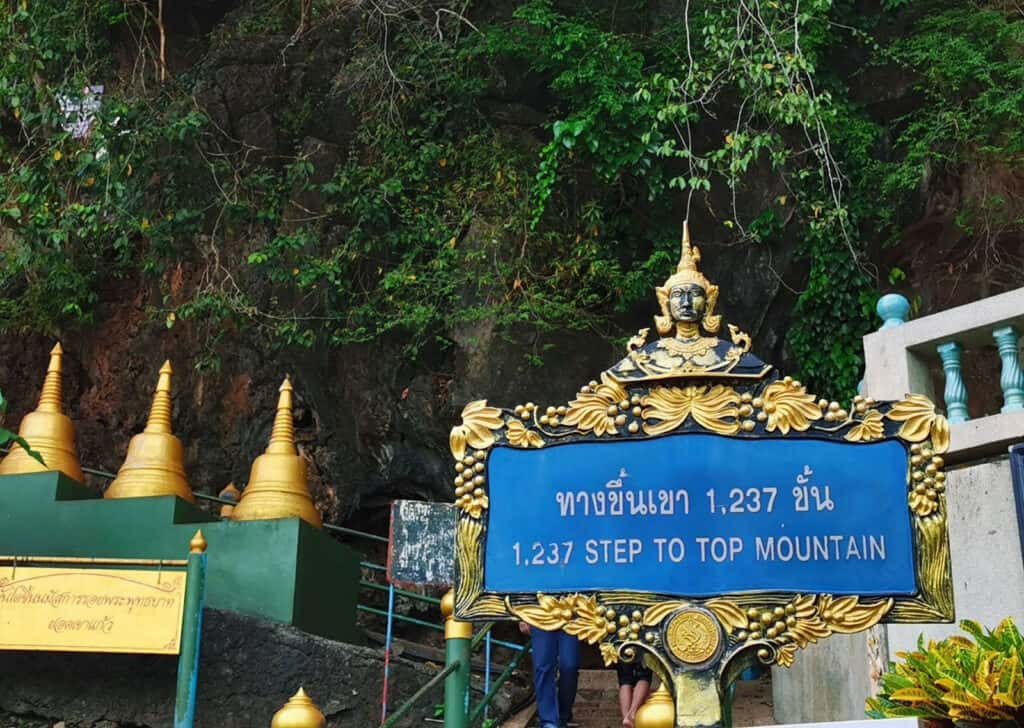 This is the walkway to the top of the mountain with 1,237 steps in total. There will be some steep paths but not difficult to go up.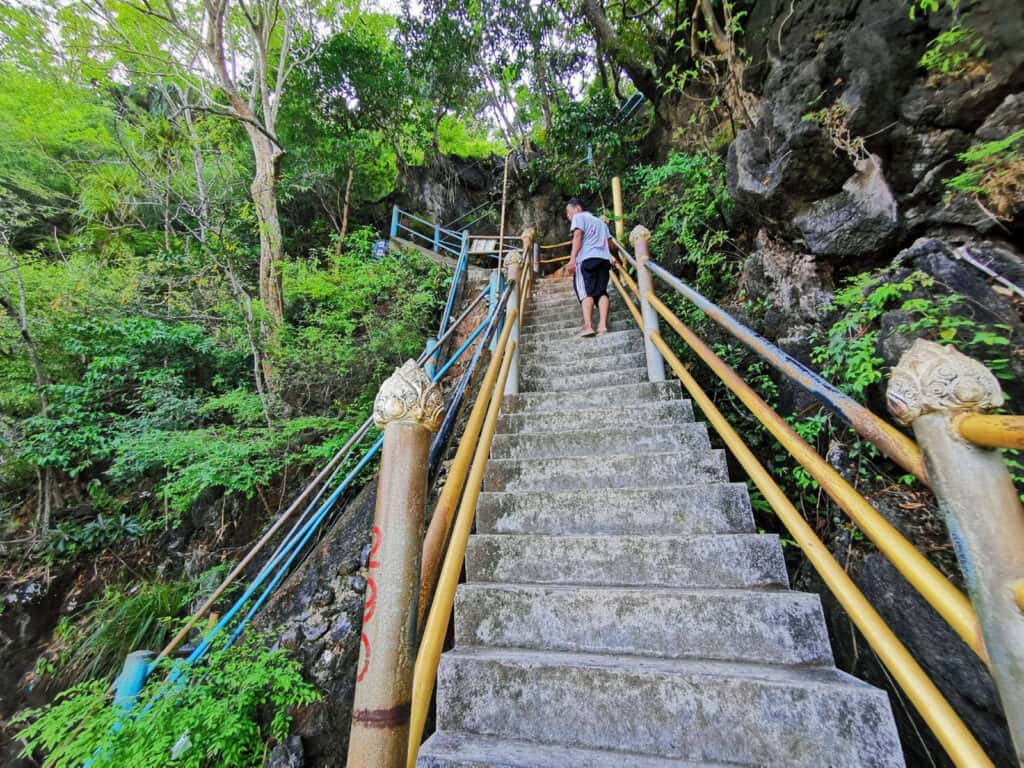 Walking up this stairway, you will find a beautiful view of Krabi Province.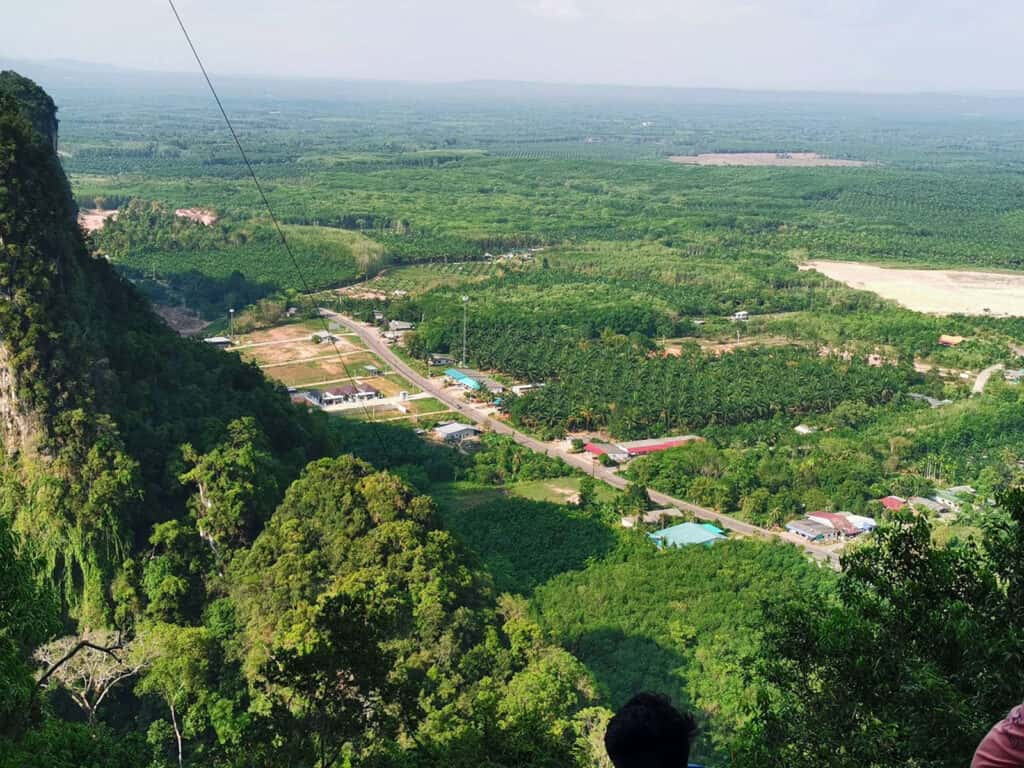 You will see the view here but it is not even halfway to the top yet so you have to take a break from time to time to see the beautiful scenery of Krabi Province.
Nice view along the way, you will also be able to breathe the fresh air while enjoying the panoramic view of Krabi town.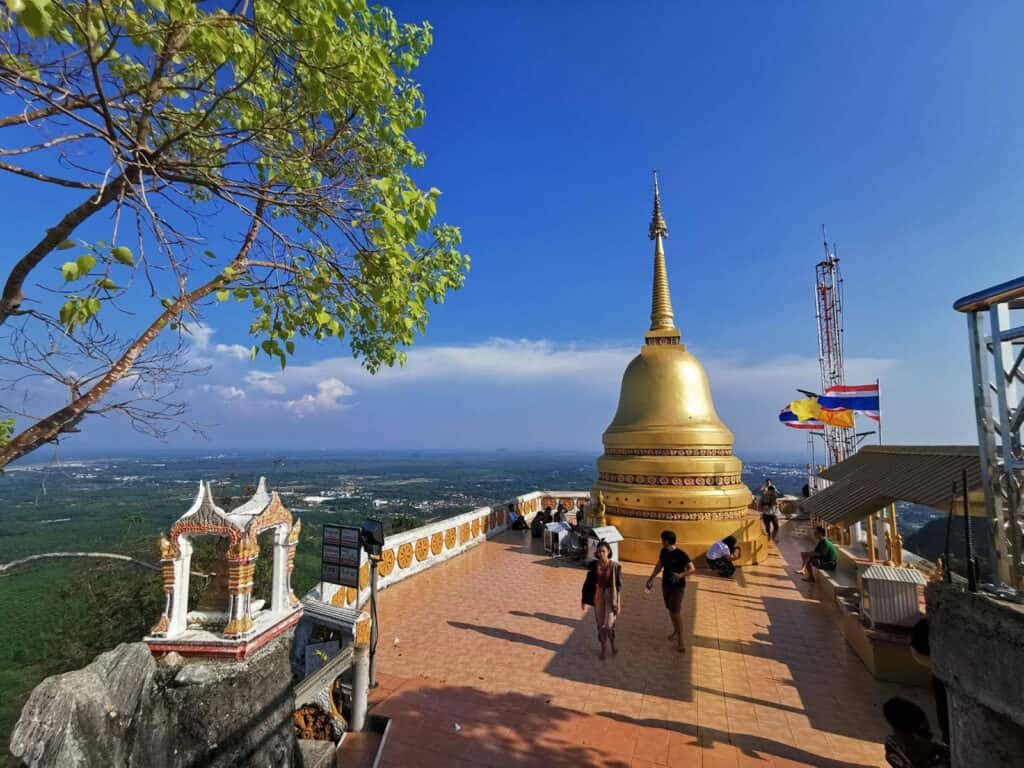 When you reach the top of the mountain you will not feel tired because you can worship and pay homage to the magnificent Phra That Chedi and sightseeing the spectacular 360 degrees panoramic view of Krabi region from the top.
The temple is well known in Krabi and nearby provinces. Including foreigners both the uniqueness of the temple and the reputation of Luang Por Jamnian, the abbot of Wat Tham Sua, who was believed in devout faith for a long time.   The generality of Wat Tham Sua is a forest garden, a hollow cave with cliff sheds, and natural caves such as Gandharvas Cave(Tham Kon Than), Tham Lod, Tham Chang Kaew,  Arrow Cave(Tham Look Thanu), Snake Cave, Turtle Cave, Tiger Paws Cave, and the important thing in Wat Tham Sua that seems very unique the most and it is popular with both Thai and foreign tourists.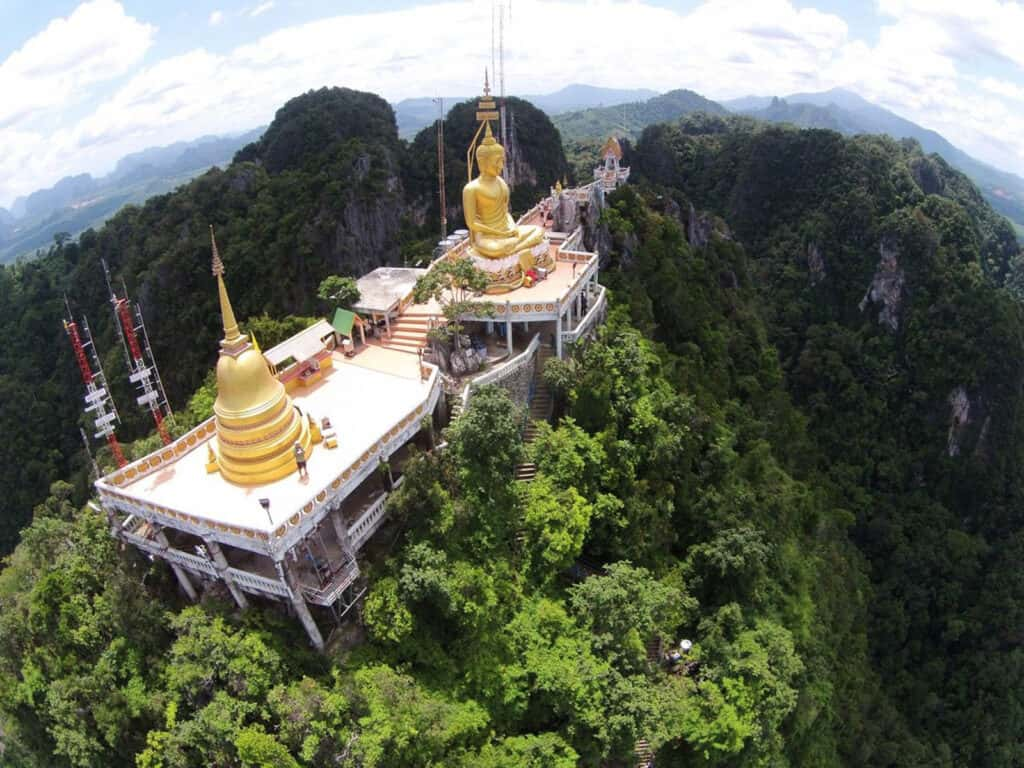 The view from the top is beautiful and peaceful. You can see Phra That Chedi and the Giant Buddha statue on the top of Khao Kaew which is 600 meters above sea level, here is also enshrined a replica of Giant Buddha's footprint.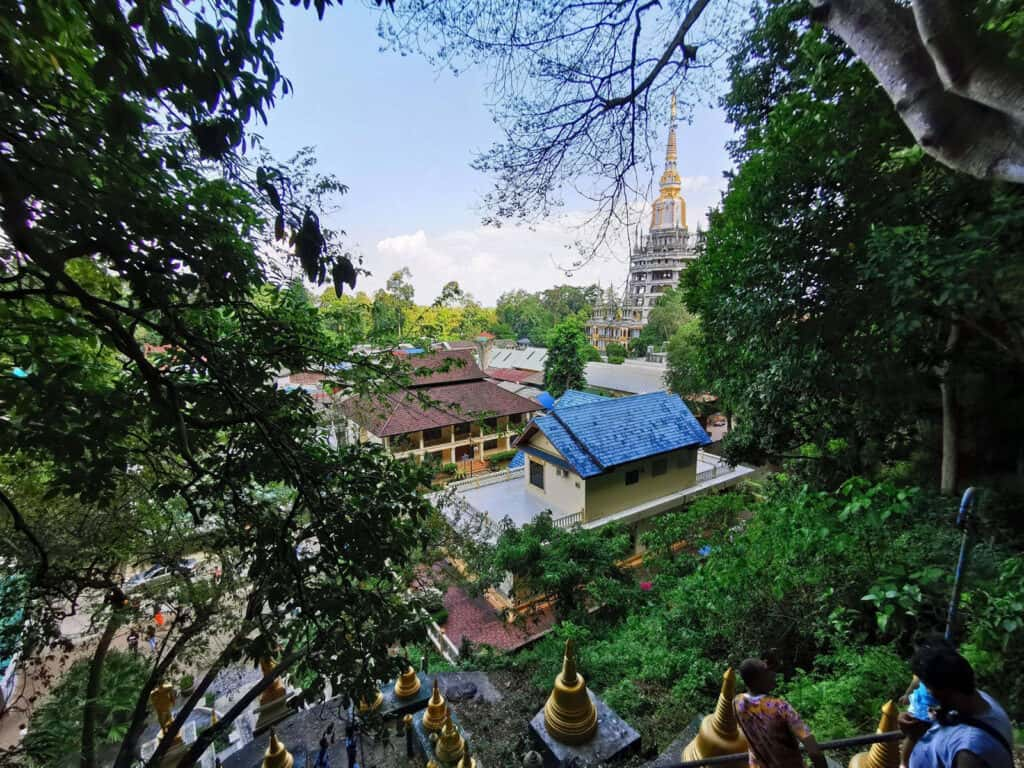 After taking a rest and sightseeing the beautiful scenery on the top of the mountain, it's time to go back down below. Tiger Cave Temple is worth a visit, you can walk around the beautiful temple or visit the shrines in the caves at the bottom of the mountain.
Tiger Cave Temple is about 9 kilometers from Krabi town, located in Ban Tham Sua area, Krabi Noi sub-district, Muang district, Krabi province. The temple area is approximately 200 rai, comprising a flat area, valleys, and peaks.
[wpgmza id="214″]
How to get to Tiger Cave Temple: From Krabi town turn left at Talat Kao intersection, take the Petchkasem Road (Highway 4) Nuea Khlong District route then turn left at Tham Suea t-junction along Rassadon Phatthana Road (Highway 4037) about 2 kilometers, there will be clear signs to tell the way.
Popular tour to visit Tiger Cave Temple, Krabi Province.
Articles of other places you might be interested in: Phuket  Krabi  Koh Samui  Koh Phi Phi  Khao Lak  Koh Lanta  Bangkok