TOP 5 Krabi Tours Krabi – Most Popular Tours
December 10, 2016
Krabi is a wonderland. Over the years it has grown in popularity, attracting visitors due to its unspoilt natural landscape that has the advantage of beautiful attractions both on land and offshore. Tours around the area generally take in some of the truly beautiful islands and usually feature a combination of destinations.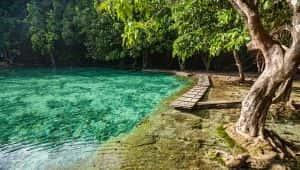 Krabi 4-Island Tour
Visit : Poda Island,Tub Island, Chicken Head Island, Pranang Cave with Lunch
Phi Phi Island Tours by Speedboat
Phi Phi don,Viking cave,Bamboo ,Hin Klarng , Ao-pelae ,Loh sama ,
Maya bay,Monkey beach
Sea Kayak Tours
In Talen (A gulf of Krabi) consists of the water thick forests, which is full of many wildlife such as wild monkeys or a thousand kinds of bird.
Kayak Ao Tha Lane
Krabi City and Temples
We would like to introduce you to see all the highlight pictures in this program and read all itinerary detail and submit the booking for more value holiday in Krabi.
Unseen Krabi
Emerald Pool & Hot Spring Waterfall
Visit Emerald Pool, swimming and relaxing in the nature bath. Crystal Lake. The water from somewhere come to the lake.