Phuket attractions and recommended beaches
January 18, 2021
Phuket attractions and recommended beaches. Phuket has a tropical monsoon climate. It is a destination for beach lovers, breeze, and sunshine. The average temperature is throughout the year from warm to very hot but the best time to visit the sunny sea and clear sky is from November to April. Visitors who visit from May to August may encounter some rain along the way. Most of the time, the wettest months are September and October. On a day when the weather is fine, Phuket will have paradise beaches to choose to relax and you will forget your heart here.
Phuket attractions and recommended beaches
Kata Noi Beach
It is located on the west coast of Phuket.  Kata Noi Beach is a beach with a concave curve flanked by cliffs, so it adds a more private atmosphere.  At the beach in this area, the sand is smooth and fine, especially during the months of November to April, the water is clean and clear suitable for swimming and taking pictures on the beach with a blue sky scene. Other times of the year, there will be strong waves and the tourists favor to windsurf. Kata Beach is not far from the city(it takes about 6 minutes by car), so there are usually tourists crammed.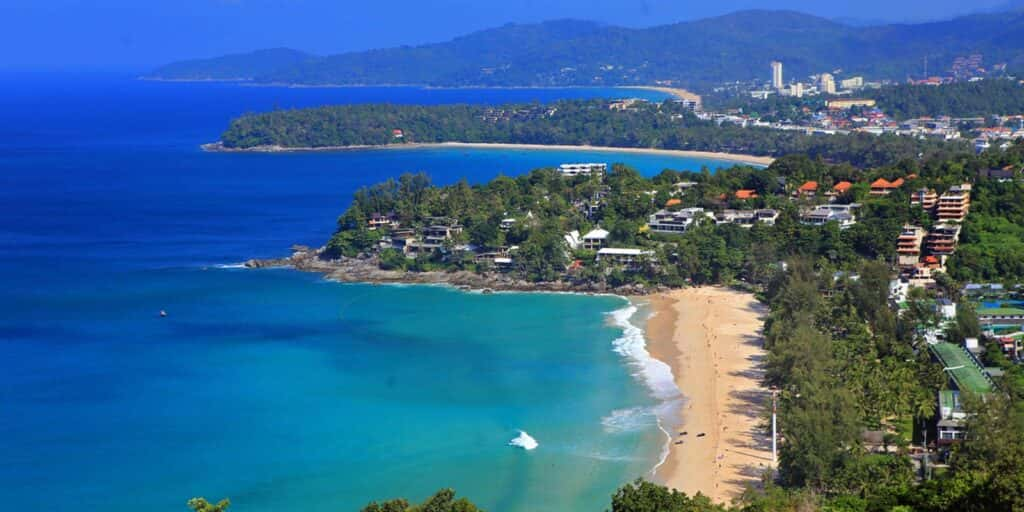 Kata Noi Beach, a charming little beach with soft white sandy beach, and clear seawater suitable to swim. Full of a calm atmosphere and popular with foreign tourists. There are shopping areas, restaurants, small spas, and many excellent hotels along the coast to accommodate tourists.
Nai Harn Beach
If we measure the beach with soft sand, warm seawater, and impressive scenery, no other beaches in Phuket can beat Nai Harn Beach easily.  At calm waters, this beach is great for swimming and sunbathing. Solo travelers, couples, or families can settle down to rest at this beach in the long run. In addition, there is Yanui Beach that is approximately 2 kilometers away (approximately 4 minutes drive), a small bay in this area with popular scuba diving and snorkeling spots with fish and rocky coral reefs to enjoy seeing.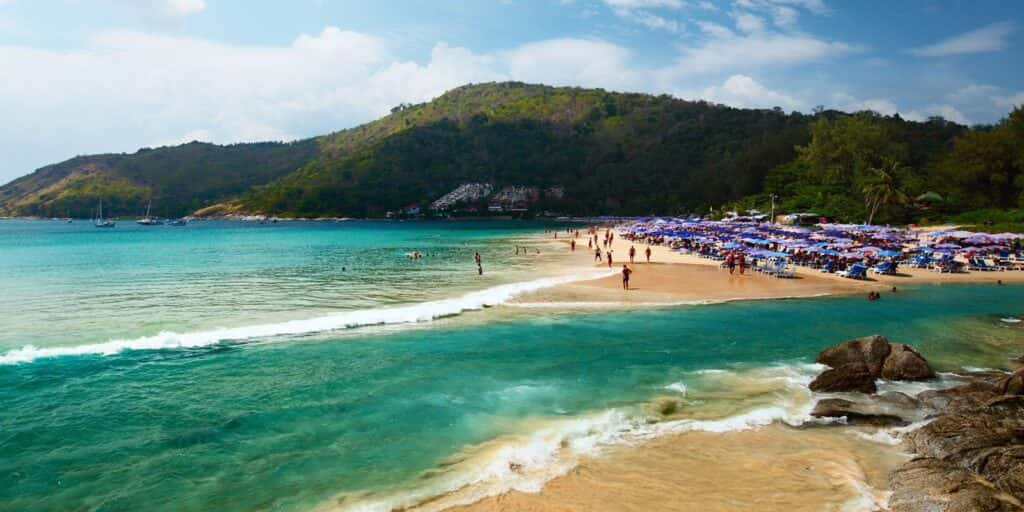 Nai Harn Beach is a shallow sea surrounded by shady nature with a lake connected to the sea and rarely have hotels close to the beach, one of the relatively quiet and uncrowded beaches suitable to relax. Along the beach, there are canvas beds and beach umbrellas to serve tourists. Although Nai Harn Beach is a small beach, it is very popular with foreigners.
Surin Beach
Try to experience the Thai lifestyle in the luxury version of Surin Beach. This beach is like a small resort town in Cherng Talay Subdistrict, north of Phuket surrounded by high society accommodations and luxury resorts including Thai restaurants on the beach, Seafood restaurants, and expensive wine bars as well.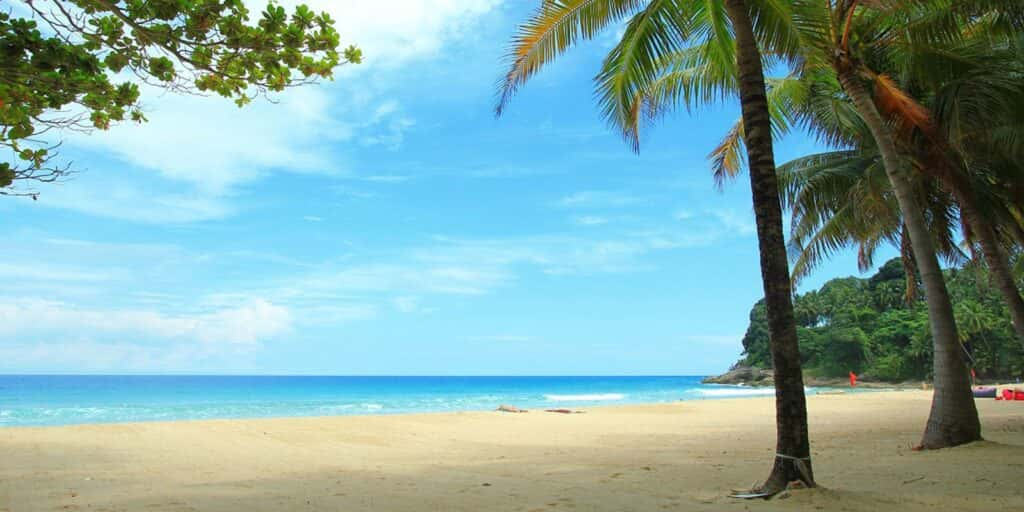 The highlight of Surin Beach is the clear blue-green water with a clean white sandy beach suitable for relaxing and watching the sunset. But the waves are quite strong, perfect for surfing or surfboard riding and offers a variety of water activities.
Phang Nga Bay
The emerald green waters and stunning limestone cliffs make Phang Nga Bay a must-see for first-time visitors to Phuket and those returning to Phuket again. Although the area of this beach is the most beautiful, there is still a cool gimmick which is the location of two other famous tourist attractions such as Koh Tapu and Koh Panyee. Koh Tapu is a single rocky bar about 20 meters tall islet and its other name is "James Bond Island" because it was one of the scenes in the filming of the James Bond movie "The Man With the Golden Gun" or "James Bond 007".  But Koh Panyee is a floating village, there are restaurants and cute souvenir shops for tourists to visit.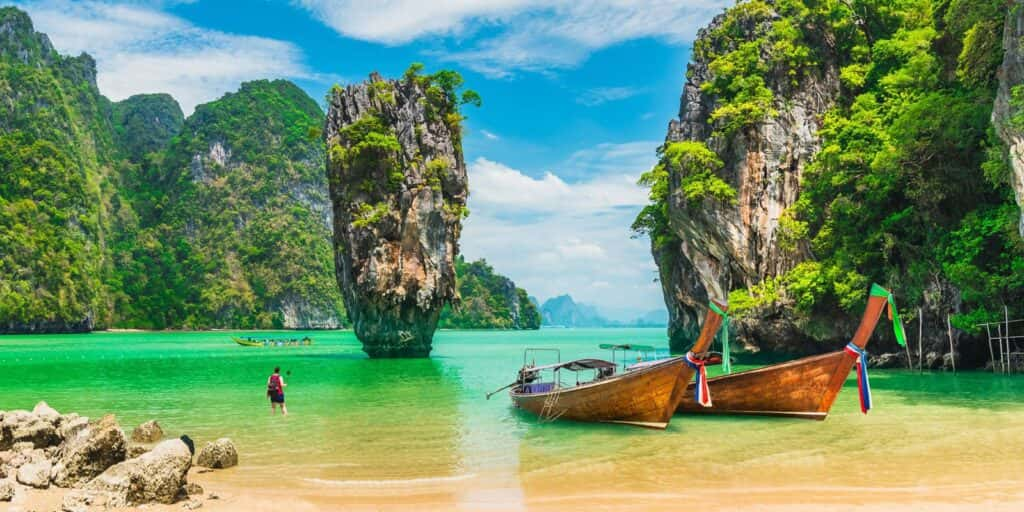 Phang Nga Bay or Ao Phang Nga National Park, a tourist destination that has been popular with both Thai and foreign tourists for a long time in regard to natural beauty. James Bond Island or Koh Tapu as a tourist attraction is the most famous of Ao Phang Nga National Park and becomes "World Class Destination".
Patong Beach
Because it is one of Phuket's most popular beach destinations that many tourists favor to travel, so there are plenty of fun activities to do at Patong Beach.  If it's possible, you should be in hurry up to travel in the early morning to capture the beachhead in order to reserve an umbrella and beach chair for the best location(available at some points only) before the tourists will gradually come together until crowded. In addition to swimming and sunbathing, this beachside location is the place for popular water sports such as jet skiing, kayaking, and windsurfing, there is also banana boats for rent as well.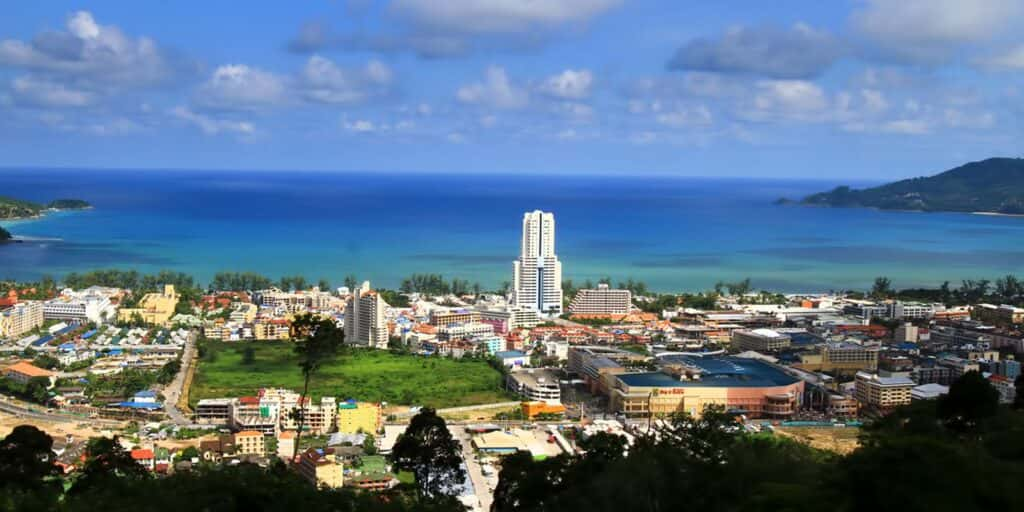 Patong Beach, Phuket's most famous and the busiest beach in Phuket, it's the center of a variety of business and entertainment, full of foreign tourists, and also fully equipped with facilities such as accommodations, hotels, shops, restaurants, entertainment venues, and shopping centers as well as Department stores. Patong Beach is also a beach with many tourist pick-up points and taxi services.
Articles related to Phuket attractions and recommended beaches.
Articles of other places you might be interested in: Phuket  Krabi  Koh Samui  Koh Phi Phi  Khao Lak  Koh Lanta  Bangkok